Call for Educational Emergency: Addressing Educational Crisis in Diamer District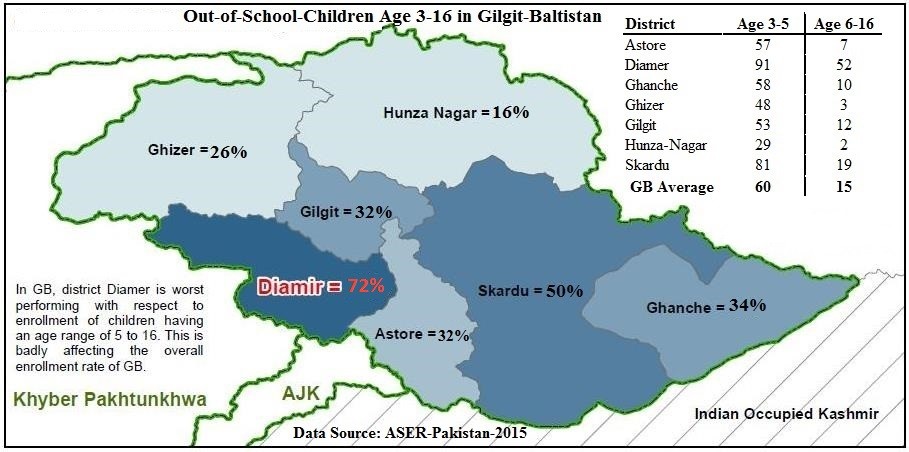 BY: FIDA KARIM
Lately Alif Ailaan and ASER Pakistan have released their reports on Pakistan District Education Rankings 2016  and Annual Status of Education Report-2015 respectively. Both of these reports were showing nationwide educational attainments in terms of learning outcomes, enrollment, school infrastructure and facilities among other indicators. In this regard, I have already assessed the ASER Report-2015 and published my findings with respect to the ground realities in comparative analysis of education in Gilgit-Baltistan (GB) Pakistan. The crux of both the reports is that, overall performing of GB is over and above the national average in terms of net enrollment, retention and learning outcomes in language and numeracy. However, the school infrastructure score remains deplorable, with more than 50% of the schools failing to provide basic facilities to students in GB. District Hunza-Nagar and Ghizer are on top of the list in terms of Primary schools as % of total schools at national level. In this regard Diamer is ranked at 106 out of 145 districts in Pakistan. Similarly, across GB, Diamer is the worst performing district as almost all of its indicators in education sector shows alarming outlook; thus badly affecting the overall ranking of GB in education at national level.
Therefore, this write-up is mainly focusing on what works, what not works and what needed to be done to address the educational crisis in District Diamer in the days to come.
According to United Nations Children's Fund's (UNICEF) report on 'State of Children in Pakistan' in District Diamer with an estimated population of 200,000-plus, "only four girls attend middle school." According to the Alif Ailaan's Pakistan District Education Ranking 2016, Diamer is ranked 92 out of 145 districts in educational attainments. On the scale of 0 to 100, in the year 2016, district Diamer scored 28 in enrollment (access), 82 in learning outcomes (test scores), 56 in retention (survival rate up till class 5) and 53 in gender parity (equity). As compare to last year, the overall school enrollment score has been decreased from 39 to 28 and retention score from 78 to 56. Nevertheless, as compare to last year gender parity and learning score of Diamer have been improved, but still there is a long way to go to abridge this gap and bring it at par with regional and national average.
It is alarming to see that as per ASER Survey-2015, 91% of children (age 3-5) are out of preschools and 52% of children (age 6-16) are out-of-schools in District Diamer. This means overall a whopping 72% of children (age 3-16) are out-of-school in Diamer. Out of these out-of-school-children (OOSC), an overwhelming 69% are girls. And out of all enrolled girls in Primary schools, only 16% can read a sentence in Urdu and 15% in English in Diamer. However, it is interesting to note it here that, in terms of learning outcomes (test scores) in numeracy (mathematics) District Diamer is among the top performing districts at GB and national level as 65% girls and 64% boys can do at least two digit subtractions. This shows that the children of Diamer are equally talented but they needed access to educational facilities and a level playing to unlock their true potential. And this is where state institutions needed to intervene.
In terms of overall education score of Diamer, Pakistan District Education Rankings 2016 have placed Diamer at the bottom of the list as its average score in education is 1st quartile which is much lower than regional and national average.
Similarly, regarding infrastructure facilities, the Diamer district has been ranked 79 out of 145 districts at national level and 4 out of 7 surveyed districts at GB level. Last year it was ranked 127 out of 148 districts at national level and it was at 4th position out of 7 districts at GB level. This shows a commendable improvement in infrastructure in terms of electricity, drinking water, boundary wall and physical condition of school buildings in Diamer. However, availability of functional toilets and boundary wall are some of the main issues as 88% of schools are running without toilet facility and 55% are without a boundary wall in Diamer. These are the major reasons in this conservative society, due to which 44% school children (especially girls) are dropping out of school without completing even the Primary level of schooling in Diamer.
It is befitting to note it here that, out of 239 total schools, 86% are Primary Schools in Diamer. While in GB and national level, there are 63% and 46% Primary School. Similarly, there are 68% Primary schools with a single teacher in Diamer; whereas, it is 35% at GB level and 15% at the national level. In the same way, there are 38% Primary schools with a single classroom in Diamer; whereas, it is 11% at GB level and 7% at the national level.
These indicators underpin the GB government policy through which it has opened small schools with a multi-grade system in isolated and equally scattered areas. As a consequence, there is a proliferation of schools, but ironically many lack quality staff and the basic requirements of a school. According to local media reports, the backdoor appointments of under-qualified kith and kin of powerful government officials as a school teachers have made the matter worst in the Diamer district in general and Goharabad in particular. As a result, the otherwise bright children of Diamer are depriving in getting their basic human and constitutional right in terms of access to quality education. This deprivation have further trapped locals in poverty cycle and exacerbated security related challenges in the region as we have already seen manifestation of this intellectual poverty in the form of 2013 Nanga Parbat massacre,  sectarian killing in Harban Nala, terrorist attacks on law enforcement agencies and blown up of girls school buildings in recent past in District Diamer.
Therefore, I call upon the GB government in general and the Education Minister and Secretary Education in particular to enforce educational emergency to address the educational crisis in District Diamer. In this regard, it is suggested to provide all missing facilities in existing schools under forthcoming provincial budget besides starting enrollment campaign through community mobilization with special focus on out of school girls. Also build new girls' schools and post-primary level schools, closer to large communities with higher out-of-school girls' populations and low transition levels from primary to middle as it can potentially improve gender parity score. Additionally, it is suggested to offer incentives to get education  and prevent corporal punishment to increase girl's enrollment.
Furthermore, proper monitoring and participatory evaluation of the existing school to ensure the presence of school teachers, timely control of dropouts along with quality of teaching through teachers training and merit-based appointment of teachers is the need of the hour. Besides this, the government needed to involve private sector through Public-Private Partnership (PPP) as this kind of partnership with the Aga Khan Development Network (AKDN) under  the Education Development and Improvement Programme (EDIP) have already proven to be a highly fruitful venture as it helped increase the enrollment and learning outcomes for both girls and boys in local schools in Diamer District. Last but not the least, GB government, educated youth and locals needed to take ownership of educational development by protecting educational facilities, pinpointing their educational issues and find local solution with the help of concerned stakeholders, including  Non-Government Organizations besides encouraging children to attend school to address the educational crisis in District Diamer. To sensitize locals and resistance forces against girls' education,  it is suggested to arrange exposure visits to local elders, clergymen and notable social activist from Diamer to other districts in GB where educational attainments are impressive and gender parity is at its best in Pakistan. Furthermore, in the age of social media, GB Education department is needed to virtually engage targeted communities through social media updates and complaints redressal. Let's reiterate our commitment to play our due role to promote quality education in District Diamer as educated Diamer is in the very interest of prosperous GB and secure Pakistan.
The writer is Country Manager-Monitoring & Evaluation of a nationwide education improvement program in Pakistan. He tweets at @FidaKarimHunzai and can be reached at fidakarim.rspn@gmail.com