"CKNP-A Steps towards Sustainable  Nature Conservation in Gilgit Baltistan"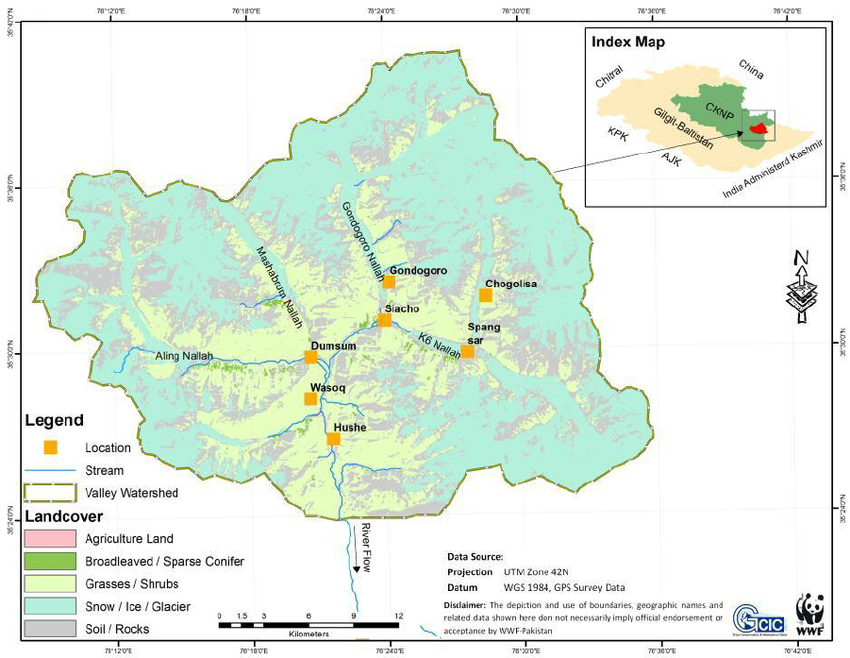 By Syed Mujahid Ali Shah, S.Qudsia Bano and Raja Tariq Abbas
Recently the government's approach towards protecting nature in Gilgit Baltistan (G-B) has been an effective and success story in the world where several trophy hunting programs under the Forest and Wildlife Department have resulted in conservation of critically endangered species of  markhor and ibex and indirectly supporting the snow leopard population to grow which depends mainly its pray mainly on ibex and markhor in the wild.
The Trophy Hunting fee has so far generated millions of rupees ranging a trophy fee ranging from USD 3000 for a Himalayan blue sheep and USD 8000 for an ibex upto USD 67500 for a markhor. The 80% of the revenue directly goes to the communities and 20%  into the state exchequer under the rule.It has helped improve the economic conditions of the remote communities as well as repairing their perception towards wild fauna having  multiplier positive effect on their income of the trophy when hunted as compare to  an illegal kill.
Beside such government-communities partnership of participatory approach towards nature conservation, the creation of strict conservation areas namely National Parks in G-B in recent history like Khunjerab National Park (2300 km2.), Deosai National Park (3,000 km2) and  Central Karakoram National Park (10,000 km2) has triggered interdisciplinary discussion among social scientists and natural science experts. The social scientists like Knudsen, John Mock, David Butz and Nosheen Ali have criticized the conservationists for advocating the convergence of more than 40 per cent of land in Gilgit Baltistan into national parks, game reserves and wildlife sanctuaries squeezing the livelihood opportunities of the locals who directly depend on natural resources. Since in a National Park and other strictly prohibited zones, people can no more cut trees in forests nor grazing their cattle in grass lands and pastures inside the core zones.
But on the other hand near the natural scientists like George Schaller and Peter Zahler this concern would be an ignorance to the fact that rare and critically endangered biodiversity in the mountain region of Gilgit Baltistan have been posed to threats of both human population surge and drastic changes in the climate. Therefore natural scientists are advocating protection of such species with enforcement of strict rules and regulations by the government for their conservation.
As it was George Schaller who marked status of endangered species of Mrcopolo sheep and Snow leopard as critically endangered when he saw only 53 Marcopolo sheep and  100-250 snow leopards  in 1975 left in Gilgit Baltistan .He strongly advocated a national park to be established. It was his success that the then government of Z.A Bhutto notified Khunjerab National Park (KNP) as the first national park of Pakistan in the Khunjerab steppe zone in the Pak-China border region in Hunza District Gilgit Baltistan.
After the establishment of KNP George Scaller again counted Marcopolo sheep in 2008 grown  to 150 in the area and also in 2006 Shafqat Hussain at Yale University studied the snow leopards number  grown in between 300-420  in G-B. Another example of such encouraging results in of strictly conserving endangered species  is  of woolly flying squirrel in Gilgit last sighted by scientists in 1924 which and was declared as extinct. But strict conservation measures by the Forest and Wild Life Department in Gilgit Baltistan in collaboration with a local NGO  the habitat of this specie became again fertile. It was re-discovered by Peter Zahler in 1994, and world saw a miracle in the world of science.
Having such stories of successfully protection of some of critically endangered and near to  extinct species of the world in Gilgit Baltistan,  social scientist still argue that to make the protection sustainable participation of communities living in and around the protected areas in conservation planning and legislation of National Parks is necessary .As the recently filed cases by communities living around Khunjerab National Park in local courts  regarding  land use issues is one example which various social scientists cite to strengthen their point of view that the strict nature conserved areas are creating conflicts.
In the recent times, the CKNP notified in 1996 by the government initially comprising with 19000 km2 which was cut down to 10,000 km2 after  Shimshal valley community in Hunza District were able to convince the government to acknowledge  their conservation efforts through an  organization Shimshal Nature Trust (SNT) and not convert their rangelands and forests as part of CKNP. Currently the CKNP includes parts of Gilgit , Nagar ,Skardu and Ghanche having more than 100,000 souls directly depending on the resources of the park. The government has  worked out a participatory frame work for the governance of the park
Currently CKNP notified in 1996 seems a success story concluding its Legislation and Management Plan resulted after a decade long inter-disciplinary dialogue facilitated by the Government  in collaboration  with international NGOs , local communities and academic experts framing a legislation and constructing a management plan. Which seems less traditional and taking the voices of people into account who directly depend on the natural resources for their livelihood in the park area, and equally addressing the threat to the species in danger to be effectively protected, as the nature has no voice.
Syed Mujahid Ali Shah has graduated at University of Greifswald Germany in ecology and nature consevation currently pursues his PhD. 
S.Qudsia Bano is an M.phil Scholar in Education and a visiting lecturer at  Department of Education at KIU.
Raja Tariq Abbas has graduated in Environmental Sciences and currently works as Development Specialist in a civil society organization at Gilgit.