PRCS trains Ghanche teachers in school safety and first aid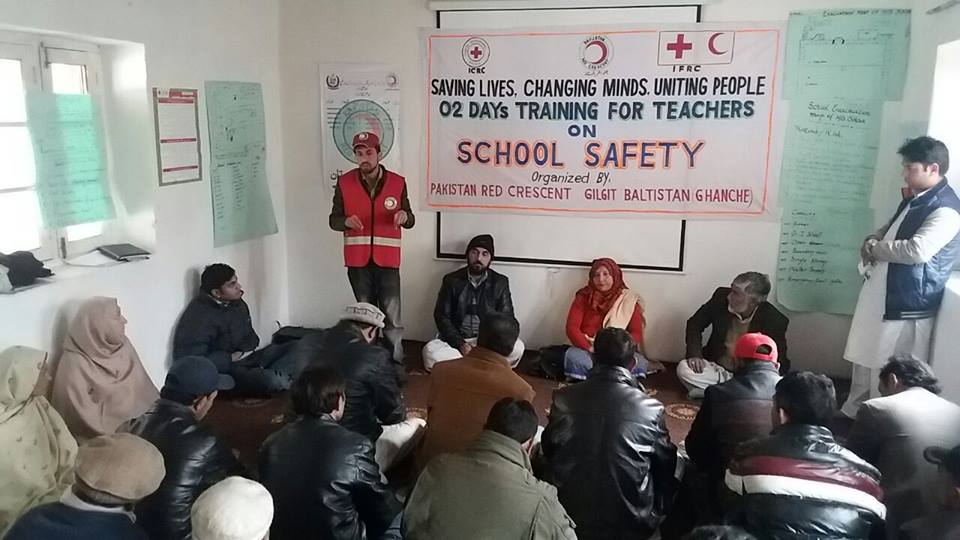 By Nisar Ali
Ghanche: Pakistan Red Crescent Society Gilgit Baltistan arranged two days School Safety Training for 26 teachers of 13 discrepant schools of Chorbat valley of district Ghanche at Siksa High School. District Officer PRCS-Ghanche, Gilgit Baltistan Muhammad Ibrahim conducted the training on school safety and first aid.
Basic training on techniques and knowledge about managing a medical emergency, taking care of a casualty, controlling bleeding, burns, scalds and fractures, among other conditions was imparted to the teachers.
The closing day of the training session was attended by Member Legislative Assembly Gilgit-Baltistan Shereen Akhter, Deputy Director Education Haji Muhammad Ibrahim, Senior volunteer PRCS- Ghanche Ghulam Abbas Sahar and others.
"The school safety and first aid training are very important it should be more focused on women teachers" said Shereen Akhter while talking to this scribe, while appreciating efforts of PRCS in Ghanche. She further said that more than two casualties had been recorded due to the lack of first aid training in Ghanche in the recent past, hoping that better trained individuals will be able to respond during times of emergency and provide aid to the affected people.
Commenting on this training Deputy Director Education expressed satisfaction upon the training, he maintained that it was also included in the policy of government to give the first aid and school safety training to every teacher of the school. It is worth to mention that more than 20 sessions have been conducted this year by PRCS at different schools of district Ghanche.