Mohsin Amir, a student of high caliber and pride of Gilgit-Baltistan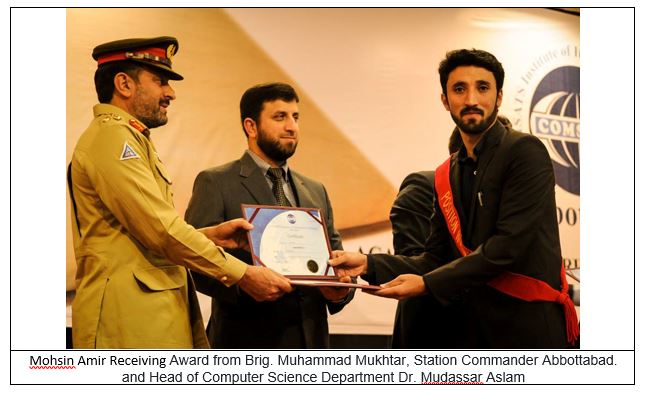 Mr. Mohsin Amir, hailing from Hatoon village of Punial valley has been awarded Meritorious Certificate for achieving top position in his previous semester. He is current studying in 7th semester in the Department of Computer Science at COMSATS Institute of Information Technology, Abbottabad. He was awarded the certificate in a gathering for prize distribution arranged by COMSATS University for the position holders. The awards were distributed by Brig. Muhammad Mukhtar (Station Commander Abbottabad) and the Head of Department CS Dr. Mudassar Aslam.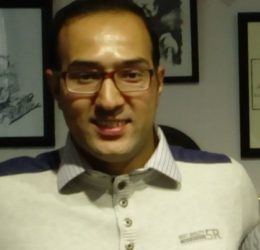 A student of high caliber like Amir, is pride of Gilgit-Baltistan (GB). Even though, belonging to a resource constrained area in GB, he put his efforts to compete at national level and earned high merit position. He is an example for all of us and if we work hard like him, we can turn our harsh and tall mountains of difficulties into smooth valley of success. I strongly believe that an individual's effort does not go in vain as it is evident from Amir's story.
On the other side, the efforts put forward by COMSATS University are highly appreciated for encouraging the young talent in the form of awards and cash prizes. It is worth noting that COMSATS is a private university, even though it provides financial assistance to a number of students in the form of scholarships and cash awards. We hope that the number of fully funded scholarships will be increased in future to accommodate more and more students belonging to backward areas. Moreover, we hope that Government of Gilgit-Baltistan will start a student assistantship program in the form of scholarship for youth of GB.
Even though many educational institutions in GB are not up to the mark even at national standards, yet producing students like Mr. Amir is not less than a miracle. The need of the time is to standardize the education system across Pakistan and specifically GB to ought the hidden talent of our young guns.
Apart from curricular activities, Amir likes to play cricket and football. He qualified Microsoft Specialist Certification as well. He wishes go abroad for higher studies and pursue career in Computer Vision or Artificial Intelligence.
In the end, I request all our youngsters to follow footsteps of a person like Amir to scale the summit of success. Believe it or not, if you start working hard now, you will become next Amir. I wish you all the best.
The contributor is a PhD Scholar in the field of computing. He has interest in writing on various subjects including education, technology and social circles. He can be reached at "@akhtar599" on twitter. Website: http://akhtarcs.weebly.com/