China's constructive approach to regional development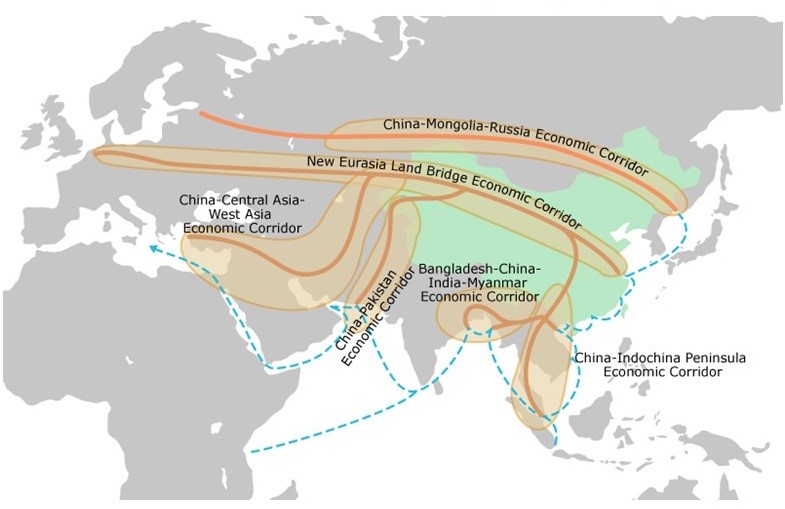 By Shakeel Ahmed
China's rapid advancement has put the effort on the relations; it deals with its neighbors. Particular national interests and the large social and political diversity in the region make the advancement of regional community a complex and soft mission.
China has the largest number of neighbor's 14 sharing its 22,000 km land borders namely: North Korea, Russia, Mongolia, Kazakhstan, Kyrgyzstan, Tajikistan, Afghanistan, Pakistan, India, Nepal, Bhutan, Myanmar, Laos and Vietnam. China has had, or still has, border issues with some of its neighbor's. The biggest outstanding border issue is with India. This paper reviews the origins of China's border disputes with its neighbours, the current state of development, and discusses what can be done to overcome the challenges China is facing in the region.
There are 14 sovereign nations that sharing border with China. China's 22,000 km land borders are connected with these nations namely: North Korea, Russia, Mongolia, Kazakhstan, Kyrgyzstan, Tajikistan, Afghanistan, Pakistan, India, Nepal, Bhutan, Myanmar, Laos and Vietnam. But China is still facing border issues with several of its neighbors. India is big neighbor and challenging foe for china but after 1962 Sino-Indian war, both regional players have entered in economic competition which is considered china's new Grand Strategy to counter its foes with economically by joining hands with its neighbors. The purpose of this paper is to highlight the importance of China's economic initiative for regional development.
Progressive deliberation should similarly be given to hostile national interests in the development of these associated relations. Chinese economics and international influence creates new challenges and opportunities for the development of neighboring countries, its relations and regional policies. The increasing involvement of extra-regional powers, for example, the United States, Japan and India, serves to additionally disorder China's association with its neighbors.
China and it neighbors have a mutual enthusiasm for keeping up a peaceful and supportive relationship. If this enthusiasms and peaceful connections will disturb. All sides will automatically suffer. This is the suggestion behind the Chinese authority's require a group of shared interests and common intention with its neighbors through various new activities. This new grand strategy is supported by China's developing confidence in its capacity to shape the regional environment. It mirrors another method of strategic thinking on the best way to position China among its neighbors and how to realize the new significance of China's neighboring settings.
China has created activities to upgrade regional connections, however the political, social and economic assorted qualities among China's neighbors is enormous. Relations are further confused by conflicts of interest between the neighbors themselves, and as well as by mediation from major players, which take part in unmistakable and mysterious race in the region.
As China's influence rise, its neighbor's uncertainty have developed. Some of them worry that China's harbors desire for regional power. Maritime and territorial clashes, over the leading economic zones in the East China Sea (ECS) and South China Sea (SCS) specifically, have caused in rising tension between China, Japan and some ASEAN states. There has been comprehensive fear that hostilities may prompt to a military conflict in that area. The announcement and execution of the United States (Pivot to Asia) Strategy, which fuels US–China rivalry in particular region, has opened up these troubles.
China's rise has triggered complex responses among its neighboring states. Sometimes, it has exacerbated existing problem. When China was weaker, quarrels were more likely to be shelved. China frequently did not have the ability to address them, and neighboring nations viewed their relationships with China as a lower priority.
As a rising player, China will essentially develop its interests and put on its influence. This could lead to contention and skirmish, especially with the US. Accordingly, an emerging sense of nervousness has increased among the neighboring states that fear that China would look for regional domination at their outflow. Disputes among countries, including territorial problem, should never be settled by choice on war.
Chinese culture advocates peace and coordination, recognizes resolving disagreements, seeks settlement and adopting the principle of the most famous Chinese military strategist  Sun Tzu  by believing on tactical principle of subduing enemy  without using force. The time for China to show this (culture of Harmony) may be arriving.
The idea of this coordination has shaped Chinese culture and politics for quite a long time. In September 2011, the Chinese State Council Information Office (CSCI) combined these values into China's foreign policy by releasing a white paper entitled 'China's Peaceful Development'. This report outlines the fundamental values that ought to describe China's strategic growth to international level, with an attention on the idea of a harmonious culture.
China and its neighbors have recently called for building community of shared interests and common dignity between china and its neighbor's. In light of the managing values of harmony, seriousness, common benefits and comprehensiveness. But this mutual understanding will totally rely on will and insight of both China and its neighbors.
China and ASEAN countries have tried great endeavors made to build up the China–ASEAN relationship. The China–ASEAN Free Trade Area and vital corporation is only one case of an effort by both sides to construct a supportive structure in light of positive approach and realistic interests. But in the case of South China Sea tensions, particularly in light of the Philippines' one-sided gesture through the Permanent Court of Arbitration in The Hague, hamper development. But the presence of US military near to Chinese maritime zone pours oil on the fire.
ASEAN and China have reconfirmed their enthusiasm to peaceful resolution based on constructive diplomacy and the Philippines' recently elected new president, Rodrigo Duterte, supports this tactic. Both China and ASEAN recognise that collaboration, instead of hostility, this will prompt to the best end result in dealing with the dispute. Such settlement could be originated on talk and cooperation, absorbing on easing regional strains and finding the most ideal approach to assign resources.
China recently declared economic mission for regional economic stability and prosperity through the OBOR.  For completion of these desirable goals Chinese president visited all most all SARRC nations for the development of One Belt One Road. China-Pak have already taken the lead by   the starting work on China Pakistan economic corridor. This mega project has definitely increased the economic significance for regional development; China can accomplish their Economic desire through this transit route for energy and resources. CPEC is not about to linking China with Pakistan it will connect China with Persian Gulf and the Mediterranean Sea through Central Asia and West Asia and linking China with Southeast Asia, South Asia and Indian Ocean. There is two Silk Road which connects China with more than half of the world; one is designed to go from China's coastline to Europe through the South China Sea and Indian Ocean by maritime route. And the other route from China's coastline through the South China's Sea to the South Pacific.
The procedure of regional collaboration develops a sensation of common sprit and shared interests. The most authoritative changes for East Asia and South Asia is that the establishment of regional collaboration is currently established on multidimensional structure extending from mutual  to regional level mechanisms.
China has so far assumed a dynamic part in advancing this sort of regional participation, demonstrating that what a rising China needs is to build and strengthen the neighbors. 

About Author
Shakeel Ahmed is Research Intern at Institute for Strategic Studies Research and Analysis in Global and Regional Assessment Unit. Author recently completed Master's Degree from National Defense University Islamabad in Strategic and Nuclear Studies. He obtained his Bachelor from Karakorum International University Gilgit Baltisatan.
Email: shakeelacs4@gmail.com