Dialogue: Do we look at the bigger picture?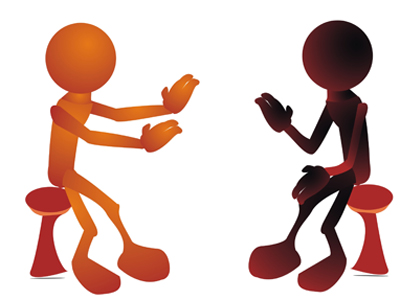 By Shakir Ahmad
Ali.    Hallo my friend, congratulations on obtaining your degree from a prestigious institution with high grades. The whole GB is proud of you as the son of soil.
Shah: Thanks dear
Ali: I hope you will now have a nice chance in future for your life.
Shah:  Yes, I hope I will give my best to the field of my work.
Ali:  What do you want to do later on?
Shah:  I will apply in an NGO for a job announced last week that is working on my subject of interest. I will also look for other options but I hope I will get a chance in this one, because I have worked during my internship in the organization.
Ali:  Sounds good but I was expecting that you would apply in government sector.
Shah: I would like to but I want to work on practical basis not just getting a good salary or status. Moreover, the process of selection in these public institutions in flawed. They are not checking our abilities or creativity but just a set rule of conduct.
Ali: But in spite of all the flaws, we need some good people who can change the system from within and this will be the biggest work for the public. If the educated youth will not take interest in this process, then the undeserved people will always fill the opportunity.
Shah: You are right to some extent but when we have other chances then why should we engage ourselves in the dirty political controlled system of governance.
Ali: That is not what I was expecting of you. You got the quality education that many others can just dream of and your family was always there for support that many students wished for! If you are not interested in changing the traditional system, then we cannot expect it from others.
Shah: Dear I am looking to build my future in a peaceful and polite way. I will not indulge myself in the system's affairs. After all, we belong to the peaceful community and we have our own institutions for which we can work in a better way with dignity and respect. Many people have been doing it from decade while contributing their part for the society.
Ali: This is what I am trying to make you understand. We have been living in a system where we worked and lived under the banners of various institutions when our region was not in the limelight of the world. We all contributed with the institutions for the development of the society at various levels in the society.  Now the dimensions have changed with the involvement of foreign actors in the region for their own gains. They are keeping us away from the mainstream roles by various methods feasible for them. How can you not see the flaws in our so-called "educated and developed culture" society?
Shah: What are you talking about? We are one of the best-educated communities in the country with high moral values, peaceful culture, women empowerment, mutual respect and unity. Our land is a paradise for tourists.
Ali: That is not the point here. We are on the crossroad of various economic routes and the new era of world trade has focused its eyes on this region. As you know, the CPEC project is a key element for this region. We are still not making our minds to take benefits from it.  Can you tell me any economic policy made by our authorities for this region or any educated youth plan on commerce and business? Issues are being politicized to keep us away from getting the maximum benefits with involvement of local power seekers.
Shah: Politics is not an interesting thing for me. We do not want to be involved in this dirty game of power and rivalries. We must focus on matters that are more important.
Ali: Really? Do you think we can live like this? For how long can we keep our selves within our "fool's paradise"?  Have you forgotten the 2010 Disaster? We suffered at the hands of the political elite who had no interest in the welfare of the people.  If we had a strong political voice, then the situation would have been different. It is time for us to wake up and look for our own political leadership for which the educated youth can play their important role.
Shah: But it is not that easy in this system to get your rights in a peaceful way. Things will change, for bad or worst. We have no platform to learn politics in a practical way for our rights.
Ali: Yes, that is the point, but we can make it practical by establishing organizations and projects for public awareness. Although we are good at developing projects making, more focused on "Culture", we need to understand the ground realities, to able to survive in this era of global inter dependencies. I am hopeful that we can initiate positive debates on various issues among the youth, with guidance from the elders who have lifelong experience of providing a route for social awareness. I have seen some youth initiating such debates but only on social media, which is a good step, but we need to bring it to the streets.
Shah: I will try to be part of such a project but will be careful for about my career.
Ali: I am happy to hear that. Moreover, I will try my best to keep myself with such a mission for our land and people.
Shah: Okay. Enough talks now. I have to go for cultural event in the village. Hope to see you around.
Ali:  Thanks for the time.  Keep your eyes on the bigger picture.