1048 teams to immunize over 200 thousand children against Polio in Gilgit-Baltistan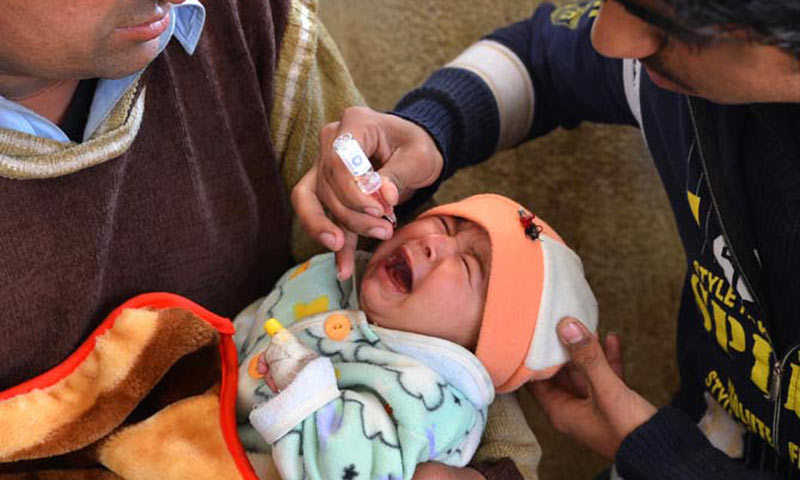 Gilgit: (PR) The 1st round of National Immunization Days (Polio Days) 2018 will be conducted in the country including Gilgit-Baltistan from 15-18 January 2018 targeting all children less than five years of age adopting House-to-House strategy.
During the campaign, 236547 children under five years of age will be administered polio drops against the crippling polio virus. For which 1048 Mobile Teams, 61 Transit Points, 352 Fixed Sites and 419 supervisory staff have been deployed for successful campaign in Gilgit-Baltistan.
To monitor the Polio campaign, District Polio Control Rooms have been established in respective Deputy Commissioners (DC) offices. Provincial Polio Control Room has also been established in Provincial EPI office GB. Chief Secretary GB, Secretary Health GB, DG Health GB, Director EPI, Regional Directors Health and representatives from WHO will also monitor the campaign.
In order to make the National endeavor a real success, all parents are hereby requested to extend full cooperation with Polio Teams to get your child vaccinated at your door step. Your cooperation in this regard will enable us to eradicate Polio from our region.
Director, EPI-GB, has requested all stakeholders, influencers and opinion makers of Gilgit-Baltistan to strengthen hands of EPI to give final push to the polio from the region enabling to be called a polio free country.