Renewable energy holds key to slow down global warming, moot told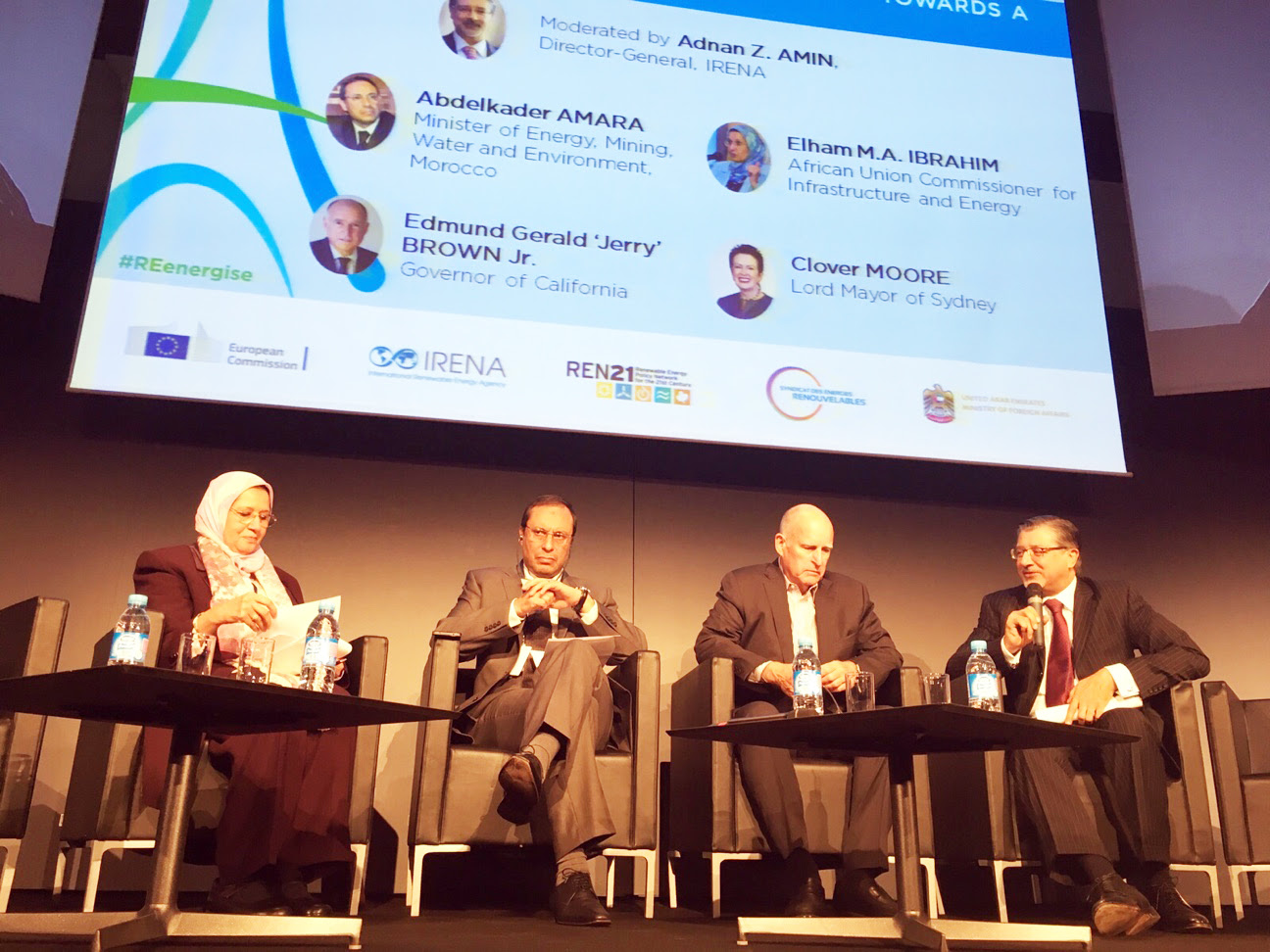 By Saleem Shaikh and Sughra Tunio
Paris/Islamabad (December 10) – Renewable energy experts emphasised need for abandoning use of fossil fuel and large scale adoption of renewable energy to power world economies and fight climate change.
Harvesting sun, wind and other sources of energy sources, which are clean and renewable hold key to slow down climate change caused by burning of climate-altering fossil fuels, they argued in their remarks at an international conference 'Renewable energy solutions, innovation and action discussed today in Paris at the 'RE-Energising the Future' international conference held in Paris, France, on December 6 on the sidelines of the United Nations' global climate conference also called 21st session of the Conference of Parties (COP21) to the United Nations Framework Convention on Climate Change. 
"It is now not a question of 'if' the world ultimately transitions to a renewable energy future, but rather whether it will do so quickly enough. The energy choices we make in the next few years will determine whether we are able to close the emissions gap, and in doing so, secure a liveable climate where future generations can thrive." – Adnan Z. Amin, Director-General of the International Renewable Energy Agency (IRENA).
Representing a cost-effective solution to energy sector decarbonisation, renewables contribute to the reduction of greenhouse gas emissions – a top priority to keep global temperature rise below 2°C, according to a press release issued by IRENA.
It says the tapping renewable energy sources can help reduce the dependence on fossil fuels, create jobs, and support the economy on sustainable basis.
Renewables currently provide 22.8 percent of the world's electricity, according to reports.
During the event, government leaders including Miguel Arias Cañete, EU Commissioner for Climate Action and Energy, Ségolène Royal, French Minister for Environment, Abdelkader Amara, Moroccan Minister of Energy, Jerry Brown, the Governor of California, and Clover Moore, Lord Mayor of Sydney, will discuss their plans for scaling up renewable energy investments. CEOs from companies such as Masdar, Solar Power Company Group, 50 Hertz and Iberdrola will showcase innovations and breakthroughs; representatives from Google, Facebook, Statoil, Build Your Dreams and M-KOPA, among others, discussed their 100 percent renewable energy operations.
Two new initiatives were launched, namely: the establishment of the Global Solar Council by the leading regional and national solar associations; and Collectively's "We Got Power" campaign bringing together some of the world leading brands, NGOs, innovators and a global millennial audience.
The conference was part of a series of events comprising a 'Renewable energy track', which took place from 4-7 December on the sidelines of COP21.
The event aimed to show how renewable energy is among the fastest, cleanest and most economically beneficial ways to meet climate goals. It is organised by the European Commission (EC), the International Renewable Energy Agency (IRENA), the Renewable Energy Policy Network for the 21st Century (REN21), the Syndicate for Renewable Energy of France (SER) and the United Arab Emirates (UAE) Ministry of Foreign Affairs.
Experts also highlighted the pace the world was heading towards inevitable use of renewable energies as they get to know to the unprecedented scope of the environmental-friendly energy sources.
"The world is shifting with great pace towards clean energy. This is an undeniable fact. Renewable energy is playing a big role in this transition, which is why the European Union will keep investing heavily in them, aiming at reaching a share of at least 27% of renewables in the EU energy mix by 2030. Renewable energy is not only good for the climate; it also secures a reliable, robust and sustainable energy supply for Europe." – Miguel Arias Cañete, EU Commissioner for Climate Action and Energy.
Dr. Arthouros Zervos, Chair of REN21 that surging use of renewable energy sources across the world has played a key role in stablising carbon emissions.
He told the participants of the event, "Despite rising energy use, for the first time in four decades, global carbon emissions associated with energy consumption remained stable in 2014 while the global economy grew; this stabilisation has been attributed to increased penetration of renewable energy and to improvements in energy efficiency and shows that renewable energy deployment is a central pillar for reaching our climate targets."
Jean-Louis BAL, President of SER spoke on the expectations from the COP21, which is expected to seal Paris agreement that aims for reducing carbon emission to stablise climate change.
"We expect binding emission-reduction targets for all 195 countries to limit global temperature rise to 2 degrees Celsius. Replacing fossil fuels with renewable energy is the most effective way to achieve this. This transition is already underway and will be strongly stimulated by a universal agreement," he said.
Dr. Sultan Ahmed Al Jaber, UAE Minister of State and Special Envoy for Energy and Climate Change, shed light on how United Arab Emirates (UAE) has committed to be a global leader in promoting innovation in the field of renewable energy to benefit the world and help it fight global warming.
He said, "The UAE is a global leader committed to advancing innovation and renewable energy technologies. We have set an ambitious goal to achieve a 24 per cent clean energy mix by 2021 as part of our pursuit to diversify the UAE's economy. Our actions reinforce our commitment to addressing climate change while ensuring a sustainable future for generations to come."