The Changing Nature of Health Care in Pakistan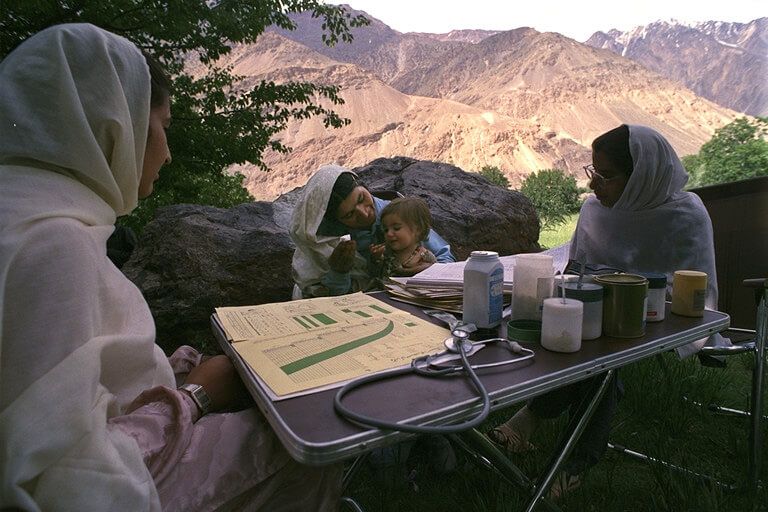 By Dr. Gijs Walraven, and  Nadeem Abbas
There have been a number of discussions around the changing nature of health care in Pakistan, but perhaps most people do not yet grasp how profound these changes have been. In Pakistan, for example, life expectancy has risen from 53 years in 1986 to 66 in 2015, according to the World Bank.
The hospitals, clinics and other facilities that make up the health care activities of the Aga Khan Development Network (AKDN) have also experienced these changes. The network of health care clinics that were set up in Northern Pakistan 40-50 years ago by the Aga Khan Health Services (AKHS) has had to continually adjust to meet new and emerging health needs.  Historically, the clinics were set up to address, among other things, communicable diseases and maternal and infant mortality. But today, we need to revise the mix of our services if we are to fulfil our mission – which is to provide the best quality health care we can.
The changes we face are numerous. The burden of disease has changed.  While in earlier times the priorities were to promote vaccination, antenatal, safe-delivery and post-natal care, we now increasingly need to tackle non-communicable diseases, such as heart disease and diabetes – while still performing vaccinations and training skilled birth attendants.
Recognition of those changes began in 1978, at a conference on primary health care, in Alma Ata (now Almaty), Kazakhstan, when the world came together to discuss goals for comprehensive primary health care.  The Alma Ata principles, as they were later called, aimed to build a primary health care system that could sustain – and improve upon – the gains that had been made in the last generation.
The Alma Ata principles included universal access to primary health care for all, regardless of social standing.  They involved community participation in health care, so that there would be a better understanding of diseases and appropriate diagnosis and treatment.  They sought to improve collaboration between development sectors because education, agriculture, household economy, and water and sanitation were understood to be strong determinants of health.  Finally, the principles aimed to create a culture in which medicine, medical facilities and other health care resources were used appropriately.
As a response to these principles, AKDN institutions worked to develop an integrated approach. It focused on the main health problems of the community – informed by local research, but also drawing upon global knowledge when appropriate.  AKDN trained health care workers in Pakistan and raised their status, particularly for nurses. Finally, it pursued a holistic approach that included key determinants of diseases, such as safe water, adequate sanitation, improved livelihoods and education.
We might point out that this multisectoral approach, whether acknowledged or not, has been replicated in other countries and has received a number of global awards, including the Global Development Award for Most Innovative Development Project and the Alcan Prize for Water and Sanitation.
Although Pakistan's overall health efforts have been questioned in recent reports, the  success of health programmes in the areas where AKDN institutions work is clear: Infant mortality has dropped from 158 per 1,000 live births in 1986 to 20 per 1,000 in 2014, compared with 59 per thousand live births for Pakistan as a whole (according to the World Bank). Maternal mortality fell from 550 per 100,000 live births to 58 – a dramatic result.  The number of deliveries assisted by a skilled attendant rose from 13% to 86%. The number of children aged 12-34 months who received the measles vaccine went from 11% in 1986 to 96% in 2014. Access to safe water rose from 5% of the population in 1986 to 72% in 2014; access to sanitation rose from 8% to 59%.
Not all of these changes can be attributed solely to AKDN activities. Other changes, such as   infrastructure, have influenced these improvements. The Karakorum Highway, for example, was not completed until the late 1970s but its construction led to an era of unprecedented economic growth – and the services that come with it. Its construction, and that of other bridges and roads, opened up an area bigger than Sri Lanka.
Other changes had a bearing on primary health care. The Government of Pakistan, which works closely with AKDN institutions, greatly expanded its health care facilities.  In many remote locations where AKDN facilities were once the only primary health care points for miles, there is now a network of government facilities and hospitals – sometimes just next door.
In more recent years, we have seen dramatic increases in the number of private providers of health care.  Where once there was little "competition" for health care services, now people often have several options.
Many people have voted with their feet, going to government facilities, which are free, or to the private sector.  As a non-profit health care services provider that has always aimed to fill gaps in health services, AKDN institutions had choices to make: we could continue to prop up clinics that were no longer in demand, or take the step of redistributing services and  limited resources to focus on new gaps in health services and on what we do best.
It should be noted that almost none of our non-profit clinics in Northern Pakistan are recovering their costs.  Many defray less than 50% of their costs; some even less than 20%. So in order to provide the quality services required of us, we must make some hard choices about which clinics and health points should remain open and which ones should be expanded and provide new and much-needed services.
The combination of these changes – and a desire to fill remaining gaps — has led us to develop what we call a hubs and spokes model. In Gilgit-Baltistan and Chitral, for example, it means concentrating more health facilities and services, including more sophisticated, high-end (and therefore more expensive) diagnostic and treatment tools, in one health centre. Smaller sites refer serious cases to the bigger centres, connecting them via high bandwidth Internet, which allows the smaller health centres to call on the expertise of the doctors in the larger facility.  In this way all of the resources of AKDN can be brought to bear on medical issues, including the Aga Khan Medical Centers in Gilgit and Booni and the Aga Khan University Hospital in Karachi and even other medical specialists abroad.
We are certain that AKDN agencies will continue to have a broad impact on healthcare delivery in Pakistan.  Today, we operate nearly 450 health centres, hospitals, maternity homes, medical centres and dental units, reaching over 1.8 million people throughout the country.
Some of these AKDN health units have been in operation for nearly 100 years. Today, it continues with its original mission, adhering to those Alma Ata principles, but as it moves forward it is building a health system that responds to the challenges of a changing world and growing expectations for improved performance. This involves substantial reorientation and reform of the ways the health system operates in society today.  We are looking forward to working with all who have the same goal of serving our communities better.
Dr. Gijs Walraven is Director for Health of  the Aga Khan Development Network Health Programmes and General Manager of Aga Khan Health Services.
Nadeem Abbas is the CEO Aga Khan Health Service, Pakistan.