International and national teams invited to participate in Tour De Khunjerab cycling race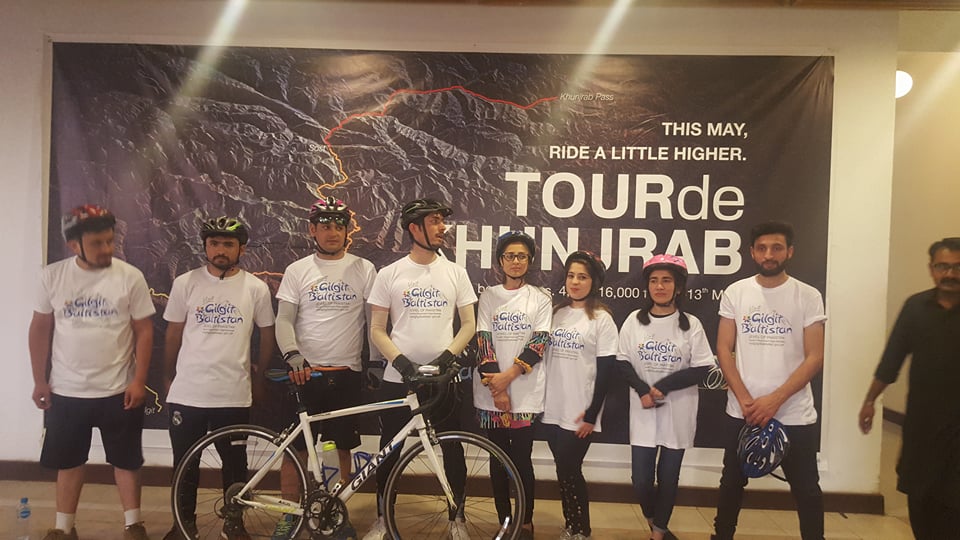 By Nisar Ali
Islamabad: The Gilgit-Baltistan government has finalized preparations for "Tour De Khunjerab", a cycling event which will commence on the 11th of May in Gilgit and culminate at Khunjerab on 13th of May. Individual and team cyclists from within the country and outside are expected to participate in the event.
In this connection, GB administration, information department GB and Pakistan Cycling Federation Officials briefed the national media here on Saturday at the Pakistan National Council of Arts (PNCA).
Speaking on the occasion Chief Organizer of Tour De Khunjrab race, and Commissioner of Gilgit Division, Usman Ahmad, said that Gilgit Baltistan is a very beautiful valley surrounded by lofty mountain and the purpose of tour the Khunjrab was to promote the tourism in Gilgit-Baltistan.
"To attract the maximum tourist in Gilgit-Baltistan we are organizing cycling race first time in GB", he said, adding that they were also inviting international cycling teams to participate in the event.
Vice Chairman of the Pakistan Cycling Federation, Haroon, said that the Gilgit-Baltistan Khunjrab road was the highest paved road and that's why it is the highest cyclist course of the world.
He further added that the race comprises of three stages; the first stage begins from Gilgit to Raka Pooshi (66km), second stage from Raka Poshi to Sost (110Km) and the third and final stage from from Sost to Khunjrab Top (84km).
Secretary General Pakistan cycling Federation Azhar, Deputy Commissioner Nagar Naveed and Deputy Director Information Farooq Ahmad Khan also spoke on the occasion.