How to revitalize AKHS,P in Gilgit-Baltistan and Chitral?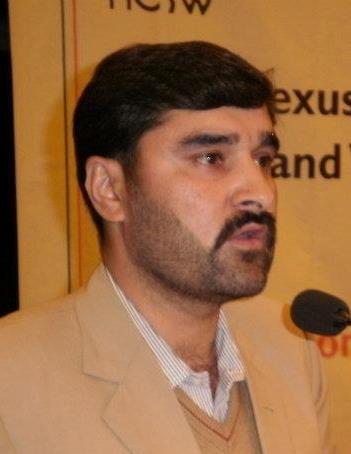 By Israruddin Israr
There is no doubt that government is solely responsible to fulfill the needs of citizens in health sector. Nevertheless, some private entities and NGOs also render pivotal and remarkable service and assist the Govt. in the most important sector of society. Aga Khan Health Services Pakistan is one such organization. AKHSP has been working in Pakistan particularly in Gilgit Baltistan and Chitral since before partition.
On 27th January 2018 a reputed daily newspaper of Pakistan "The Nation" published a story. "Several basic health units of the Aga Khan Health Service Pakistan have been shut for the last one week in the Gilgit-Baltistan as hundreds of nursing and paramedical staffers have taken to the streets against the expected downsizing and rationalisation of employees, who have been serving in the health units for the last several years.
The staffers have converged on the Gilgit city after locking primary healthcare units in Yasin, Gupis, Ishkomen, Punyal, Hunza, Nagar and other parts of the GB, protesting against the AKHSP management and CEO Syed Nadeem Abbas, who they accuse of conspiring against the health service setup, established by Prince Karim Aga Khan." (The Nation, 27th January 2018)
Earlier on 25th January 2018 similar news came from Chitral. Tribal News Network (TNN) reported, "The staff of Aga Khan Health Service in Chitral are staging sit-in in favour of their demands for the last six days, due to which the patients are facing many difficulties".
News from Chitral and Gilgit Baltistan were shocking and astonishing for the communities as they didn't expect such a sudden shift of policy in an institution of AKDN which was considered well-managed.
AKHSP has been maintaining close ties with the vulnerable and poor communities of far-flung and remote areas of GB and Chitral. The institution has been serving these communities relentlessly with a spirit of selflessness. That's how the institution has built close and affectionate ties with the communities, particularly the women folk and children.  Local communities are well acquainted with AKHSP's dependency on its manpower at the initial stage while it was looking for a pace in the area.
When the first lot of local girls had chosen for training as nurses and they were supposed to travel thousand miles away from GB and Chitral to Karachi, their parents had shown a remarkable courage to break the so-called social taboos of the area pertaining to the freedom of women and let their daughters to serve the mountainous communities under the umbrella of AKHSP.
Since the day they returned from their training they commenced to render their services for AKHSP. No doubt they were enthusiastic for serving communities but they were more passionate for earning good name to their institution (AKHSP) beside their dreams for a brilliant carrier and secure future.
After four decades, the news about the unexpected protest of staff was implausible for the local communities. The local communities offered their unconditional support for the local staff and criticized the sitting management of AKHSP for this irrational and unpopular decision of downsizing.
Protestors have very simple demands. They are not against the transformation and modernization of the services of institution, rather they demand for an effective service structure for the staff, so that they would not feel insecurity as bread winners of their families.
The stories narrated by newspapers are lamentable. "The protesting staffers said that they had been rendering services in different AKHSP centres in remote and far-flung and almost inaccessible areas of the GB but the current management, according to them, was bent on shutting the units in the name of rationalisation and downsizing, planning to lay off hundreds of employees, some of whom have served for over 30 years since the AKHSP centres were made functional in the GB in 1976.
According to the protesters, the current AKHSP management instead of assuring them of job security has prepared termination letters in the name of "golden handshake" under which a "meagre amount" is being offered.
"I have served in the AKHSP for the last 26 years and we are being offered 26 basic salaries, and by that formula, I and other staffers will end up getting only Rs0.2 million, which is a joke," said one of the staffers wishing not to be identified fearing repercussions from the management.
"The current management and the CEO are attempting to turn the AKHSP into a profit-oriented unit instead of being service-oriented as per the vision of His Highness (Prince Karim Aga Khan)" another nurse claimed, mentioning that the management had also set unachievable targets for them.
She said that instead of improving the existing basic health units, they were closing them in the name of creating secondary-care centres in fewer areas, conversely, laying off the redundant staff.
"I have been working with the AKHSP for the last 24 years and we remained with the set up through thick and thin and at the cost of our families and children. Now while our children have gotten admissions in colleges and universities and they need our support, the AKHSP management is terminating us," another staff member said, demanding of the GB and the federal governments to take up their issue with Prince Karim Aga Khan .
She said that since most of the AKDN branches were partly donor-funded and there was no justification to lay-off such a huge staff. The protesting staffers also alleged that the CEO Abbas and his team were devouring millions of rupees on their perks and privileges, and instead of cutting redundant expenditures and costs, they were "plotting" to render them jobless, whose per annum cumulative salary, according to them, was less than the six-month salary of the CEO. According to sources, the AKHSP management had dispatched some officials from Islamabad with the "termination letters" however they could not deliver them as some of the protesting staffers had threatened to resort to extreme actions including self-immolation." (The Nation, 27th January 2018)
"A total of 296 workers are employed at the health centres of Aga Khan Health Service in Chitral, out of which 163 workers are staging sit-in. The protesting workers said the Service has decided to close its seven centres which will leave 20 workers jobless. They said they are working with Aga Khan Health Service for over 10 years and now they will not find other jobs if removed from current jobs. They demanded pension or golden handshake scheme on the pattern of the one given to the Aga Khan Rural Support Programme employees.
Muhammad Naeem, a social worker, said while talking to TNN that he had donated two acres land to Aga Khan Health Service in the hope that two doctors and other staff will be appointed at the health centre. He said he will again take possession of the donated land as the centre has been closed now and people are no longer getting healthcare facilities there. He said the people should be given their due rights." (25th January 2018 Tribal News Network (TNN)).
After continuous protest the elders of community intervened, and resolved the matter on temporary basis. The management seems determined to implement their new policy instead of making a win-win way-forward while taking the stake holders in confidence. Management has been trying their best to convince the staff without solid logic and rational. Such an effort has been made by the two high ups of institution in recent days.
In the spring newsletter of Aga Khan Health Services Pakistan (AKSHP), Dr. Gijis Walraven, Director Health of Aga Khan Development Network, and Nadeem Abbas, CEO of Aga Khan Health Services, have jointly written an article titled, "The changing nature of health care in Pakistan".
In the article they both have jointly attempted to justify their recent action of downsizing in the AKHSP GB and Chitral. They have comprehensively discussed the paradigm shift in heath sector in Pakistan, referring to it as a reason for closing of units and downsizing in AKHSP Gilgit-Baltistan and Chitral. Regrettably, they didn't bother to mention the concerns of hundreds of staff members of AKHSP who have rendered their service and sacrificed the prime time of their life working for AKHSP.
The article highlighted some case studies and achievements of AKHS,P, but the writers seem reluctant to give the credit of those achievements to AKHSP's staff in GB and Chitral.
The write-up even doesn't contain the correct facts and figure. The analysis of current situation and difficulties faced by the communities are missing in the article. It contains figures from Pakistan, but not specific from GB and Chitral.
Both writers seem jubilant over launching e-health services in GB. Ground realities reveal that the e-health concept has failed in remote valleys of GB and Chitral; some units are still dysfunctional, including in Sost, Upper Hunza.
The article deliberately ignores unsustainable policies for staff and lack of persistence in the service structure of AKHSP which causes insecurity of job among existing staff.
Lamentably owing to insecurity most of competent and skilled staff members have already quit AKHSP, while serving eight RNs, seven SLHVs, five RMs and other staffers are seeking jobs in other institutions. This is not only loss and forfeiture of skilled staff but also of the loss of heavy investment on their capacity building.
The article has triumphantly mentioned the name of a well-trained nurse, "Munira." Unfortunately, the said nurse had left AKHSP two years back owing to job insecurity. The top management ignores such loss, by not revealing the whole picture.
The content of article is a solid evidence of writers' lack of information regarding social, economic and geographical difficulties of local populace. The whole GB falls in seismic red zone.  AKHSP's areas of intervention e.g. Chipurson, Hopper, Harkush, Immit, Darkust, Bar velly in Nagar (seven priority valleys) are most vulnerable.
The article refers to the web of well carpeted roads in GB. In their opinion, this infrastructure has reduced the dependency of local communities on basic health units of AKHS,P in remote areas. The reality is different, because most of the above mentioned backward and far-flung valleys don't have carpeted roads to connect them with KKH .
The article even doesn't refer to any credible survey report on health sector of GB to show the real plight of health sector in GB. If we go through the key findings of Multiple Indicators Cluster Survey (MICS) 2016-17, it depicts a deplorable inside story.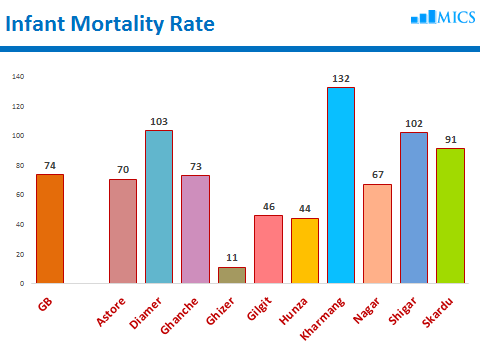 The areas of intervention of AKHSP e.g. Hunza and Ghizer are better in health education but other areas particularly district Diamer , Kharmang, Shigar, Ghanche, Skardu and Astore are in a horrible stage. If we simply get an example of infant mortality rate and stunting prevalence, it seems alarming.
If the AKHSP close its basic health units in its areas of intervention, a rapid deterioration in the situation can't be ruled out.  Instead of expansion of its services to the other districts, it would be unwise to close the service of basic heath units in mountainous valleys of GB and Chitral.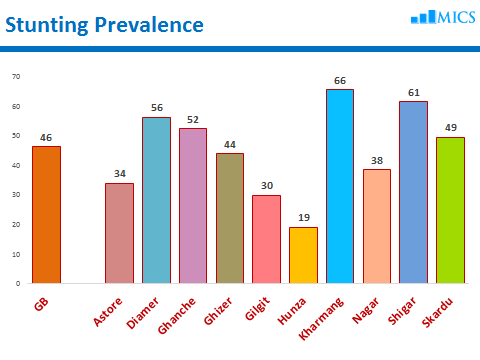 The Government of Gilgit Baltistan is still struggling to meet the health needs of local populace in GB but owing to lack of manpower it can't fulfill the needs. The govt. still needs the help of NGOs in health sector. In some areas they have buildings but don't have skilled staff. PPHI is doing well in some areas but it will take time to fulfill the all health requirements of remotest areas of GB. Hence the role of Basic health units of AKHS,P is inevitable.
If AKHSP focuses only on Gilgit Medical Centre (GMC) rather than its basic units it will be injustice to the people of remote areas.  As every patient can not avail the GMC facility due to long travel.  Apart from it, GMC works as a commercial hospital, and every poor patient can't afford the expenses. Only indemnified and panel patients avail the services at GMC. While the basic units offer cheap health services at door step of suburbs and remote hamlets.
It is not only a demand of local populace but it's the basic vision and mission of AKHSP.
Let's go through AKHSP theme.
"Vision: Aga Khan Health Service, Pakistan (AKHS,P) is a leading non-profit, non-governmental and non-denominational community-based organization that seeks to achieve the highest quality of life with its catchment populations through enhancing their health and well-being.  Mission: Aga Khan Health Service, Pakistan (AKHS, P) aims to foster healthy communities in its catchment population through: Creating an enabling environment for health enhancing actions, Caring and compassionate provision of quality assured health care, Development of effective and integrated health service delivery systems, models, Generation of sustainable models of healthy communities replicable across Pakistan.
AKHS,P seeks to achieve this Mission in collaboration with other Aga Khan Development Network partners, Government, NGOs, private sector and communities.
Our Value Statement: Our core values set our priorities for serving our catchment populations. We believe in: Prevention and Promotion led Health Interventions, Community Participation, Multi-Sectoral Development Strategies, Continuous Quality Improvement, Nurturing a Learning Organization, Gender Equity, Balancing Access and Sustainability
Details of Permissible Activities: The first health institution built in Pakistan was a 42-bed maternity hospital – formerly known as the Janbai Maternity Home – which opened in Karachi in 1924. Today, while maintaining that early focus on maternal and child health, Aga Khan Health Service, Pakistan also offers services that range from primary health care to diagnostic services and curative care. It reaches over 1.2 million people in rural and urban Sindh, Punjab as well as the Khyber Pakhtunkhwa, Gilgit-Baltistan and Chitral. As the largest not-for-profit private health care system in Pakistan, its goal is to supplement the Government's efforts in health care provision, especially in the areas of maternal and child health and primary health care. AKHSP now operates 33 health centres in Karachi, 22 in other parts Sindh, 8 in Punjab and Khyber Pakhtunkhuwa provinces, 31 in Gilgit-Baltistan and 34 in Chitral. AKHS,P's core services include: Child Health (Growth monitoring, Immunisation, Deworming etc.), Reproductive Health Care (Antenatal care, Delivery, Postnatal care, Care of Child Bearing Age woman, Vaccinations, Obs/gyn procedures), Communicable Diseases Programme, Non- Communicable Disease Programme (Screening and OPD Clinic), School Health ( Assessment of 5- 15 years children).
In the north of Pakistan, AKHSP has been implementing the Northern Pakistan Primary Health Care Programme since 1987. Working in partnership with local communities, the government, and other AKDN institutions, like the Aga Khan Rural Support Programme, the goal has been to find sustainable ways of financing and delivering primary health care in the high-mountain valleys. This has led to a village-based approach – the designation of community health workers by the local village organisation, the training of these workers in community-based disease prevention health promotion, and the reorientation of health professionals (government and private) to primary health care. Since it began, AKHSP has trained over 1000 Community Health Workers and 1000 Traditional Birth Attendants in Gilgit-Baltistan and Chitral.
Status of company: AKHSP is a Not for Profit Company licensed under Section 42 of the Companies Ordinance 1984."
In-spite of above mentioned facts if we agree with the director and CEOs augments we can't even neglect the service structure for the staff in such a reputed organization. This was the same issue with the health department of GB Govt. and AKESP. They both have now introduced effective service structure for their staff, under that structure they ensured the job security hence staffers are now satisfied.
Now doubt organizations update their vision and mission and functions but they don't do it in the valuable cost of their manpower. The grievances of AKHSP staff seem genuine when any one listens them carefully.
They complaint that the local manpower is discouraged and forced to left organization by the management which runs the affairs of AKHSP north from south. Non-locals are adjusted on ad-hoc basis and they left the institution after passing their leisure time in north to avoid the hot summer of south.  AKHSP doesn't have sustainability in hiring and firing policy of staff. Harassment of local staff and job insecurity are common issues.  Increasing work load, threat for termination if anyone don't follow the draconian rules, sudden and time to time changing in code of conduct, late disbursement of salaries, payments, centralization of powers, deliberately creation of gap between primary health care (PHC) and community health councils (CHC), favoritism in promotion and enhancement in salaries, male domination and gender inequity are also key issues.  Decision making powers have been shifted to Islamabad and Karachi, there is no effective scheme of voluntarily retirement like AKESP or other AKDN institutions.  Shortage of staff is another issue.
The purpose to discuss the protest, reason of resentment and concerns of local staff, vision and mission of AKHSP is that the whole structure of AKHSP has not been working on the vacuum for last many decades, it was functional on the ground because hundreds of poor skilled and un skilled manpower have sacrificed their time, knowledge and services to the organization. The credit of all achievements of AKSHP in GB and Chiral for which the president and CEO of AKHSP are proud goes to the local manpower.
Now if the organization is committed to headway or move forward it should carry on under a comprehensive police instead of verbal and dictatorial orders of some individuals.  The local manpower have right to sue the management under the labour law of Pakistan, which is equally applied on public and private sector. As article 25 of constitution of Pakistan reads as: 25, Equality of citizen (1) All citizens before law and are entitle to equal protection of law. (2) There shall be no discrimination on the basis of sex. (3) Nothing in the article shall prevent the state from making special provision for the [protection of women and children.
Article 23 of universal declaration of Pakistan reads as: (1) Everyone has the right to work, to free choice of employment, to just and favourable conditions of work and to protection against unemployment. (2) Everyone, without any discrimination, has the right to equal pay for equal work. (3) Everyone who works has the right to just and favourable remuneration ensuring for himself and his family an existence worthy of human dignity, and supplemented, if necessary, by other means of social protection. (4) Everyone has the right to form and to join trade unions for the protection of his interests.
There is dire need to take some necessary steps to resolve the issue of AKHSP staff in GB and Chitral. I recommend.
Lay down an effective policy and service structure for the staff with their consultation.
Introduce a reasonable voluntarily retirement scheme (VRS) like AKESP.
A labor laws abiding and standard code of conduct for manpower should be introduced.
Ensure gender equity from top to bottom.
Ensure decentralization of decision making powers.
Elimination of insecurity of GB and Chitral Staff.
Ensure meritocracy in recruitments, hiring and firing.
Elimination of discrimination re wages.
Fix the duty hours in the light of labour laws.
Nurses and para-medical staff should be honored.
Ensure retirement benefits with the consultation of EOBI just like AKESP.
If budget doesn't allow, handover the buildings and staff of basic health units to Govt. of GB in the light of a MoU. The service benefits of staff should give priority in such an agreement.
The law regarding harassment of women at work place should be enforced in every office, unit and medical Centre of AKHSP.
The decisions of AKHSP GB and Chitral should not be taken by the management of Islamabad and Karachi without consultation of local management.
The contributor is Human Rights Commission of Pakistan's Coordinator for Gilgit-Baltistan. Email: israrjpc2004@yahoo.com