Kartarpur Corridor, Yes! Ladakh-Skardu Road, No?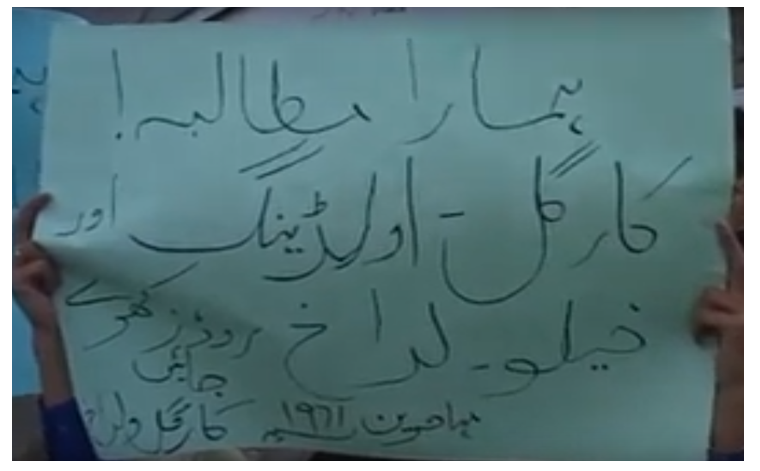 By Muhammad Hassan Zaidi
On a dark night of December 1971, a bloody war erupted between Pakistan and India. The residents of Chulunkha, Baltistan, woke up finding themselves in a quagmire, that would affect them for a long period of time.
During the war, up to 90 percent residents of Chulunkha left their houses and fled to other parts of Baltistan, where they settled temporarily hoping to get back to their homes and villages, after the ceasefire. But, unfortunately, their village was captured by the enemies. The war thus drew a line, separating a father and a Son, a mother and daughter, a sister and a brother, forever.
The region that was occupied by the Indian Army after the war includes the villages of Chulunkha, Tyakhshi, Turtuk and Dowey Thang. The migrated families suffered a lot leaving everything behind before they finally got permanent accommodation in Skardu, one of the largest cities of the Balti people. Since then, many families have failed to meet their relatives, living across the border, many of them dead now.
Last year Zaiba, 75, met her mother Khati, 100, after 45 years of separation. She traveled 3000 kilometers to reach Chulunkha via Wagah border, despite Chulunkha being just 30 kilometers away from her current village, Thogmos, located in Ghanche district of Baltistan. Similarly, a separated father Abdul ghafoor and his son Ibrahim Sani reunited after 45 years, when Ibrahim Sani traveled to Pakistan last year.
The border has never been reopened for the families since 1971, leaving the people divided and separated. The major reason for this permanent closure, apparently, is the lack of a powerful voice, advocating on behalf o the divided Balti people, who are mostly poor, and, unrepresented in Pakistan's parliamentary system.
The latest development regarding opening the kartarpur border for pilgrimage has brought a sense of hope to the divided families of Baltistan.
There are almost 5,000 families living across the border and their issues remain undressed, unheard for long.
While the Kartarpur corridor is being opened amid much fanfare, it is hoped that forced division of the 5,000 plus families will also be looked at with sympathy and empathy, because they are also equal human beings. The government of Pakistan should hear the voice of the divided Balti families and open the Leh-Skardu and Kargil-Skardu Corridor, so that the families can come together, and reunite.
The contributor is a Final Year Civil Engineering student at Mirpur University of Science and Technology, AJK.  His family migrated to and settled in Skardu in the year 1971.