'Legislation on food, nourishment imperative for development', GBA members told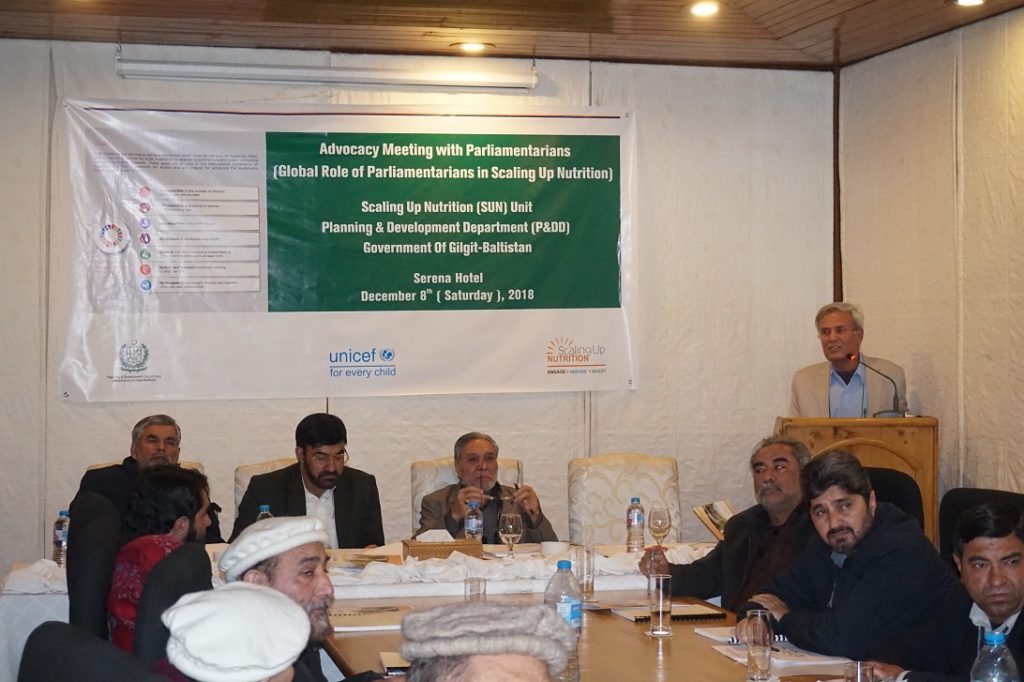 GILGIT: (PR) An advocacy meeting was held with parliamentarians of Gilgit-Baltistan Legislative Assembly on December 8,2018 at Serena Hotel Gilgit on the title "Global Role of Parliamentarians in Scaling Up Nutrition Movement. The meeting was chaired by Hajji Fida Muhammad Nashad Speaker GBLA along with leader of Opposition Capt ( R) Muhammad Shafi.
Dr. Nadir Shah Technical Program Consultant SUN Unit elaborated upon the global role of parliamentarians in Scaling Up of Nutrition, global trends, ways and methods by which parliamentarians could play a decisive role for scaling nutrition and eradication of undernourishment.
Hajji Fida Muhammad Nashad, showed his concern over the transformation of lifestyle and advent of processed and refined foods playing havoc in health of population. He vowed to extend outmost support from GBLA for legislation of policies and strategies in line with improvement of nutrition. Finally, he thanked for SUN Unit, P&DD and UNICEF for their efforts to carry forward the SUN Movement.
Capt ( R) Muhammad Shafi Opposition leader, thanked all the members and participants especially SUN Unit in organizing sensitization sessions on nutrition which holds an important role socio-economic transformation of Gilgit-Baltistan and Pakistan as a whole. He vowed full support for nutrition related legislature from GBLA.
Finally vote of thanks was extended by Mr. Israr Hussain Deputy Chief, Programming P&DD Government of Gilgit-Baltistan.