Residents of Hassanabad Hunza, threatened by glacier surge, receive First Aid training from PRCS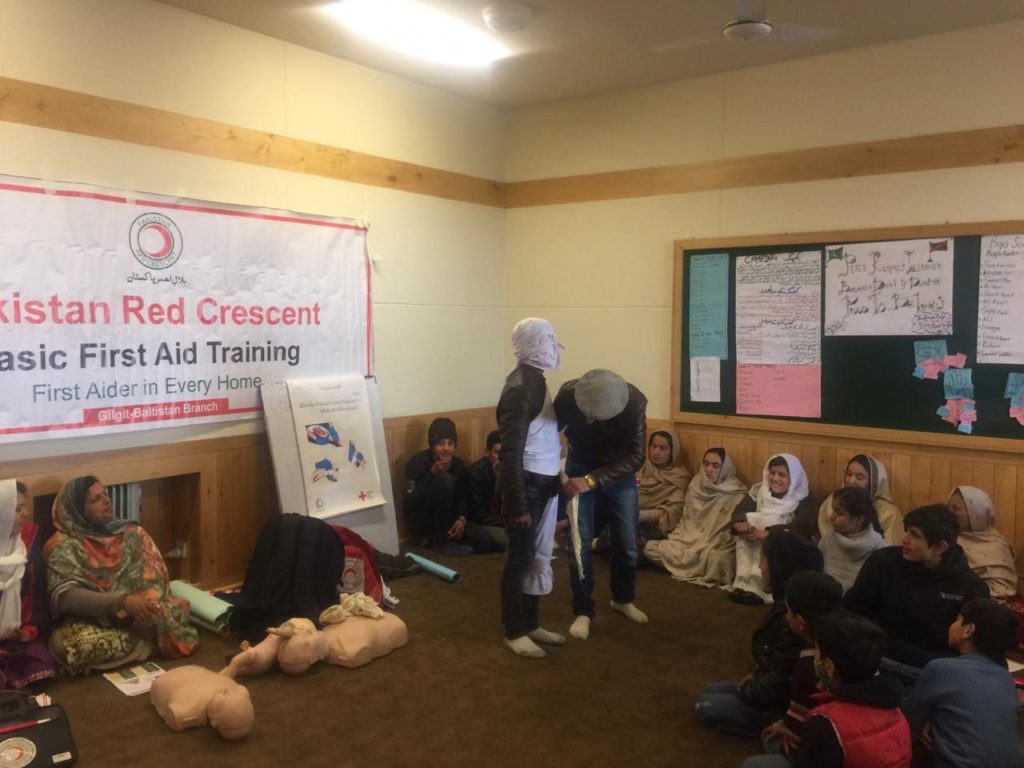 ---
HUNZA: (PR) Pakistan Red Crescent Society (PRCS) with generous funding of Danish Red Cross successfully conducted First Aid Training for (30) female and (20) Male community members at Village Hassanabad District Hunza.
The purpose of the training course was to provide an opportunity to the community members of Village Hassanabad District Hunza to learn essential life skills and knowledge in First Aid . The members of communities will acquire tools and obtain knowledge in order to ensure better preparedness in future for any emergency situation and implement their well-coordinated response in any disaster situation.
As the emerging Shishper lake is direct threat to the Village Hassan Abad District Hunza, (72) Household and their property is at high risk. The government administration has requested Pakistan Red Crescent Society to conduct Basic First Aid Training to the community members.
Mr. Shahzad Ali (Assistant Director District Disaster Management Authority), while address the ending ceremony told that, we are thankful to Pakistan Red Crescent Society for implementing a quality training, further, he paid tribute to Pakistan Red Crescent Society, Danish Red Cross.
Community elder and social worker from Village Hassanabad Mr. Khan Alam, while sharing his views, paid thanks to the Pakistan Red Crescent Society for successful training First Aid. He further told that, the participants of the training will definitely help the local people in an emergency situation.
Mr. Raja Muhammad Daud (Senior Project Officer-DRC), While expressing his views told that, the main objective of the First Aid Training is to train and equip the local people of Village Hassanabad District Hunza to cope with any natural or manmade disaster.
At the end of the ceremony First Aid Kits distributed among the trained First Aider.