Hashoo Trust establishes "Model Orchard" in Goronjur village of Ghizer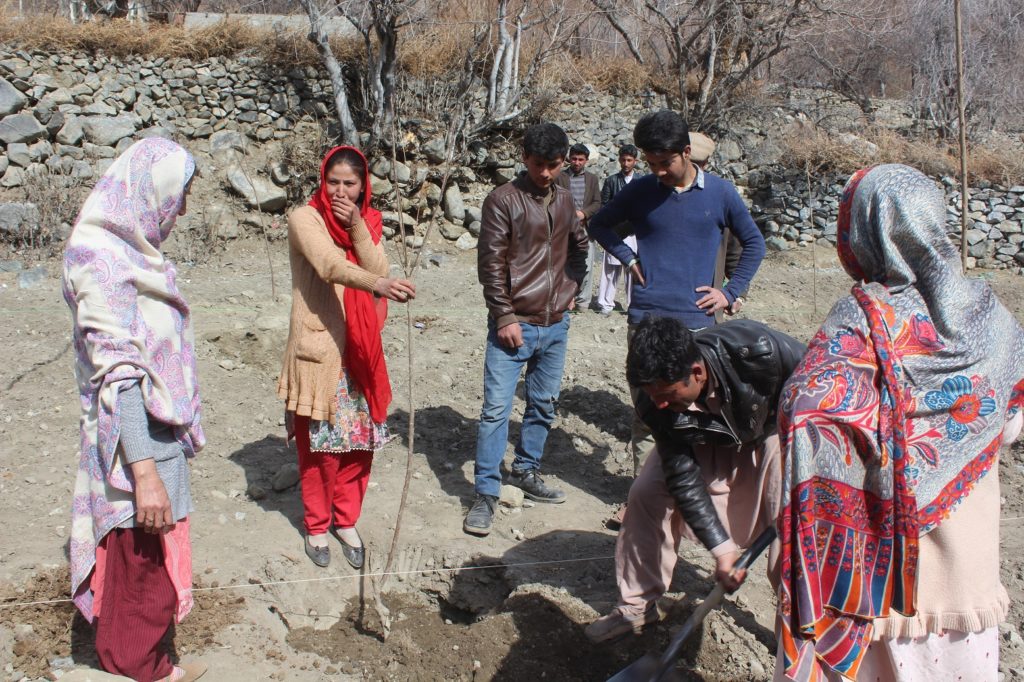 ---
GILGIT: (PR) As part of SMaRT village project activities, model fruits orchard planting was held in Goronjur village of District Ghizer. The model orchard will serve as anchor for agriculture activities in the villages and will cater as harbinger for fruit farming based on modern techniques. This model orchard will be center of gravity in creating agrarian awareness among local farmers, who currently despite of ideal fertility lagging far behind in generating revenues and farms are underutilized resulting undervalued agrarian products.
Speaking at the occasion, Jalal-Ud-Din- Program Director, Hashoo Trust briefed the audience about aims and objectives and utility of model orchard in alleviation of poverty. He said that with in resources it was not possible to cater all 273 homes, so this model orchard is first stepping stone and with the passaging of time the success of this orchard motivate other villagers to grow their own orchards and maximize the production. This orchard has to potion, one is planted with trees and another one has budwood from where villagers will get cuttings, roots and saplings of fruit trees.
Mr. Jalal further added that currently the village agriculture potential is underutilized as compare to other parts of GB where farmers earning handsome income for themselves and suppling products for nation's needs. This orchard will benefit the people in long term and villagers need to learn these modern techniques to bring sustainable economic and social changes in their lives.
He reiterated Hashoo Trust's commitment to work with communities for their welfare and showed his utmost wish to make Gurungur village a true model village in Ghizer district.
Taking proceedings further, BJ Shams- Regional Program Advisor discussed the successes of the project since its inception. He informed the audience that local edible product kilo (walnut marinated in boiled juice of grapes) has been marketed in Islamabad on various stall branded as "Gurunjur Kilo) and this not introduce the edible but also source of village promotion.
He ensured the community that Hashoo Trust would give its shoulder to the welfare of the people and soon the activities initiated under SMaRT project start to produce desire result. He reiterated that such development projects are not directed to individual benefits but for whole community. He thanked the land owner of orchard for his volunteer allowing his land audience on behalf of Hashoo Trust for their share in participatory development initiated.
Representing community, a local numberdar (Village Headman) thanked Hashoo Trust for planting the model orchard and ensured that villagers will work in cohesion and unity to make all endeavors successful. Few of the demand's villages made are:
Steel fencing is required for one side of land for the protection of model orchard and bud wood block
Steel gate is required
Microbial based pesticide (Bio Max) is needed to kill insect and pest on contact
Before model orchard planting Mr Taj Uddin, Agriculturist instruct the community how to plant. After than local ritual "Ishpiri" was offered as good omen and then audience were divided in groups and assigned rows for planting. Fruit trees which were planted namely;
Fig
Apricot
Apple
Almond
Cheery
Pomegranate
Almond
The activity continued with almost 4 hours and the day was called off with mutual commitment of community development.