Saga of Courage: Lt. Col Raashid Karim Baig (Shaheed)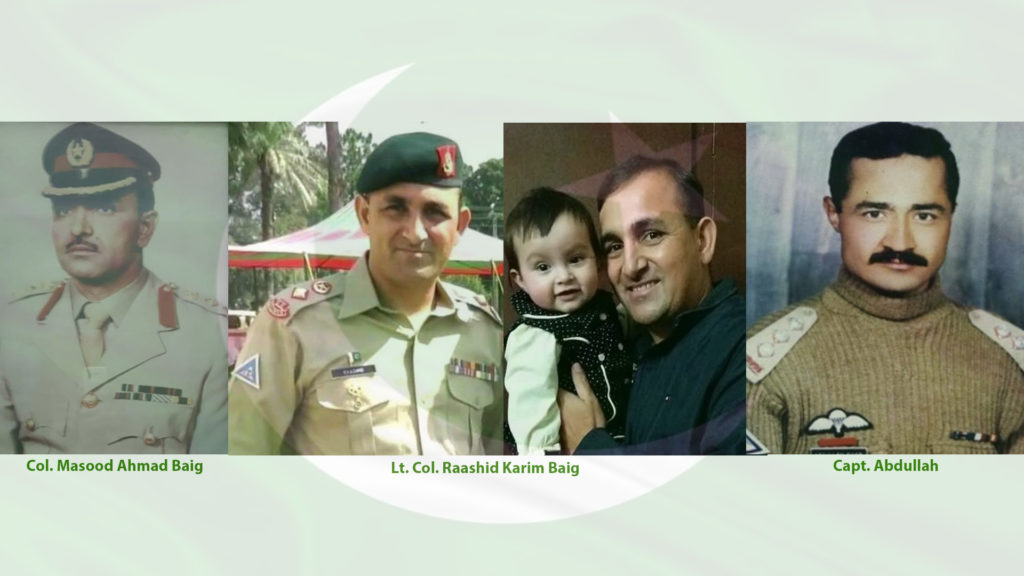 ---
By Abbas Khan 
Lieutenant colonel Raashid Karim Baig, resident of Hyderabad, Hunza, Commanding Officer of 35 Azad Kashmir Regiment, embraced shahadat along with three others of brothers-in-arms, in North Waziristan on 7th June 2019.  His late father Col Masood Ahmed Baig  had previously commanded the same unit and was considered a father figure by the regiment.
Lt. Col Raashid Karim Baig was born on 20 June 1979, while his father was commanding the unit and he left this eternal abode as a Shaheed when he had taken the baton down the lane. The bold and proud son upheld the glorious family tradition of Shahadat by being the third member of the family who had the honour of being wrapped in the green flag on his way to his final resting place in Hunza.
The first one, his father Col. Masood Ahmed Baig on 22 Feburary 1986, the second was his brother-in-law Capt. Abdullah Khan shaheed on 18 Feburary 1995 and the third sacrifice was rendered for the motherland by Lt. Col Raashid Karim Baig himself on 7 June 2019.
It is worth mentioning that the shaheed remained a Ghazi in Siachin glacier, twice in South Wairistan and in Mohmand agency which is the manifestation of his will to meet any challenge.   He embraced shahadat commanding the same unit which was being commanded by his father while he was born.
Col Masood Ahmed Baig , a renowned officer of his time and famously known as Masti Baig in his native area and army both, had taught his son how to die wearing khaki,  as he himself breathed his last in "khaki" serving as col. staff  in Hyderabad, (Sindh).
Napoleon had said, "give me good mothers and I will give you a good nation". The courageous widow of Col. Masood Ahmed Baig proved to be a perfect example of this saying. The daring lady was not deterred by the loss of her husband and brought up  her three sons single handedly since 1986 and instilled in them the urge to join the armed forces like their father, to sacrifice their lives for the motherland.
Maj Shahid Karim Baig, the eldest son, was honoured with Tamgha-e-Imtiaz (military), and   retired from the same unit in which his brother embraced shahadat. Her second son, Lt. Col Hamid Karim Baig is currently commanding the parent unit of his father.
The brave mother did not only prepare her sons but also her daughters to be undeterred in the face of odds. Her eldest daughter, known among all as "Appa Jee", was married to a daring officer captain Abdullah Khan, a resident of Nasirabad, Hunza, who got shahadat during an anti-dacoit operation in Sindh.
Capt. Abdullah Khan Shaheed was also a symbol of patriotism and boldness. His daring actions since PMA, in Siachin and elsewhere are matchless and he was conferred with Sitara-e-Basalat posthumously for his gallant action.  The second daughter, squadron leader Farhana Masood Baig, is also married to an army officer Lt. Col Imtiaz Ali Khan, a resident of Hyderabad Hunza, who again with a martial background (both maternal and paternal) has recently retired as lieutenant colonel and was honoured during service with chief of army staff commendation card  for his excellent operational performance.
The brave son of Gilgit-Baltistan Lt. Col Raashid Karim Baig belongs to a region which was liberated by the people of the area themselves. It was in his blood to be ready to offer any sacrifice for his country, be it the call of duty or beyond the call of duty. The family has upheld the tradition of sacrifice and has rekindled the vigour to fight with dignity and honour, for the coming generations. He will be remembered for his valour and dignity.
Besides being a true soldier and an excellent poet, he was an obedient son, an affectionate brother, a loving husband and a caring father. He was married about four years ago and has a one-year old daughter. His wife very proudly received the body of her shaheed husband wraped in Pakistani flag, which has always remained very close to the heart of the shaheed.
Lt. Col. Raashid Karim Baig has enhanced the prestige and martial traditions of the area through this extreme sacrifice. He became a martyr, an example for motivation and a character worth emulating by the future generations.
The Pakistan army gave a befitting farewell to this fallen soldier while he was being entrusted to the ground next to his father's grave, in his native village Hyderabad and so was the discipline and the mood of the highly charged population in Hunza especially in neighboring village Ganish and native village Hyderabad on the day of shaheed's arrival and burial, expressing their extreme love for the country and the army.
The soil of gilgit baltistan will continue to produce such brave sons to deter all odds facing our beloved country Pakistan (Insha'Allah) and the countrymen will always remain indebted to the sacrifices of sons of such courageous mothers, husbands of such valiant wives and scions of such martial families for times to come.