Administrative Reforms: Gilgit-Baltistan govt issues notification of four new districts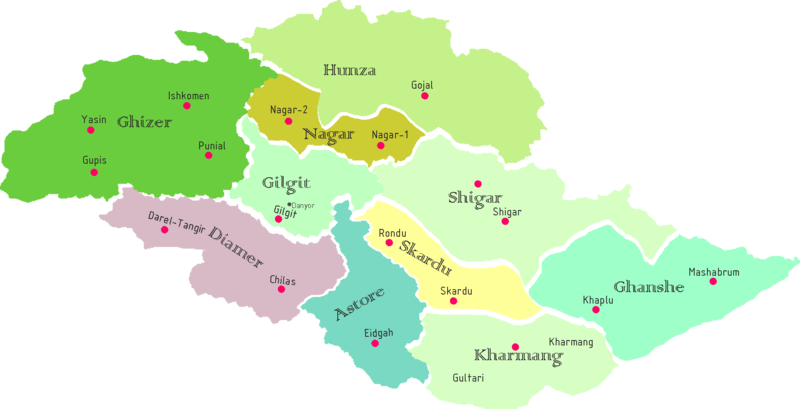 ---
BY NISAR ALI
ISLAMABAD: Amid strong criticism by the Pakistan Tehreek-i-Insaf over an announcement of new districts made by Gilgit-Baltistan (GB) Chief Minister Hafiz Hafeez-ur- Rehman, the Pakistan Muslim League-Nawaz (PML-N) led provincial government on Monday formally issued a notification of four new districts in GB.
According to the notification issued by Government of Gilgit Baltistan Department of Home and Prisons GB Civil Secretariat Gilgit, four subdivisions namely Gupis-Yasin in Gilgit division, Rondu in Baltistan while Darel and Tangir in Diamer division has been upgraded as new districts.
"On the approval of the competent authority, the government of Gilgit Baltistan in exercise of power conferred upon it under Section 5 of the Land Revenue Act, 1967 is pleased to notify the following four subdivisions as separate districts of GB having the same territorial jurisdiction/ boundaries as earlier," read the notification.
Speaking at a public gathering in Chilas on April 8, 2019, the chief minister had announced that two more districts were being carved out from Diamer district of GB. "The Darel Valley and the Tangir Valley in Diamer would be two districts and a notification in this regard would be issued next month," he had said, adding that Rs50 billion would be allocated in the next annual budget for setting up the new districts.
Over the announcement made by the CM, the opposition parties including the PTI and PPP had categorically condemned the move claiming that PML-N government had no authority to carve out the new districts in GB, because without taking federal government [Ruling PTI government] into confidence the provincial government could not make any districts in GB.
After the notification, Chief Minister Hafiz Hafeez-ur- Rehman said that notification of four new districts had been issued and suitable budget has also been earmarked for the new districts. He further said that their party trusted on practical measures.
Following the addition of new four districts, the number of new districts has become 14. Before the notification, there were only 10 districts in GB. The total number of districts, including the new four is;
Gilgit
Hunza
Ghizer
Nagar
Diamer
Astor
Darel
Tangir
Gupis-Yasin
Rondu
Skardu
Shigar
Kharmang
Ghanche