WWF-Pakistan urges action to the fight climate crisis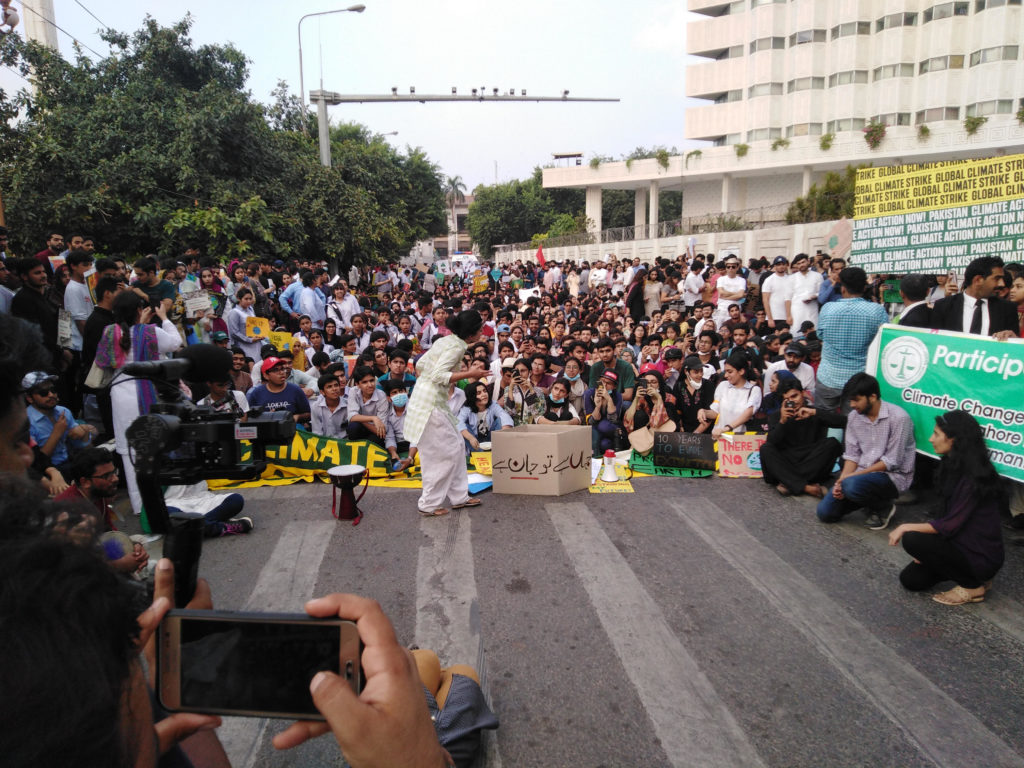 ---
LAHORE: 'In the current era, drastic climate changes are occurring at larger scale and with more frequency. The future of many living organisms is in question. Not only are wild plants and animals at risk but people are the victims, as well as culprits, of the deteriorating state of nature'. This was stated by Dr Masood Arshad, Director Water, Food and Climate, WWF-Pakistan during the Climate March organized at Lahore Press Club on Friday. He further said that climate models suggest that without immediate action to reverse climate change, the Earth will become much less hospitable to our modern globalized society.
This first nationwide Climate March, led by Climate Action Pakistan, citizen organization and youth, aimed to highlight the climate emergency and demanded action to mitigate the serious impacts of climate change in the country. The event was thronged by people from different walks of life including representatives of conservation organizations, environmentalists, students, celebrities and passionate citizens with placards in their hands. The event held in more than 2,000 cities worldwide is aligned with the United Nations climate action summit that will take place on 23 September in New York. World leaders will gather to discuss the climate challenges and suggest concrete actions to address these grave issues.
Speaking during the event, Dr Masood Arshad, Director Water, Food and Climate, WWF-Pakistan said, "Climate change has become a crisis for our world and is posing threats not only to us but to our future generations as well. Being one of the top ten countries that face the impacts of climate change, Pakistan has been experiencing extreme weather events. There have been years of droughts, followed by floods that have caused considerable damages, even claiming lives. What we need is an unprecedented efforts on local, regional and global levels to find solutions." He also appreciated masses who responded to the call to action and took part in Climate March across Pakistan and raised their voices.
Adnan Malik, an award winning TV and Film actor and Goodwill Ambassador of WWF-Pakistan said, "Pakistan is one of the lowest emitters of carbon yet the seventh most vulnerable to climate change. Although it is a localized issue, the only solution is to act at a global level. We need to join hands and raise our voices to advocate for policy changes so that we can build a sustainable world for future generations. Our choices dictate the future of the world." He further added that the Climate March is a hopeful start which can be an impetus to drive policy changes that can save the future of our planet.
Samar Khan, a Pakistani cyclist and WWF Advocate speaking about climate change situation in Pakistan said, "We need to understand that the Earth was not made only for humans, but for every living creature; that is why we should not damage the natural habitats of animals, birds and those rarest species who will no longer exist if we keep on living the way we are. It is time to stand together and aware our society about adopting lifestyle that does not harm nature. But if we fail to change, the impacts could be much worse in form of heat waves and other natural calamities. Whatever we have to do to counter this situation, we have to do it fast."
WWF-Pakistan integrates climate change adaptation, mitigation and resilience building into its initiatives related to biodiversity conservation and natural resources management in Pakistan. For instance, development and implementation of a 50 year Indus Ecoregion Vision (2005-2055) addresses climate change induced threats to the Indus Ecoregion and communities living in it. So far five major projects focusing on climate change adaptation, building climate resilience and fulfilling the knowledge gap on this issue have been completed. WWF-Pakistan has also promoted the provision of alternative and renewable energy, afforestation and rehabilitation of forest resources, and improved and sustainable utilization of water resources in the country.
In Pakistan simultaneous events were held nationwide in Karachi, Islamabad, Peshawar, Multan, Quetta, Gilgit and other major cities. These events were held to draw attention of the masses towards the issue of climate change and address the climate emergency as a nation.