"Afghan infiltrators" kill shepherd, steal 650 goats and sheep from Kalash Valley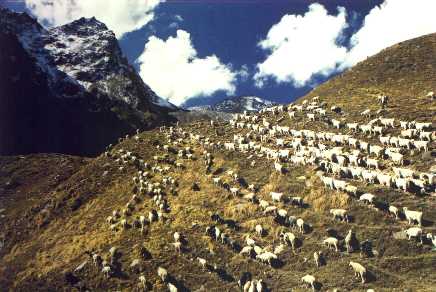 Gul Hammad Farooqi
CHITRAL:  Afghan infiltrators from Nooristan province entered in  Kalash valley of Pakistan, stealing almost 660 goats, sheep and cattle, locals report. They also kidnapped and killed a shepherd named Ibaduddin Kalash, police said.
District police officer Chitral said that some miscreants entered Pakistani territory from Nooristan province of Afghanistan and took away almost 660 goats and sheep, while also kidnapping the shepherd. Later they killed the shepherd and fled to Afghanistan.
Talking from Bumborate on Telephone former Naib Nazim Union council of Ayun, Muhammad Khurshid, demanded from district administration to deploy border police (border security forces) on Pak Afghan border area instead of Chitral town and rest houses. He said that Afghan miscreants entered in Pastrik area near the Pak-Afghan border and kidnapped Ibaduddin son of Garzi Khan kalash and killed him later. He also said that the infiltrators injured another shepherd.
Khurshid alleged that most of the officials of Border Police had ironically been deployed in government operated Rest Houses and other luxury places, instead of using them for security of the people.
The stealing of sheep and goats from Kalash is likely to affect livelihood means of many families while also planting fear in the hearts of the local people.