China sending heavy machinery for opening of dammed Hunza River, in October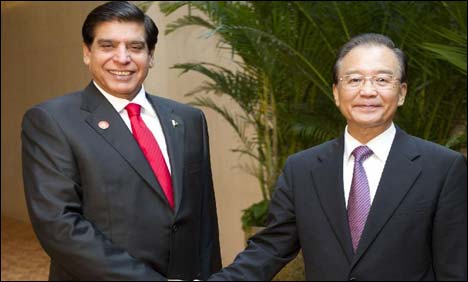 Monitoring Desk
Islamabad: The Chinese government has, reportedly, agreed to send "heavy machinery for excavation work at barrier of the dammed Hunza River.
The machinery will, reportedly, reach Pakistan in the month of October.
Prime Minister Raja Ashraf and the Chinese premier discussed a whole gamut of issues ranging from bilateral ties, defence cooperation, infrastructure development, energy, agriculture and banking.
The two leaders met Tuesday on the sidelines of the World Economic Forum's Annual Meeting of New Champions 2012.
Both the leaders were of the view that the two nations were opposed to terrorism and would continue to cooperate with each other to eliminate this threat.
The two sides agreed on exploiting full potential of the two business communities to boost their economy and trade. They renewed their focus on achieving the target of 15 billion dollar bilateral trade.
It was agreed that China would support the National Bank of Pakistan to launch the financial bonds worth 6.5 billion Renminbi in China.