Security being enhanced ahead of Muharram in Gilgit-Baltistan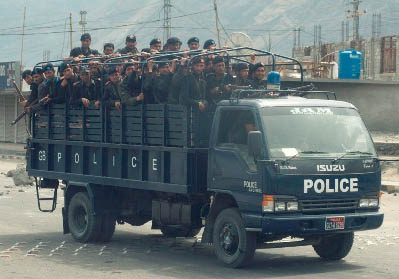 Our Correspondent
Gilgit, Nov 8: The Gilgit-Baltistan government is taking extraordinary measures to ensure law and order during and before the month of Muharram.
Muharram is considered to be a 'sensitive' month in Pakistan because of the threats of terrorism against the Shia Muslims, who mourn the martyrdom of Hazrat Imam Hussain (AS), by taking out processions and holding mammoth religious gatherings.
The police, rangers, Gilgit-Baltistan Scouts and other law enforcing agencies have been asked to stay alert and prepared for any untoward incident. It was also decided during a high level meeting recently that the help of Pakistan Army will be sought, in extraordinary situations, on need basis.
The Gilgit-Baltistan region still breaths in the dark shadows of the massacres in Kohistan, Chilas and Babusar, in which terrorists targeted the Shia passengers and killed around three dozen people, almost all of them men. Some people belonging to the Sunni and Ismaili sect were also killed during these acts of terrorism.
These organized acts of terror led to more targeted killings in the city in which several more people were killed.
The situation remained tense for a long period and the government has to impose curfew in the Gilgit city.
Gradually, the city had returned to relative peace but during the last 3 days a number of violent incidents have taken place, which has again created a sense of fear in the whole region. Hateful SMS sent through cell phones and other social media tools have again started circulating in the city.
Key government and administration figures, as well as the member of Peace Committee and Jirgas have appealed for peace, tolerance, respect and harmony during the holy month.
Vigilance cameras have also been installed in Gilgit city and according to media reports their numbers are being increased, to ensure fool-proof security.
Gilgit city has historically born the brunt of violence but other regions have also become vulnerable over the past few years. For this reason the law enforcers have been alerted throughout the seven districts that compose Gilgit-Baltistan, formerly known as the "Northern Areas of Pakistan".