MPA Saleem Khan inaugurates road in Dolomoch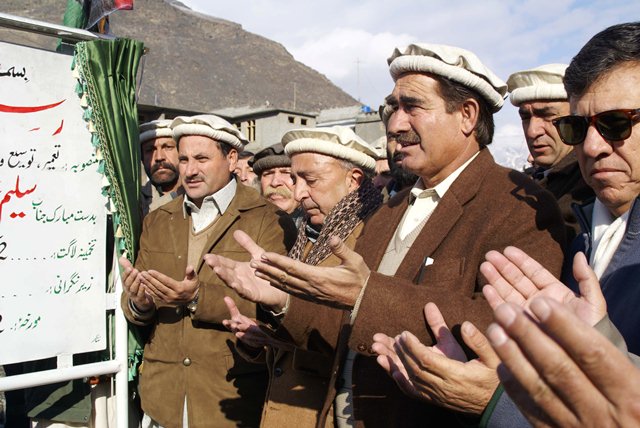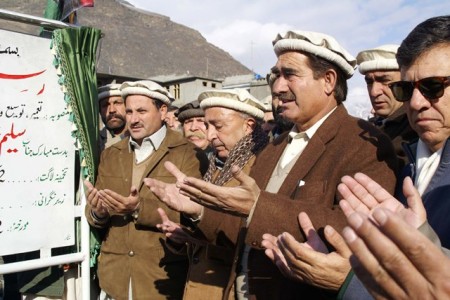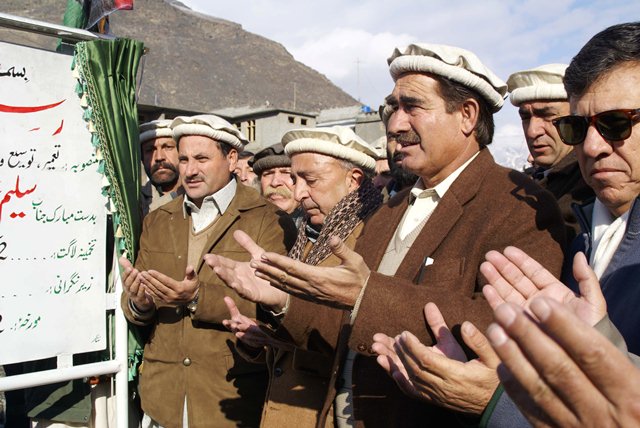 CHITRAL:  Opening ceremony of Dulomoch road was held today. Provincial Minister for Population welfare Saleem Khan was chief guest on the occasion who unveiled plaque of the signboard and inaugurated this road. A large number of Dulomuch colony were also present on the occasion. In this connection a ceremony was also held at Boys hostel under the chair of Hakeem Khan Advocate General Secretary PPP Chitral.
Addressing on the occasion the minister said that Dulomuch colony consisting of 250 households was facing great problems especially in rain and snowfall. He said that the road was blacktopped at the cost of 28.3 million to facilitate these people despite that provincial government facing different challenges like terrorism, flood and natural calamity. He said that PPP is a real democratic party and that is why I was elected a provincial minister despite that  belonging to a middle class family. Some 4 billion rupees were released for different developmental schemes at Chitral. similarly 420 million would be spent on water supply scheme from Golain to Chitral as well as pipeline from Hunza spring to Chitral is also under process. Work suspended on Lawari tunnel for 4 years because Bureaucracy are the main hurdles in its way he added.
By pass road was inaugurated four times in past but no practical work started hence this government not only released fund for this mega project but work also assumed which will be completed upto the middle of next year. We can thought only about university in past but in our period Campus of two universities were established here and it is expected that a full fledge university will be open here if we success in next term of government. We promoting education because it is stair for development  he proclaimed.  A girls degree college was approved for Drosh and 9 higher secondary schools for girls at different parts of Chitral. He said that some 240 million were released for Singor road by our government. we appointed 2000 youth in different departments. AS well as we increased fire wood and unattractive areas allowance for government servants. Up-gradation of primary school teachers were completed in our coalition government from PBS 7 to 15 and work  started on 3 hydro power stations at Chitral as a result not we will be sufficient in electricity need but we will get million of rupees as royalty in this head.
Provincial Minister announced of Rs 100000 for play ground for youth at Dulomuch and 10000 to Ajaz Ahmad president Peoples Youth Development organization. Some people also joined PPP from PML Q. Traditional gifts were presented to Provincial Minister by elites of the area.  Besides him Liaqat Ali, Zuhran Shan, Hassan Khan, Durdana Khan, Muzaffar, Zar Doom Khan, Hakeem advocate, and Adina Shah also spoke on the occasion. A large number of people belonging to all walks of life were present on the occasion.
The speakers said that in past body guard of Mehtari Chitral stop students from education who want to travel down district for this purposes but now in this democratic government our students are being facilitating by two universities. They stressed upon the participants to never trust on  rumors because some of our Mulvis misleading the public for their own benefit. Some female students of university said this scribe that in past we facing great problems because of dust while travelling on this muddy and earthen road but now we can easily reach university without any problem.