JI Chitral holds protest demonstration against load-shedding and closure of Lawari Tunnel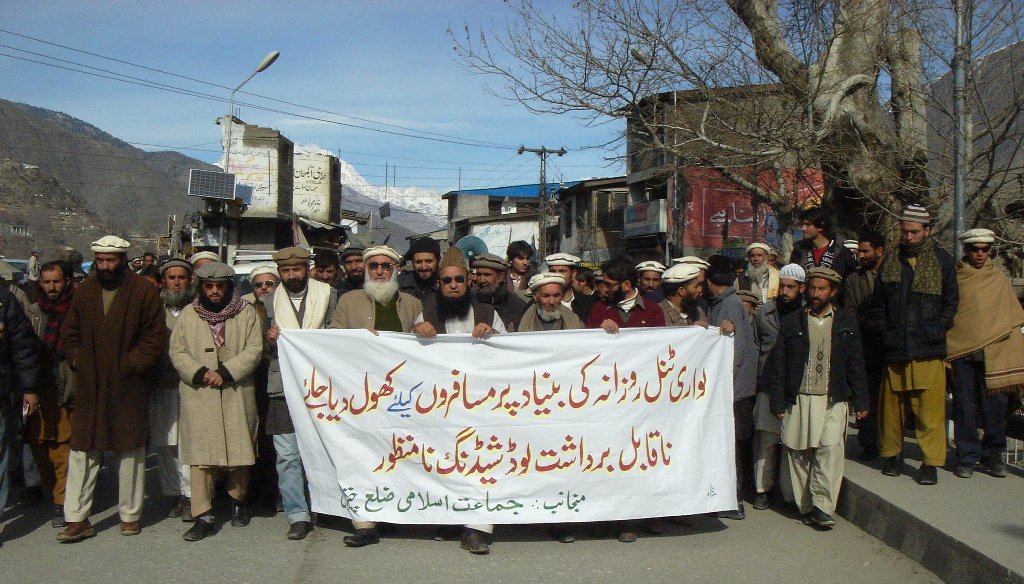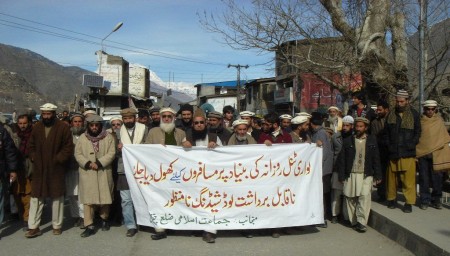 Gul Hammad Farooqi
Chitral, January 29: Jamat Islami Chitral Chapter held a protest rally and public meeting against unscheduled load shedding and "unnecessary" closing of the Lawari tunnel for traffic.
The rally started from Bazar Masjid under supervision of former MNA Abdul Akbar and JI leaders and ended at polo ground gate.
Addressing on the occasion the speakers accused Pesco Chitral of exercising 12 to 20 hours continuous load shedding.  They said that according to WAPDA rules there would be no load shedding where consumer pay 100% utility bill while but despite of paying their complete bills the consumers in Chitral were being subjected to unjust load-shedding.
The protesters passed a unanimous resolution demanding an end to the load  shedding and up-gradation of local power house from 600 KV to 2 Megawatt. They also demanded for opening of Lawari tunnel for traffic on  daily basis. They said that if the Korean company wants to continue work it should concentrate more on the smaller tunnel because its blacktopping and link road is still pending. Giving a deadline of one week they warned if their demands were not fulfilled they will came on roads once again.
They alleged that no work is currently taking place inside the tunnel and that NHA is paying one billion rupees to Koran company SAMBU annually only to cheat the simple people of Chitral and get vote for the upcoming election. They said that every Pakistani was under the lend burden (loan) of 37000 before this government but  now it raised to 83000.
They also accused provincial Minister Population Welfare Saleem Khan for corruption and gaining of millions of rupees due to getting commission. They also lamented district administration for imposing of section 144 on public meeting but  blue eyed party workers allowing for get together combined men and women. They also threatened the shopkeepers to keep their shops closed during the rally otherwise in case of any loss Jamat Islami will not be responsible.
The speakers included former MNA  Abdul Akbar Chitrali, Hayatullah Khan, Akhunzada Rahmatullah,  Ghulam Muhammad, Maulana Israruddin Alhilal and Qari  Muhammad Jamshed.
It is worth to mention here that local hydro power house have been established at Singore area where people were badly suffered during its construction but being royalty holders they also facing 16 hours continue load shedding on daily basis.