Organization for Educational Change elects new office bearers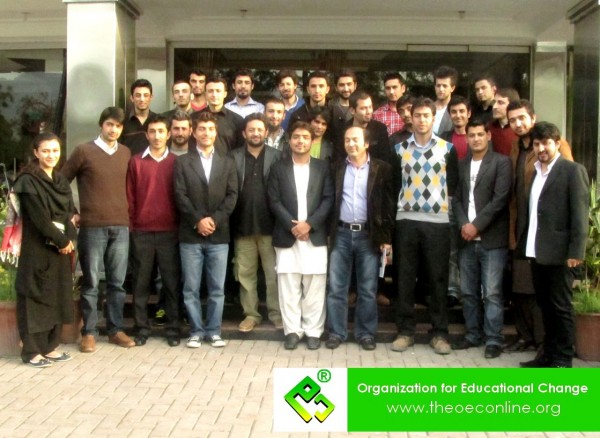 Islamabad (PR): The 3rd Annual Meeting of Organization for Educational Change was held in Islamabad on Sunday 24th, 2013, to elect a new cabinet and members of the executive body.
Achievements and gaps of the previous year were also reviewed and important points for achieving organizational objectives in the years ahead were also deliberated upon.
Starting with recitation of verses from the holy Quran, the event went on to discuss key achievements during the year.
Later on, Imtaiz Ali, the outgoing Chair of the Monitoirng and Advisory Council, administered oath to the new Chairman, Naubahar Rafi. The new chair then took oath of office from Syed Naveed Shah and Imran Hunzai, the newly appointed President and Vice President of the executive body.
Earlier, Jibran Ali Hayat, the out-going president, presented an overview of the whole year. Under his leadership, OEC was registered with Government of Pakistan as an NGO. The participants appreciated Mr. Jibran Hayat's and the executive committee's dedicated voluntary services for OEC.
OEC's goodwill partners Noor Muhammad Pamiri, Raja Nazeem ul Amin (CEO Gold Roof Pvt. Ltd.), Sardar Karim (RSPN) and Raees Kamil Jan Baigal (Founder GBVM) expressed their views on various projects of OEC.
The event was attended by 32 members of OEC.