Kohistan Accident: Funeral prayers of martyrs offered in Gilgit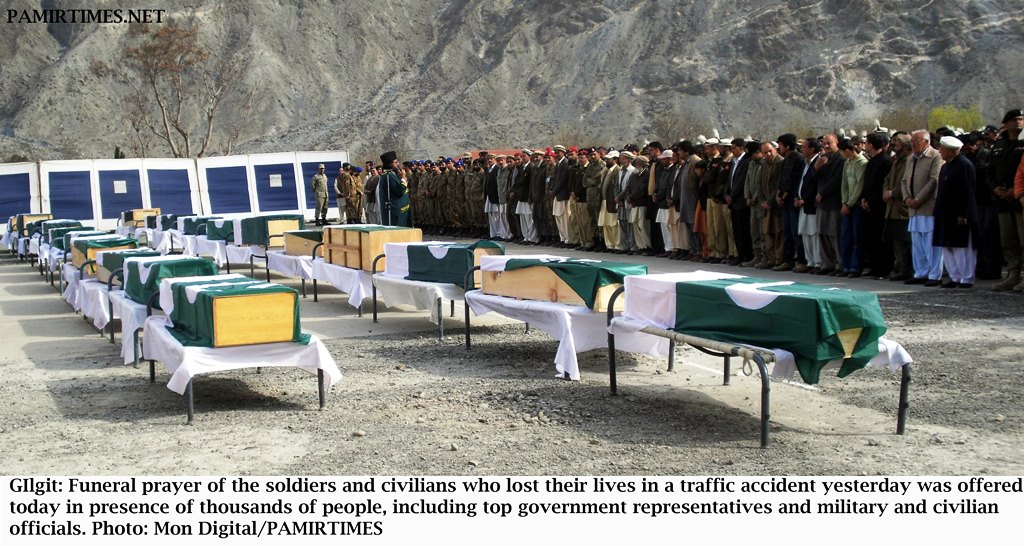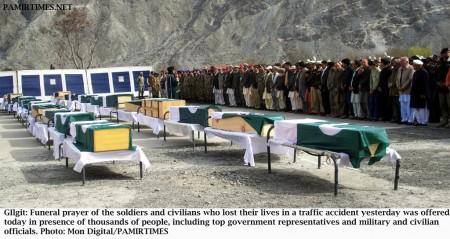 Our Correspondent
Gilgit, March 17: The funeral prayer of 21 soldiers of the NLI Regiment of Pakistan, including Lt. Col. Ikramul Haque was held today at Army helipad located in the Sonikot area of Gilgit city. These soldiers along with three civilians lost their lives in a tragic accident in the Kohistan district of Khyber-Pakhtunkhawa.
The funeral prayer was attended by Chief Minister of Gilgit-Baltistan, Syed Mehdi Shah, Chief Secretary Sajat Hottiana, Commander of FCNA, Commandant NLI Center and hundreds of other dignitaries, relatives of the deceased and local notables.
Bodies of the martyrs were later dispatched to their native villages located in all seven districts of the Gilgit-Baltistan region. 12 of the martyrs belonged to Ghizer, already known as the Martyrs' Vale, because a very large number of soldiers belonging to this district have sacrificed their lives for Pakistan. Bodies were also dispatched to Hunza-Nagar, Astore, Diamer, Skardu and Ghanche district for burial.
The body of Lt Col Ikramul Haque was laid to rest at his ancestral graveyard located in Zulfiqarabad area of Gilgit city. Originally hailing from Hunza Valley, Shaheed Ikramul Haque's family had settled in Gilgit city around 6 decades ago.