Sitara-e-Imtiaz presented to Bulbul Jan and Nissar Hussain Sadpara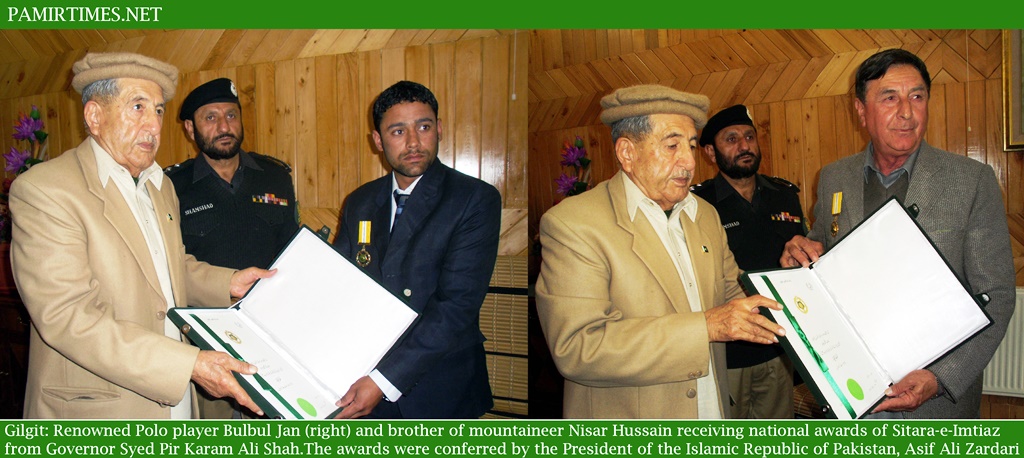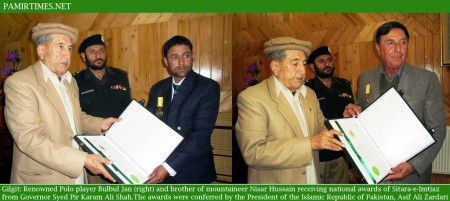 Our Correspondent
Gilgit, March 23: Renowned polo player Bulbul Jan and late Nisar Hussain Sadpara were awaded with Sitara-e-Imtiaz (Star of distinction) today at the Chief Secretary office in the regional capital. The awards were presented by GB governor Syed Pir Karam Ali Shah on behalf of the president of Pakistan.
Bulbul Jan is an athlete par excellence, also known as the King of Polo. He is a celebrated play of freestyle polo played in Chitral and Gilgit-Baltistan region. He led Gilgit-Baltistan to victory on many occasions against the traditional polo rival, Chitral. He was decorated today by the governor in Gilgit.
Nisar Hussain Sadpara was one of the most promising mountaineers of Pakistan. He lost his life while climbing down Gasharbrum 1, along with Austrian Gerfried Goschl and Swiss Cedric Hahlen. A rescue mission to find trace of the moutaineers was called off on 15th March 2012 after several unsuccessful attempts.
The award was received by the younger brother of Nisar Hussain Sadpara.