Seminar in Chitral discusses free and fair elections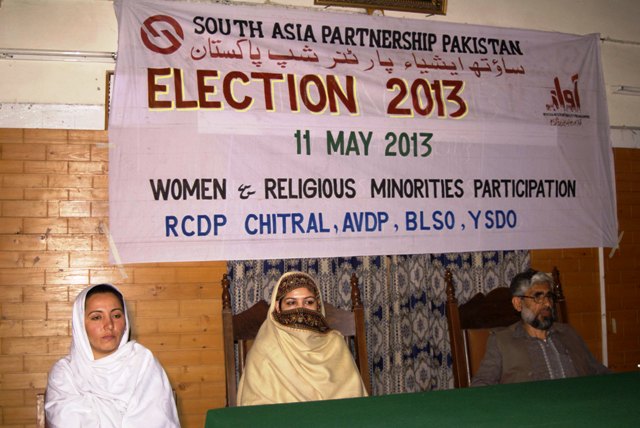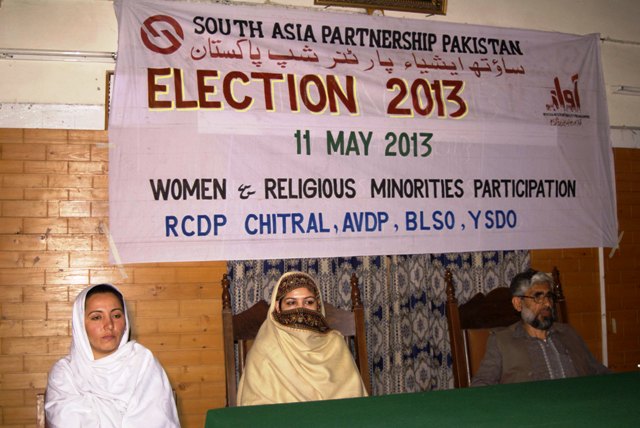 Gul Hammad Farooqi
Chitral, May 6: A daylong seminar on Fair and Transparent election was held at Town Hall Chitra under auspices of South Asia partnership  Pakistan in coloration with Rural Community Development Program (RCDP).  Briefing about  the seminar Engineer Temour Shah said that main objectives of this seminar are creating awareness among the women folk, minorities and illiterate people for their assurance in positive participation in election. And to motivate them to must cast their vote for developmental process in the country.
The speakers said that democracy is at initial stages at Pakistan because our country mostly remained under military dictatorship. They said that women folk are barred and deprived them from casting their vote in past but now it has been declare a crime but even than they are still stop from vote in some cast and families. They said that minority also have equal right in our motherland. Addressing on the occasion Wazir Zada Kalash said that Islam always stressed on democracy quoting caliphs of Islam that Hazrat Abu Bakar was elected as first Khaleefa of Islam although Hazrat Ali was first cousin and son in law of the Holy Prophet (PBUH). They said that we should to cast our vote in favor of honest, dedicated, hardworking and social candidate irrespective of our political, religious and tribe affiliation to bring positive changes in the country.
The seminar was also supported by RCDP, Ayun and Valley development program (AVDP), BLSO and young star development Organization. Those who spoke on the occasion were Engineer Temor Shah, Abdul Majeed Qureshi, Senior journalist Muhkamuddin, Mirdula Jan advocate, Haji Akbar, Qazi Sajjad Advocate, Wazir Zada Kalash, Nasreen Bibi and Khadija Sardar. A large number of women folk including minority stakeholders form Kalash community also participated In the seminar.