Shameful condition of a road in Gojal Valley, upper Hunza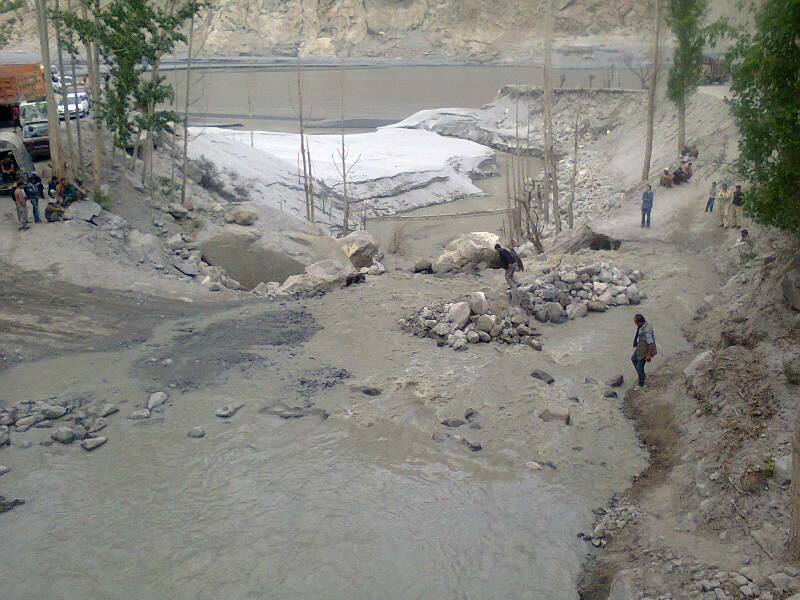 PT Report
Photographs by Zaheer Bari
Gulmit, June 4: The difficulties of the people of Gojal valley do not seem to be coming to an end, thanks to corruption, insensitivity and lack of political action and will. Millions of rupees have been wasted ruing the last couple of years in the name of development, without giving any tangible benefit to the people of the disaster hit region. A case in point is the construction of a road between Gulmit and Hussaini, two villages in the Gojal valley.
Construction of the road, which was supposed to be an alternate to the submerged portion of Karakoram Highway in Gulmit and Ghulkin, had been contracted out to renowned businessman Javed Hussain, Chairman of the Gilgit-Baltistan Chamber of Commerce and Industries. Promising the local people in Gojal valley that they will be compensated within a week the President of the GB Chamber of Commerce had "convinced" them to give their land for construction of the road. However, neither was the road constructed in a proper way, nor did the compensation arrive.
Recently when he was contacted by Pamir Times for a comment on the situation of the road, Javed Hussain said that he had not received any money form the government. "I have invested my own money for construction of the road", he said. An official of the PWD Hunza-Nagar also confirmed that Javed Hussain had not been paid. "He has only leveled the fields, without constructing walls and filling the ditches or building water channels on the sides of the road", the RE of Hunza-Nagar Public Works Department told Pamir Times.
The road is currently in shambles and the contractor, the region's representatives and the relevant government departments are acting as silent spectators.
This road has been abandoned by the transporters and casual travelers, because of its horrible condition, and they are instead using the historical Polo Ground located in middle of the village as a road. The malpractice has not only jeopardized an important cultural asset, it also creates threats for children and the elderly who move within the village.
It is pertinent to note that the road is being used by the Sino-Pak traders and the China Roads and Bridges Corporation for transportation of heavy machinery and merchandise worth tens of millions of rupees, everyday.
The people who contributed their land for construction of the road have not been compensated. With rise in temperature and the resultant increase in flow of water, the road is likely to be damaged more, causing difficulties for the thousands of people who travel between Gulmit and Khunjerab everyday.
The local people have threatened to come out on the roads and block the whole traffic if the district administration and the political leaders did not resolve the issue on priority basis.
They are demanding payment of compensation to the land owners and improvement of the road, to facilitate smooth flow of traffic through the village.