Floods play havoc in Gilgit-Baltistan, Ghizer road blocked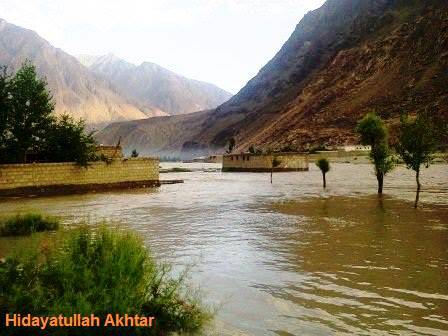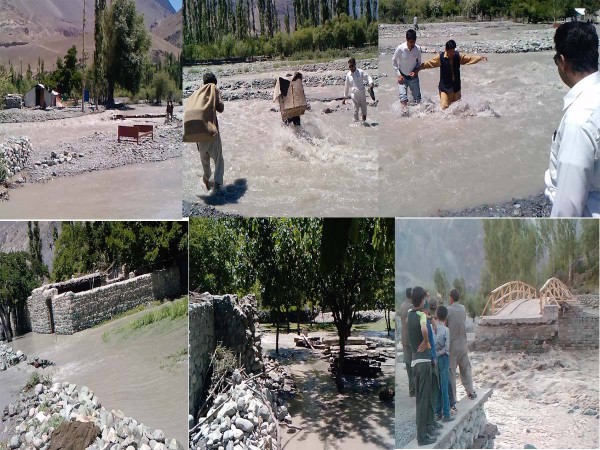 Our Correspondent 
Gilgit, June 13: Glacial streams have been flooded in different parts of Gilgit-Baltistan, causing severe damage to the road infrastructure and properties of local landholders and farmers.
According to details, the consistent rise in temperature has caused flooding in almost all districts of the Gilgit-Baltistan region. Roads, bridges, cultivated fields and houses of the local people have been destroyed in Ghizer district.
There are reports about the blocking of Ghizer road near Dalnati village. At least 12 houses have, reportedly, been washed away by floods in Ghizer, so far. Houses have also been vacated in Sandhi, Asumbar, Damas and Singul Nallah in Ghizer district.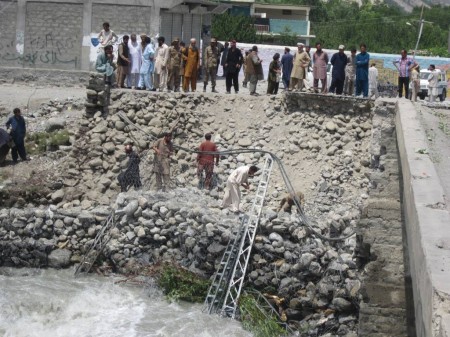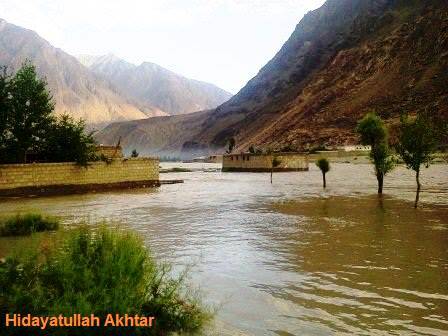 This morning water entered into houses in the Jagir Baseen area. Hidayat Ullah Akhtar a resident of the area shared the above photograph showing flooded colonies. He accused the government and administration of giving lip-service to the people.
Dozens of houses had to be vacated in Gilgit district where the Kargah Nallah has swollen up, causing threats for houses constructed in the vicinity. The vacated families are living in tents provided by the district administration. The flooding of Kargah Nallah has also resulted in disruption of the supply of water to Gilgit city. A recently installed supply line gave in hours after it was made operational.
Pakistan Army and the local administration have started repairing of a bridge in Baseen locality of Gilgit which had been damaged two days ago due to the increase in water level.
There are no reports of loss of life from anywhere in Gilgit-Baltistan.
It is pertinent to note that in 2010 and 2011 almost a hundred people lost their lives in disasters caused by lightening, flashfloods and sudden rise of water level in glacial streams. In the past some of the worst affected villages have been Diamer, Ghizer, Ghanche and Skardu.