Diamer: Several dozens rounded up in search operation, officials claim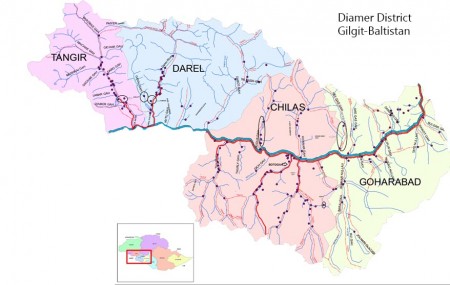 Monitoring Desk 
Gilgit, August 12: Pakistan Army's search operation in the Diamer District of Gilgit-Baltistan continued on Tuesday as troops were reportedly also deployed in Darel Valley and Thore Valley. The search operation is also being supported by the Jawans of GB Scout and Frontier Constabulary, police sources informed the media.
 DIG Ali Sher has reportedly told the media that more than a 100 people have been rounded up from different parts of Chilas town and surrounding areas during the two days of search operation.
The operation was launched after the murder of two officials of the Pakistan Army and a senior official of the GB Police a couple of days back in Chilas, the District headquarters of Diamer. The attack had been claimed by Tehreek-e-Taliban Pakistan (TTP), in a phone call to BBC, as reported on its website.
Police officials have told the media that the local community is completely cooperating with the Army during the search operation.
The arrested people are being investigated.
DIG Ali Sher has been quoted as saying that the security forces had intercepted a phone conversation which has given important leads to the investigators. He has also said that the people involved in the murder of the officials have been identified and targeted operations are being carried out to arrest them.