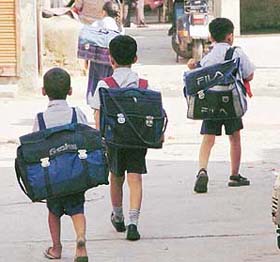 Shahid Hussain Shehazada
Last Monday, I came across a school going boy who was coming while attending his home coaching classes in Zulfiqar Abad Jutial Gilgit.I noticed that his satchel is full of books because his physical look shows that it hardly gave him strength as well as energy to hold the strips across his shoulders .I just began a traditional probe and said Assalam-e-Alikum and shaked hand. He smiled in humorous way while starching his red checks which shows that he was feeling a physical fatigue.
I spent twenty minutes with that satchel caring boy whose name was Ehsan Ullah Baig hailing from Hunza and a student of class 3rd enrolled in Army Public School Jutial Gilgit.His wish and confidence had a ray of hope that he would be a doctor in the near future. As I asked that your satchel is too heavy and beyond your holding capacity, this gentle boy took a sigh of hope and said that the profession of doctor demands much stamina both physical as well as mental. His natured confidence made me speechless and I thought for a while and looked this cute boy, then asked what your father does?, he answered that his father is running a Mohalla based general store in Zulfiqar Abad Jutial Gilgit and his mother is doing home based stitching business while making sceneries which is being sold in the local market, so they earn their livilhood.Ehsan Ullah Baig has three brothers including him and two sisters and his number is 2nd. All of them are attending school except the last one Mr. Sana Ullah Baig.
Confidence of Ehsan Ullah Baig was obvious as there was much difference between his mental and physical age. Who told him to be a doctor in the near future as  it is thought that if parents would be educated then their children would follow their footsteps while the educational level of his parents were not meeting the needs and demands of the contemporary situation? Mr. Ehsan Ullah Baig is also a position holder in his class since his enrollment in APS Jutial Gilgit.
It is worth pointing out that I also met his father Mr.Rahim Ullah Baig, his desire, expectations curiosity and hope was much optimistic about his children then any ordinary parents who might be educationally sound.Rahim Ullah Baig only did metric and my observation with him let me know to judge his mental level and he was much aware then a Master or graduate of today's world. I spent nearly two hours with him and tried to dig out his hidden capabilities. In every query he responded just like an intellectual. The way he received me was looking that he is having morality, ethics as well as self respect. My hours long meeting with him made me able to specify a difference that literate person doesn't mean that he/she would attend a well known educational institution or took a higher degrees of today's demand as it varies from thinking approach.
One thing he continuously said during our conversation that "You Astoris are so clever and uneducated Astori is having relevance with the highly educated people of the rest of GB", but my observation during the course of interaction with Rahim Ullah Baig totally changed the above existing old saying, as I look the ongoing mental engagements of Astori people. I came to a little bit conclusion that Some Astoris are engage to acquire the influential positions but majority of them are involve in personal, political and family disputes and are marching towards the pace of conservative world. Leadership crises are there at home, village as well as in the whole district, which may not let the people to get rid from these disputes and would lead towards the march of modern developed world.
Sorry I took a diversion while throwing comments over the common old saying regarding Astori which was initiated by Mr.Rahim Ullah Baig.
 Last but not least, Mr.Rahim Ullah Baig will get his desired hope as well as expectations because his mental approach already had a roadmap to keep his siblings to occupy the desired posts and for this, both the husband and wife are working day and night to run their routine home matters as well as educational needs of their children. He also told me that his school going children are position holders and they attend school as well as coaching classes regularly and allocate maximum time for studies at home. According to him if he remained unable to get influential positions then he will let his children to take desired positions in the years to come. He further said that he remained behind the race because he had no financial resources to get desired education. I wish that the satchel caring gentle boy will meet his desire in the near future.
We expect that our area youth will also take such type of hope to be a responsible member of Gilgit-Baltistan and they will not take guns and emotional directions by religious hijackers who create disturbance in GB, though they will occupy pens and schools to be a civilized figure of our area.
 If I remained alive till that time when Mr.Ehsan Ullah Baig will prove his dreams into practical shape then my this article will lead its follow up and that piece of writing will quote ""Satchel full of books" written on August 8, 2013.Hope for the best and good luck for your bright future Mr.Ehsan Ullah Baig and May Allah Almighty prove your this dream to be a doctor…!!!
The contributor is a Gilgit based freelance article writer. Shahid.glt@gmail.com