GB performs average in maternal, child health and family planning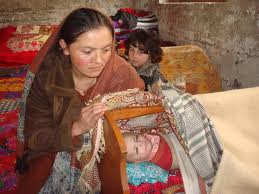 Report Excerpts:
National Institute of Population Studies (NIPs) has released its key findings of nationwide survey on knowledge of maternal and child health and family planning and putting it into practice.
According to the 2012-13 Pakistan Demographic and Health Survey, Giligit-Baltistan has a fertility rate of 3.8 births per women, contraceptive use among married women stands at 34 per cent, 64% of mothers receiving antenatal care from skilled health care providers and 47% of child is vaccinated rate in Gilgit-Baltistan.
The survey, third in the series, first done in 1990-91 and second in 2006-07, was carried out from October 2012 to April 2013 with the US Agency for International Development funding to collect reliable estimates for monitoring the population and health situation in the country.
The country's total fertility rate is 3.8, suggesting on average, a Pakistani woman gives birth to 3.8 children by the end of her reproductive period. The total fertility rate in rural areas (4.2 births) is considerably higher than that reported in urban areas (3.2 births). The differentials in TFR by regions are quite modest. The lowest TFR of 3.0 births per woman is from Islamabad, while the highest is in Balochistan (4.2 births per woman). For both Punjab and Gilgit-Baltistan, the estimated TFR is 3.8 births per woman.
Overall, 35 per cent of currently married women in the country are currently using a contraceptive method. Contraceptive use among the currently married women is the highest in Islamabad (59 per cent), followed by the Punjab (41 per cent), Gilgit-Baltistan (34 per cent), Sindh (30 per cent), and Khyber-Pakhtunkhwa (28 per cent), and it is lowest in Balochistan (20 per cent).
Almost three-quarters of mothers (73 per cent) reported consulting a skilled health provider, a doctor, nurse, or lady health visitor, at least once for antenatal care for the most recent birth in the five-year period before the survey. Across regions, the proportion of mothers reporting that they received antenatal care from a skilled provider is markedly lower in Balochistan (31 per cent) than in Punjab and Sindh (78 per cent each) and almost universal in Islamabad (94 per cent). Gilgit-Baltistan (64 per cent) and Khyber Pakhtunkhwa (61 per cent) did not perform as well as Islamabad, Punjab, or Sindh.
Overall, a little over half (54 per cent) of children aged between 12 and 23 months are fully vaccinated with BCG, measles, and three doses of DPT and polio. Among regions, the proportion in Balochistan has gone down to only 16 per cent from 35 per cent in 2006-07 and Sindh also seen a decline, from 37 per cent in 2006-07 to 29 per cent in 2012-13. The proportion of fully vaccinated children in Islamabad, Punjab, Khyber Pakhtunkhwa and Gilgit-Baltistan is 74, 66, 53 and 47 per cent respectively.