Gilgit: Accountability Court sentences 5 people involved in "Big Board" scam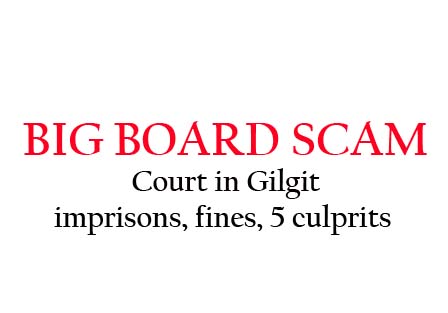 Special Reporter 
Gilgit, September 9: An Accountability Court in Gilgit has sentenced five people each to 8 years rigorous imprisonment for being involved in a mega financial scandal, popularly known as the Big Board Scandal. They have also been asked to pay 40 million (4 crore) rupees in fine, failing which they will have to spend two more years in prison.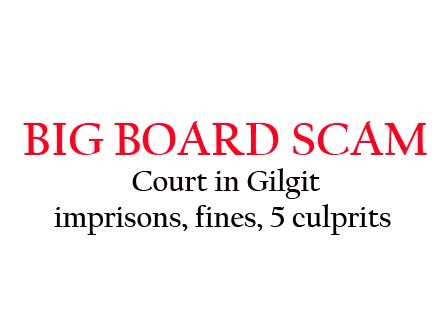 According to details, Additional Judge of Accountability Court, Justice (r) Malik Safdar Khan, decreed that the five people, Syed Sarosh Haider Rizvi, Muhammad Arif Khan, Ahmad Ali, Muhammad Tariq Khan and Abbas Haider Naqvi, were responsible for embezzlement of hundreds of millions of rupees, in one of the region's biggest scams.
Naqvi's bail has been cancelled while the other four are already under police custody and they were present at the Court while the verdict was read.
The Court also directed NAB to arrest Naqvi immediately.
The culprits were affiliated with the notorious company, "Big Board Advisory Services", which had collected huge sums (almost 18 Crore rupees) from people belonging to all parts of Gilgit-Baltistan, mostly pensioners and families of the Kargil victims, with promises of huge returns. In reality, however, the money depositors were never paid back, not even their actual amount, let alone the promised "profits". The "Big Board" company had established 11 branches in the region through which the deposits were collected.
The culprits can lodge an appeal against the sentence within ten days, the Court said. The case had been pending for the last five years.