Samina Baig becomes the first Pakistani woman to climb the Mount Everest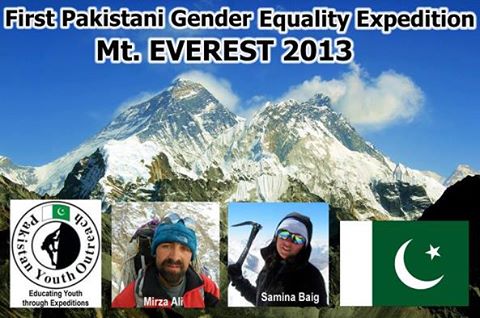 Gulmit, May 19: Samina Khayal Baig, a 21 year old mountaineer from the Shimshal Valley of Gojal (upper Hunza) created history today by becoming the only Pakistani woman to climb Mount Everest, the world's highest peak, according to media reports.
She, along with her 29 year old brother Mirza Ali, was part of a team that scaled the highest peak of the world in Nepal on Sunday.
According to renowned Indian newspaper, the Hindu, "Nepal Mountaineering Department official confirmed their feat, saying 35 foreigners, accompanied by 29 Nepalese Sherpa guides, reached the peak after climbing all night from the highest camp on South Col — the pass between Mt. Everest and a neighbouring mountain.
Ms. Baig (22), a native of Shimshal village deep in the Karakorum range in Upper Hunza, was accompanied by her brother and guide Mirza Ali (29) on the climb. The attempt began as an event to commemorate the first successful expedition to Mt. Everest, on May 29, 1963, by Edmund Hillary and Tenzing Norgay."
Mirza became Pakistan's youngest male mountaineer to climb Everest. The first man from Pakistan to climb Mount Everest was Nazir Sabir from Hunza Valley while the second was Hassan Sadpara from Skardu, Baltistan.
All of the climbers of Pakistan to summit Mount Everest belong to Gilgit-Baltistan.
The news of successful summit has charged the people across Pakistan with a new zeal and happiness. The social media and the mainstream media are abuzz with the news of the huge success.
In their native village, Shimshal, the local people exchanged greetings and celebrated the success in the traditional way, by thanking the Almighty and rejoicing.
A wave of celebrations have erupted in different parts of Gilgit-Baltistan, particularly in Hunza Valley, where people have lauded Samina Baig and Mirza Ali for winning honor for the region and the country.
Mirza Ali and his sister Samina Baig were part of an expedition that aimed to promote gender equality in Pakistan and in other parts of the world.