Proposed Kashgar-Gwadar trade corridor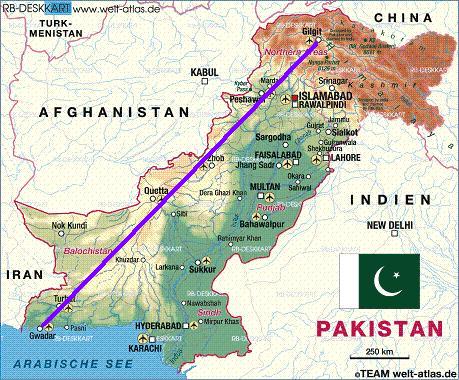 The proposed sites of freight terminals and industrial parks included Sust, Gilgit, Abbotabad, Lorala, Kohlu, DG Khan, Bhakkar, Rajanpur, Kashmore, Jaccobabad, Khuzdar, Basima, Punjgur, Turbat and Gwadar.
By: Munawar Hasan
Pakistan plans to establish industrial parks and economic zones along the proposed Kashgar-Gwadar trade corridor that will connect China's western autonomous regions with Balochistan, official sources said on Thursday.
As per the alignment of Kashgar-Gwadar or Pak-China Motorway, this trade corridor will be around 2,000km long within the territory of Pakistan, crisscrossing snow-caped mountains, narrow valleys, lush green fields, sand dunes and dry hills.
In addition, this new trade corridor will provide Chinese traders a link to deliver their goods to the international markets through the Gwadar Port. If compared with the Chinese ports, this is the shortest possible route to the western provinces of China, the officials said.
The economic corridor is being developed as part of a strategic partnership between the governments of China and Pakistan, which was announced a few months ago. The China-Pakistan Economic Corridor Secretariat has formally been inaugurated in Islamabad with an aim to transform the strongest political relations in economic relations, they said.
Before getting approval of the industrial parks and economic zones from the federal government, the Ministry of Industries & Production is in the process of giving final shape to the proposed plan that has been prepared by its subsidiary National Industrial Parks Development & Management Company (NIP), the officials said.
It is proposed to set up trans-freight stations along the Kashgar-Gwadar corridor to facilitate trucks / containers, carrying heavy goods. The plan to establish trans-freight stations has been prepared, keeping in view the importance of an organised transport sector for the development and welfare of the population.
When transport systems are efficient, it is observed, they provide economic and social opportunities and benefits that result in positive multipliers effects such as better accessibility to markets, employment and additional investments. Therefore, an efficient transport system is a key for developing this economic corridor, the officials said.
They said that the transport sector plays a pivotal role in the overall economic growth. It is observed that economies, which possess greater mobility are often those with better opportunities to develop than those suffering from scarce mobility.
Reduced mobility impedes development, while greater mobility is a catalyst for development. Mobility is, thus, a reliable indicator of development. It is also necessary as freight transport industry in Pakistan is highly fragmented, as per the plan.
Assessing various logistic aspects and other allied issues, it has been observed that the most suitable locations for setting up economic zones / industrial parks and trans-freight stations are the major exits of Kashgar–Gwadar corridor located close to the nearby cities. The size of the economic zone / industrial park will depend on the availability of the raw materials, agricultural production, mineral deposits, local skill set and overall connectivity, location advantages and economic strength of the particular area.
Each economic zone will target specific products and services, while analysing the availability of local raw material, workforce and other factors, according to the plan.  Courtesy: The News