Gilgit-Baltistan represented at 4th National Youth Peace Festival held in Lahore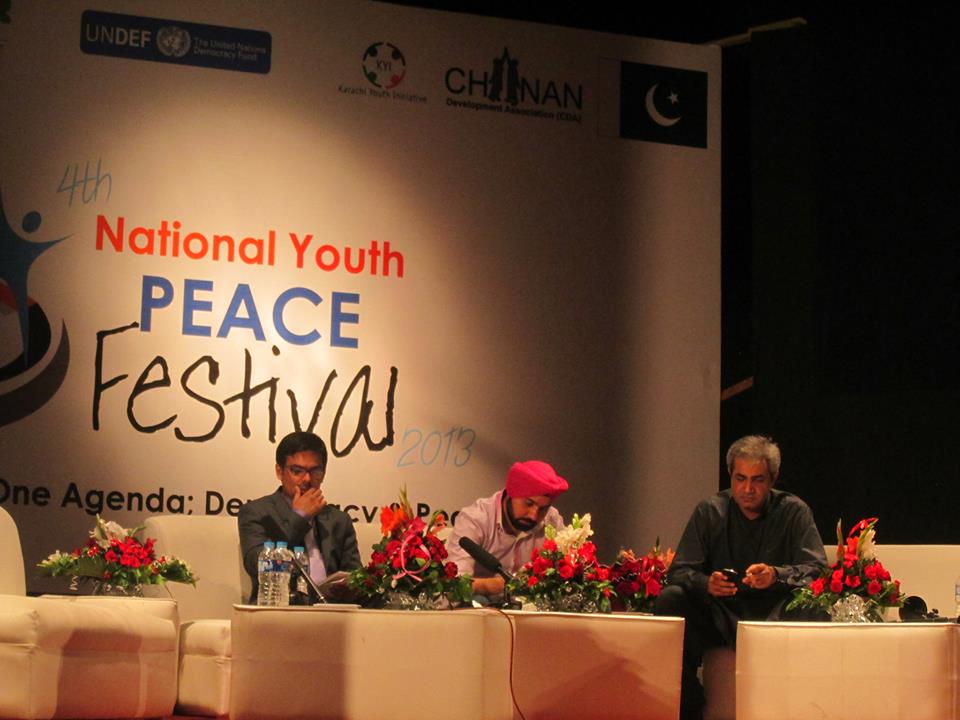 Shahid Ali Naeem
Lahore, September 29: Young representatives from Gilgit-Baltistan participated in the 4th National Youth Peace Festival 2013 (NYPF), held in Lahore from 26th to 28th of September.
The festival was arranged by Chanan Development Association (CDA) in collaboration with Karachi Youth Initiative (KYI), Y-PEER, USAID and United Democracy Fund (UNDEF). Six hundred and forty delegates had participated representing Gilgit-Baltistan, FATA, PATA, Karachi, Punjab, Peshawar, Azad Kashmir, Malir, Sawat and Islamabad territory.
On the first day there were different sessions like workshop, seminar and question answer sessions. The situation of FATA, PATA and Karachi was the especial concern of the first day. The TV programs "Sawal hai Pakistan Ka" by Rizwan Jafar and "Democracy and Peace'' by Kamran Shahid were also recorded. Later on, AAJ News and Duniya News broadcast recorded programs. Guests from various parties played an important role in making the sessions successful.
On second day many renowned achiever, like Samina Baig and Mirza Ali from Gilgit-Baltistan, Saima, a swimmer who has participated in swimming competitions globally, and the late wiz kid, Arfa karim's, mother attended the festival and shared their experiences. Workshops and presentations on different topics like Peer Education, Peace and Democracy were also held, followed by a cultural night in which regional colours of Pakistan were represented.
On the last day, scholars from various Universities of Punjab delivered presentations on peace, harmony, democracy and governance. Youth package of PM Nawaz Sharif was also discussed. Later, certificates were distributed among the delegates and souvenirs were also presented to the volunteers, who helped make the event successful.
After the three days festival the youth came to the conclusion that Pakistan needs peace, good governance, strong foreign policy and eradication of poverty, inflation, cultural discrimination, sectarianism, suicide attacks and terrorism. Theses all can be possible only and only through education. There should be seminars for youth in different provinces, Gilgit-Baltistan and Azad Kashmir. There focus must be on dialogue between youth belonging to diversified backgrounds of culture, religion and ethnicity. These should preach inter-faith, acceptance of diversity and inter-cultural harmony and peace to cope with regionalism, extremism, conflicts and discrimination.