Gojal: Barjees Tahir hopes Silk Route Festival will help project softer image of Pakistan
Our Correspondent
Photo Courtesy: Mountain TV 
Gulmit, October 29: Chaudhry Barjees Tahir, the Federal Minister for Kashmir and Gilgit-Baltistan Affairs today said that the Nanga Parbat massacre has negatively affected the image of Pakistan, especially Gilgit-Baltistan, harming the region's tourism potential. He said that Pakistan is safe for tourism and the PMLN government in Islamabad is making all out efforts to capitalize on the nation's tourism potentials.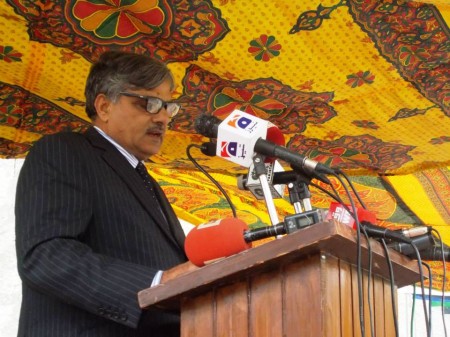 He said that the Silk Route Festival and other such positive activities will hopefully help reduce negativity and attract tourists towards the region.
He promised to organize more such events in the future in collaboration with the Wakhi Tajik Cultural Association.
He also said that efforts will be made to capitalize on the tourism potential of the dammed Hunza River, by jointly working with the Tourism Promotion Services (Serena Hotels). He said that the dammed area will be converted into a tourist resort.
He was addressing a press conference at the concluding ceremony of the Silk Route Festival in Gulmit, Gojal Valley (upper Hunza), a major event also attended among others by HE Ro Kyoung Chol, Ambassador of DPR of Korea, HE Dashgin Shikarov, Ambassador of Azerbaijan, HE H.E. Volodymyr Lakomov, Ambassador of Ukraine and Dr. Song Jong-hwan Ambassador of the Republic of Korea. Other diplomats present at the occasion were HE Dr. Ali Muhra, Charge d'affairs of Syria, HE Kubayanebek Toktorbeav and Charge d'affairs Kirghistan. Representatives from the embassy of China, Japan, Italy, Egypt and Indonesia also attended the mega cultural event.
The minister also said that efforts will be expedited for the allocation of a separate seat to the Gojal Valley in the Gilgit-Baltistan Legislative Assembly, one of the residents' long-standing demands.
He said that the Gawadar-Kashgar economic corridor is of immense strategic importance for Pakistan and Gilgit-Baltistan.
GBLA Speaker Wazir Baig, Deputy Speaker Jamil Ahmed and Tourism Adviser Sadia Danish were also present, along with Chief Secretary Younus Dhaga, Secretary KA&GB Shahidullah Baig and Saifullah Chattha.
The minister appreciated the Wakhi Tajik Cultural Association and the tourism department of Gilgit-Baltistan for staging an impressive show of the region's cultural heritage. He also announced cash prizes for some of the performers.