After years of guiding tourists in Pakistan, I did a climb of my own — at the Alps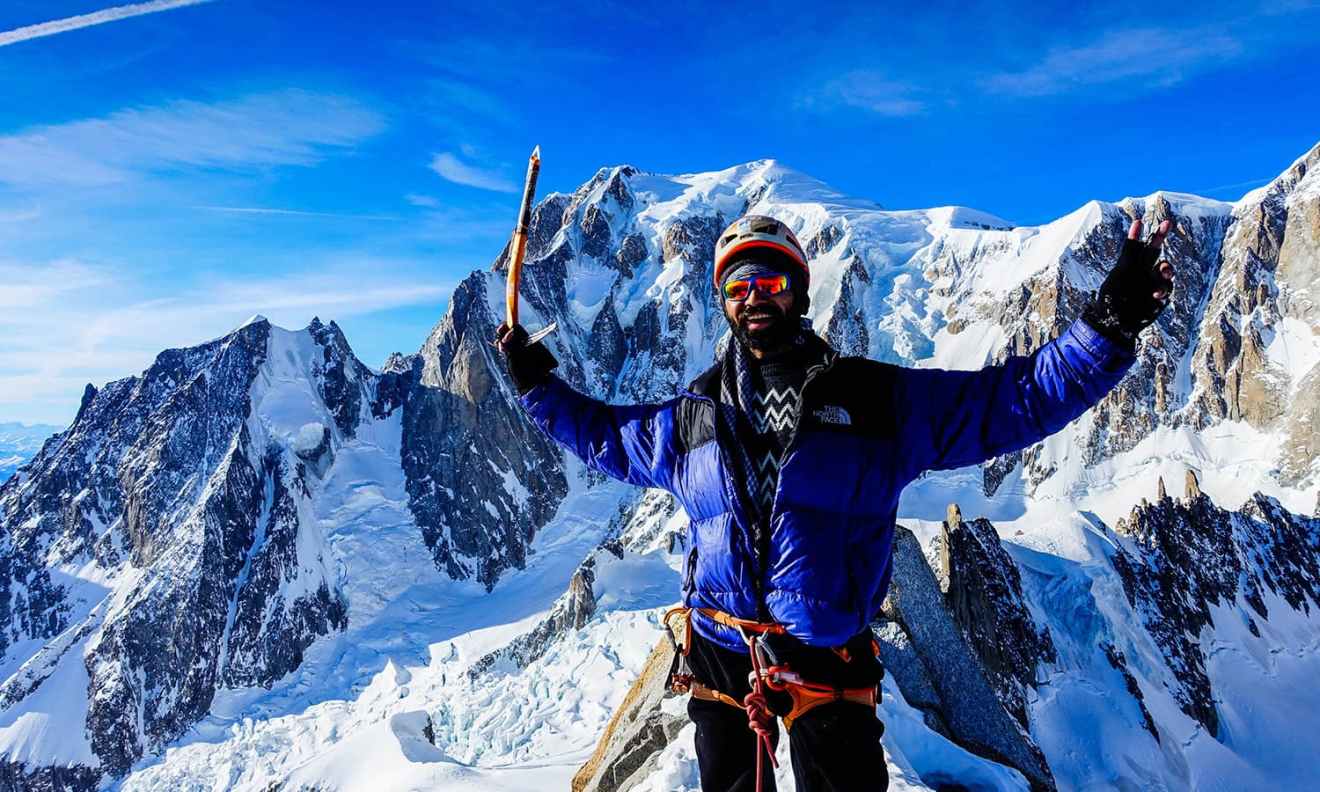 MUQEEM BAIG 
When I decided to go mountain climbing in the Alps in December last year, I knew it was a big step.
I have been climbing peaks in Pakistan for the past 10 years as part of my job as a mountain guide in Hunza's Shimshaal Valley. My passion led me to start my own trekking company in Islamabad, Climax Adventure Pakistan, which has inspired others to live their dream. And finally, my own dream came true when I went climbing in Europe after years of saving money.
I always wondered how it would feel to be a tourist in another country. I am always on the opposite side, guiding tourists across the mountains of Pakistan. At the Alps, I got to experience climbing from a different vantage point.
Although you don't need a special permit for the climb, the visa for travelling to France wasn't easy to get. But I was fortunate enough to have a friend in France who helped me out with the process.
Even before I had reached, I knew that climbing these famous peaks would be a thrilling and fun experience. The prospect of becoming the first Pakistani to climb the Tour Ronde (3,792 m), located on the border between France and Italy, and Petite Aiguille Verte (3,512 m), located in France, heightened my excitement.
I set out on December 13 for my first climb, starting with the Tour Ronde from the Italian side. We left at 8am and drove for 25 minutes until we reached the Grands Montets cable car that takes the climbers up to the starting point within minutes.
There are several routes to the top but I took the North East Ridge route to the peak. We did a combination of rock, snow and ice climbing. It was a fantastic experience and to add to it, the weather was clear and perfect.
The first thing I noticed on my ascent was that France and Italy have amazing facilities up on the mountains. You don't need to carry heavy backpacks, sleeping bags or fret over cooking, as the mountain huts eliminate that need.
The closer we got to the summit, the colder it became. When I claimed the summit at 11:45am, the temperature was -17, which was not as bad as I had expected. I noticed how the mountains were different from the peaks in Pakistan and had a beauty of their own.
---
The point where I was standing had marvellous sights of the Alps from the French, Italian and Swiss sides. As I gazed at the view, I felt an adrenaline rush. This was what I had been waiting to feel all these years.
---
As with every climb, there comes a time when you have to head back to the base camp. After half an hour of resting and taking photographs, we began our descent.
Early next morning, I set off for my second ascent, this time at the Petite Aiguille Verte from the French side in Chamonix-France. I was pleasantly surprised to find that the weather conditions here were comparatively better than the Italian side.
The Petite Aiguille Verte is a very interesting route, with ice, rock and snow ridge climbing. It is featured in Rebuffat's 100 Finest Climbs of the Mont Blanc Massif.
I took the normal NW Ridge route for this climb. In the winter, the ridge is filled with snow, which can make it tricky to climb in some areas, but I thought it was worth taking the risk. The temperature was -15.
It is always advisable to leave for the mountains as early as possible before the sun makes things warmer. If you start around noon, the ice can get slippery in case the weather is sunny and the sun shines directly into your eyes, which makes it difficult for visibility.
I claimed the summit at Petite Aiguille Verte at around 11:45am. The total climbing time for both peaks is short and takes the same amount of time to complete.
---
The real fun began when technicalities brought in challenges. This peak demands more procedural climbing than the first one. It involves not only snow climbing, but ice and rock as well. I had to be extremely cautious when I was climbing at a 45 degree angle. It was dangerous but exhilarating.
---
I faced another major risk when we encountered a ridge with challenging stretches. Just one mistake could have cost me my life. But I enjoyed myself while looking out at the amazing views from the ridge rather than thinking too much about the dangerous path that lay ahead.
After completing both the summits, I was overjoyed to see my parents' reactions when I uploaded the photos of my climb on Facebook. I have always looked up to my father Qurban Muhammad, who is a climber like me. He has climbed four peaks above 8,000m in Pakistan: Nanga Parbat, Gasherbrum I, Gasherbrum II and Broad Peak. He has also served as a rescue specialist in Pakistan.
I have climbed four peaks above 6,000m and I want to make him proud of my humble ascends. These climbs in Europe are a gift to my father for being my inspiration.
Although the Alps are lower than most Pakistani mountains, they shouldn't be underestimated. Many of them are quite steep, with unstable layers of snow, and often icy. For those who are interested in climbing here, I would advise to go with all of your equipment and always take a local guide.
---
Mountain climbing is fun, although the fun factor is limited back in Pakistan. Lack of facilities can make climbing a rather frustrating endeavour in Pakistan.
---
Nonetheless, I feel that I still have a lot to achieve in Pakistan, with K2 as my next project.
Until then, I aim to promote foreign tourism in Pakistan, which is something that I have been doing all my life.
If things go well, I might also try to pave the way for Pakistani tourists who are interested in climbing the Alps.
Muqeem Baig is a tour guide from Shimshal Valley, Gilgit-Baltistan.
Published in Dawn.com, January 20th, 2017.