Village in Lower part of Naltar vacated due to landslide, one house destroyed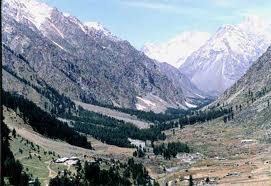 Our Correspondent
Gilgit, November 27: A landslide on Tuesday morning destroyed a house in the Naltar Valley, at Roshan Abad village, 30 kilometers Northward from Gilgit. One house was destroyed and 30 other households had to be vacated to avoid any catastrophe.
According to local people, portion of the mountain above the village has developed cracks and the landslides are being caused due to expansion of the cracks, as a result of the freeze-thaw phenomena. They have demanded of the GBDMA, FOCUS Pakistan and other relevant organizations to study the geological phenomena in detail and devise strategies for keeping the community safe.
Officials of the Rescue 1122 emergency service had reached the area to help the community members. There were no reports o casualty or injuries.