'Ghost schools and absence of teachers major problems', Supreme Court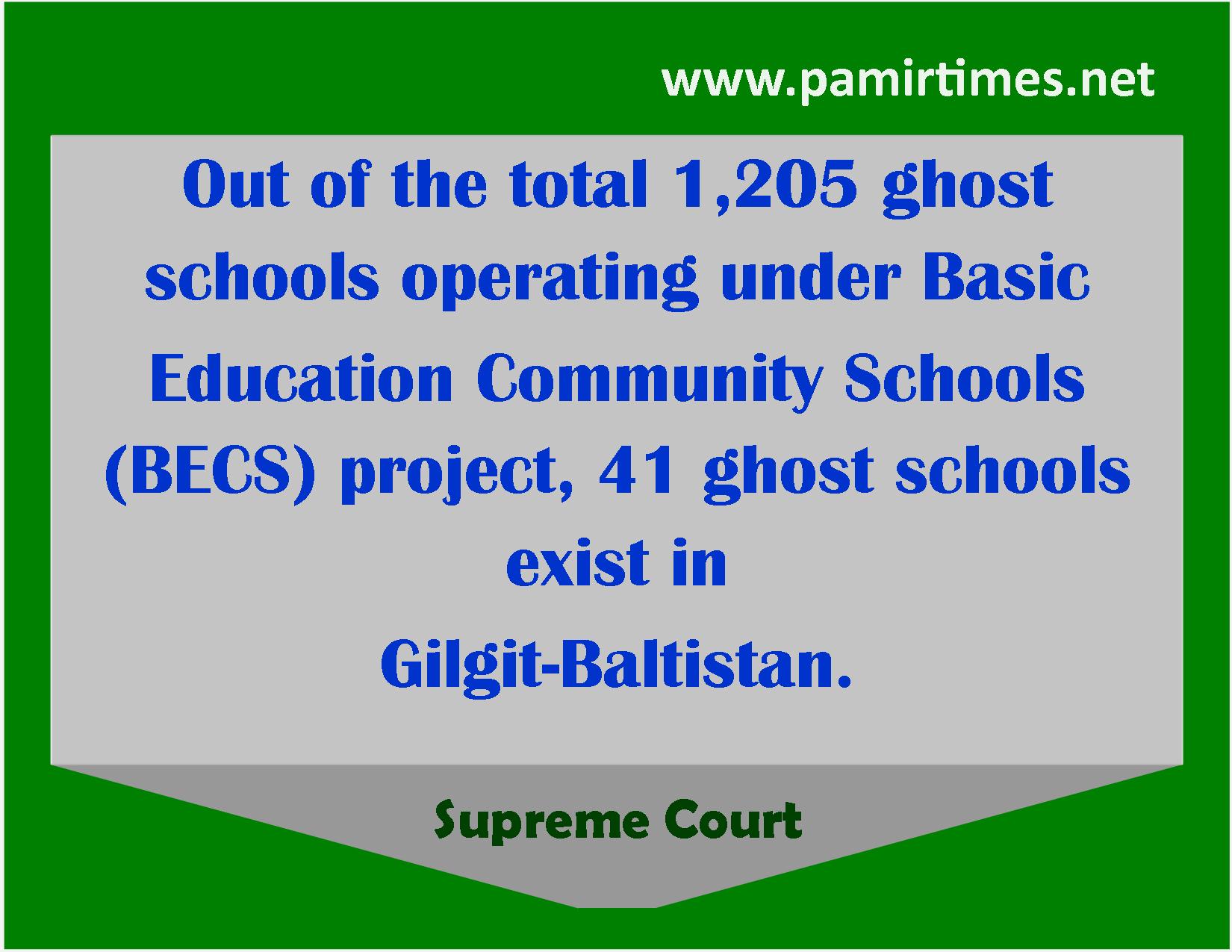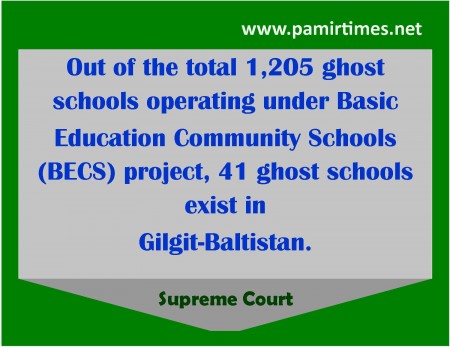 By Hasnaat Malik 
ISLAMABAD: The Supreme Court (SC) has said the country's educational system faces two problems – existence of ghost schools and absenteeism of teachers.
In a 100-page detailed judgement regarding the miserable condition of government schools, Chief Justice of Pakistan (CJP) Iftikhar Muhammad Chaudhry said that a study – conducted by Basic Education Community Schools (BECS) Project in 2012-2013 through a third party validation team hired by the government – revealed that ghost schools existed in all provinces of Pakistan and their number was identified to be 1,205 where teachers were getting salary but not imparting education at all.
It was further pointed out that 57 ghost schools exist in Islamabad, 345 in KP, 305 in FATA, 276 in Punjab, 69 in Balochistan, 64 in Sindh, 48 in Azad Kashmir and 41 in Gilgit-Baltistan.
The judgment also reveals, "Second main reason pointed out by the Transparency International in its Global Corporation Report on Education released in January, 2013 is the teachers' absenteeism, which is one of the most serious forms of corruption in the education sector. This report has disclosed the percentage of teachers' absenteeism in different countries, namely, Kenya, Uganda, India, Ghana, Senegal, Indonesia, Zambia, Pakistan, Bangladesh, etc. A common problem in most of these countries is that the teachers show up in the classroom, stay for a while and then leave the institution for one or the other reason."
The report also states that "as learning level improves as a result of dedicating teaching, more students are likely to continue with their schooling. The impact of teacher absenteeism is much stronger on girls than on boys because the demands for girls' education are more responsive to whether any learning actually takes place".
It also states that as per the available data the major part of the country's education system i.e. 59.2 % is shared by the primary schools, 16.11% by middle schools, 11.01% by high schools, 1.72% by higher secondary/inter-colleges, 0.54% by degree colleges, 1.25% by T&V institutions, 5.03% by non-formal basic education, 5.02% by teacher training institution, 0.07% by madrassas whereas 139 universities have least share in education system to the extent of only 0.05%.
Meanwhile, Raja Jawad Abbas Hassan, district and sessions judge-West, and Syed Kausar Abbas Zaidi, district and sessions judge-East, Islamabad, submitted a combined report wherein it was stated that a team comprising four additional district and sessions judges and president and secretary of district bar association, Islamabad, was constituted to carry out the requisite exercise.
In response to the court's question, the district and sessions judges reported that it was found that a total number of 383 schools (excluding colleges) are functioning under Federal Directorate of Education in urban as well as rural areas of Islamabad Capital Territory. All the schools were visited and verified by the team members.
"Most of the schools in federal capital are in working condition, but there are quite a few schools where all the facilities are available as per requirement in full capacity. However, in most of the schools due to paucity of funds or lack of interest by the Federal Directorate of Education, the required facilities are lacking.
Almost all the schools are working without full facilities and teaching staff is also deficient. Most of the schools have been up-graded but in papers only. The principals/headmasters/headmistresses are facing difficulties in managing and running the schools with old staff and in the old buildings. There are some common problems of the schools in rural areas, like shortage of staff, shortage/non-availability of drinking water and non-availability of boundary walls." According to the report, no ghost schools were found in the ICT.
It was stated that ratio of children studying in government schools in ICT is very low as compared to those who are studying in private institutions, probably due to poor standards/performance of government schools.
Babar Ali, deputy attorney general of Pakistan, filed a report which contains a summary regarding condition of schools in ICT.
Courtesy: Daily Times