Shujaur Rehman Memorial Football Tournament Concluded in Chitral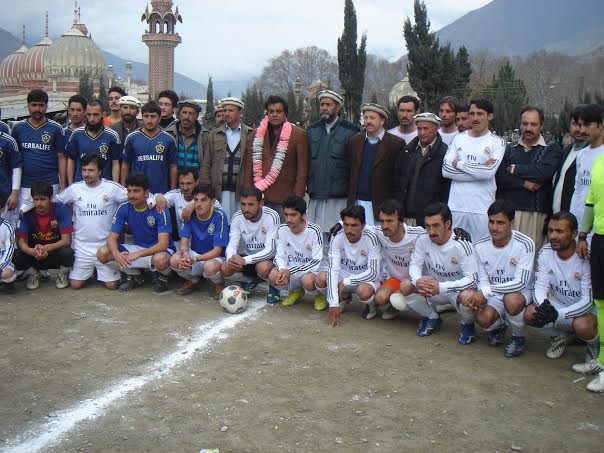 Gul Hammad Farooqi
Chitral, 8 December:  The Shujaur Rehman MemorialFootball Tournament ended at the parade ground of government centennial model high school Chitral today amid pomp and show. The tournament was organized in memory of late Shahzada Shujaur Rehman. His son Shahzada Amanur Rehman was chief guest on the occasion.
Thirty eight (38) football teams participated in the tournament. The final match was played between Balach football team and Golder Nojawan team. Both teams played very aggressively. The match was decided on penalty kicks, in which team Balach remained successful.
 Addressing on the occasion the chief guest Shahzada Amanur Rehman said that Chitrali youth have best talent of games but unfortunately there is no stadium as a result a large number of players deprived from participating in national level teams. He announced that Shujaur Rehman memorial football tournament will be organized every year. He demanded from the government for opening of Lawari tunnel for vehicular traffic on daily basis because main road remain block due to heavy snow fall.
He also demanded for construction of a public stadium for youth of Chitral to enhance their skill and sport capacity. Taj Muhammad president district football association, Hussain Ahmad General Secretary and other office bearers thanked Shahzada Amanur Rehman for accepting responsibility as chief patron of District Football Association .
At last the chief guest distributed trophy and cups among the players. Balsch team carried their winner trophy in a long procession of vehicle. During the match traditional Chitral music was also continue to energize the players. Thousands of spectators were present in the play ground who enthralled from the match and traditional music. Azharuddin was declared man of the tournament.