International Mountain Day celebrated in Gilgit


Gilgit,December 11: The International Mountain Day was jointly celebrated today by WWF-Pakistan, GB Tourism Department, SEED Project for CKNP and Serena Hotels Pakistan here in the regional capital. In this connection a seminar was held in which experts and officials shared their views about the importance of Mountains for achieving sustainability, in line with the international theme for the year.
The day is celebrated globally in line with a declaration passed by the United Nations General Assembly.
Attended by people from different walks of life including academia, government departments, civil society organization and media, experts in the seminar highlighted numerous functions and services of mountain ecosystems of the world in general and in Gilgit-Baltistan – the home of mountains – in particular.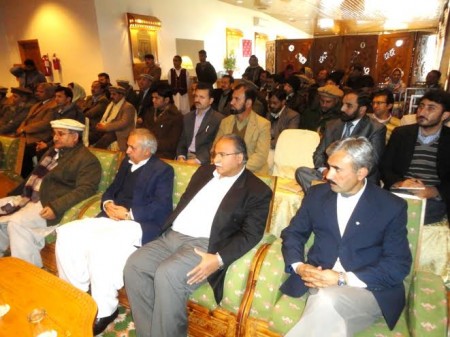 The world mountainous ranged, spread over 24% of the earth's surface and supporting about 26% of the global population, are facing ecological destruction creating serious implications for the local communities, most of which are poorest and highly vulnerable people in the world, says Dr. Babar Khan, Head of WWF-Pakistan, in Gilgit-Baltistan. He added that the mountainous landscapes  of GB are the primary watersheds of Indus River and almost  75% of water into Indus River System is contributed by its tributaries including Shango, Shyok, Shigar, Hunza, Ghizer , Astore, emanating from the northern mountains.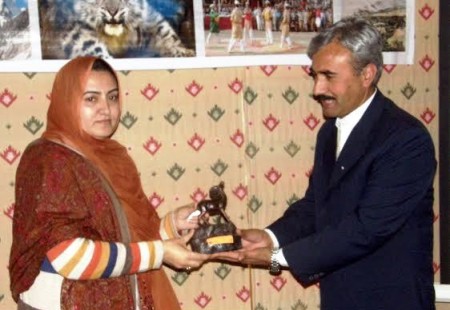 Ms. Sadia Danish, Information Minister and Advisor to the Chief Minister Gilgit-Baltistan on Tourism, Sports, Culture and Youth Affairs attended the occasion as Chief Guest and applauded the efforts organizations and individual for showcasing significance to its inhabitant for providing life sustaining goods and services.
Renowned mountaineer who claims the fame of fastest climber on Everest Mr. Hassan Asad Sadpara shared his experience of mountaineering highlighting various issues that he faces while promoting mountaineering in Gilgit-Baltistan. He aimed to transfer his skills to the youth of Gilgit-Baltistan through establishing an mountaineering schools in Gilgit and Advisor tourism assured him to benefit from his rich experiences for promotion of high-altitude hiking and climbing in Gilgit-Baltistan.

"Tourism sector of Gilgit-Baltistan in the presence of the highest concentration of peaks such as K-2, Gaserbrum-I, Gasherbrum-II,  Broad Peak and Nanga Parbat  possesses huge potentials for economic upliftment, not only in Gilgit-Baltistan but entire Pakistan" said by Mr. Akhter Hussain Rizvi, Secretary Tourism, Sports, Culture and Youth Affairs of Gilgit-Baltistan. For this purpose "the tourism department, though newly established in Gilgit-Baltistan in 2006 has taken important steps like developing tourism policy for the region", he added.
The Deputy Director Tourism Mr. Yassir Hussian shared possible initiatives for promotion of tourism in Gilgit-Baltistan such as improving road access by developing alternative of Karakoram Highway; operations of all-weather domestic flights; international transit flights and establishing proper tourism facilities. He emphasized to brand Gilgit-Baltistan as the "Jewel of Pakistan" to portray the natural beauty of this area.
Mr. Asghar Khan, Assistant Director-Responsible Tourism, Serena Hotels Pakistan shared the initiatives of Serena Hotels Chains in promoting responsible tourism in Gilgit-Baltistan. He mentioned of community development project undertaken by Shigar and Khaplu Fort Residencies managed by Serena Hotels.