Ismailis celebrate 77th birthday of the Aga Khan in Gilgit-Baltistan and Chitral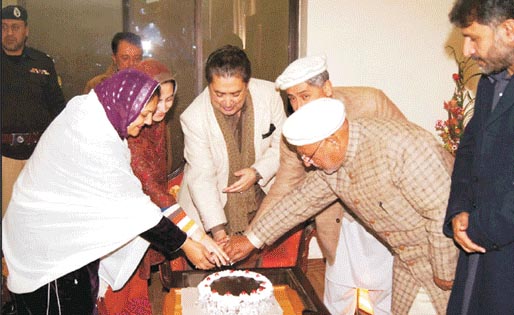 PT Report
Gilgit/Hunza/Ghizer/Chitral, December 13: Followers of the Shia Imami Ismaili sect of Islam celebrated the 77th birthday of their spiritual leader, His Highness Prince Shah Karim Al-Hussaini, Aga Khan IV, with zeal and fervor in different parts of Gilgit-Baltistan and Chitral.
The present Aga Khan was born on the 13th day of December 1936 in Geneva, Switzerland. He became the 49th Imam of the Ismailis after the death of his grand father, Sir Sultan Mohammed Shah, Aga Khan III, who was one of the most influential leaders of the Pakistan Movement.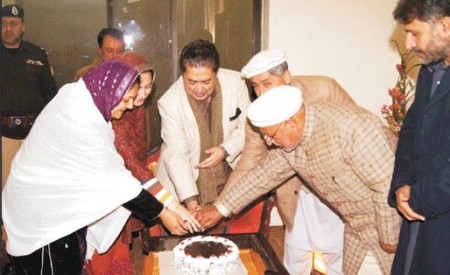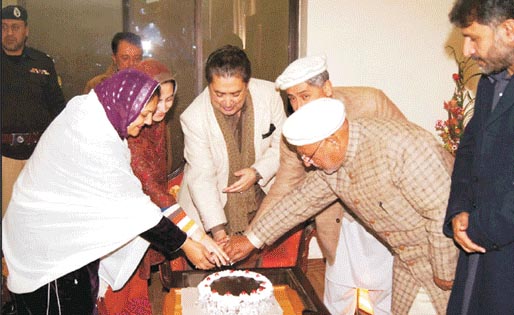 A cake-cutting ceremony was held at the office of the Chief Minister of Gilgit-Baltistan to celebrate the birthday of the Aga Khan. Syed Mehdi Shah congratulated the Ismaili community on the occasion and paid glowing tributes to the services of His Highness for the development of Gilgit-Baltistan.
The Aga Khan Development Network runs a massive programme of human development in the Gilgit-Baltistan and Chitral region, with efforts being made to contribute towards poverty alleviation, education, improvement of health services, cultural development, environment, disaster risk reduction and economic development through HBL and First Micro-Finance Bank.
Special events were held in Jamat Khanas across the region to pay tribute to the leadership of the Aga Khan, who has ably led his community out of abysmal poverty and illiteracy. Today, the Ismailis in Gilgit-Baltistan and Chitral, like other parts of the world, are seen as a forward-looking and educated community, leaving their marks in almost all fields of life.
The transformation in the life of the Ismaili community has been made possible by the wise leadership of the Aga Khan, who is considered to be among the leaders of social, cultural and economic development across the world.
The Aga Khan Development Network, which is a contemporary initiative of the Imamat, has not only helped the Ismailis; it has also played a very important role in development of other communities living in the Gilgit-Baltistan and Chitral region.
The Ismailis offered special prayers for peace, stability and progress of Pakistan at the Jamat Khanas today, on the birthday of the Aga Khan. Prayers were also offered by large congregations for peace and harmony among the different groups that make the Ummah of Islam. Lectures and speeches were made by scholars in which they highlighted the services of the Aga Khan and urged the Ismailis to play an active role in forging unity and harmony in the region.
Traditional dish called Harisa was prepared in different parts of Hunza Valley and Gilgit. Events were also held in all four Tehsils of Ghizer district. Ismailis in Chitral also celebrated the day with religious zeal.
It is pertinent to note that the Regional Councils had decided to celebrate the Salgirah of the Aga Khan with simplicity and without festivity, in respect of the month of Muharram.