Pakistan and Tajikistan agree to cooperate on a range of issues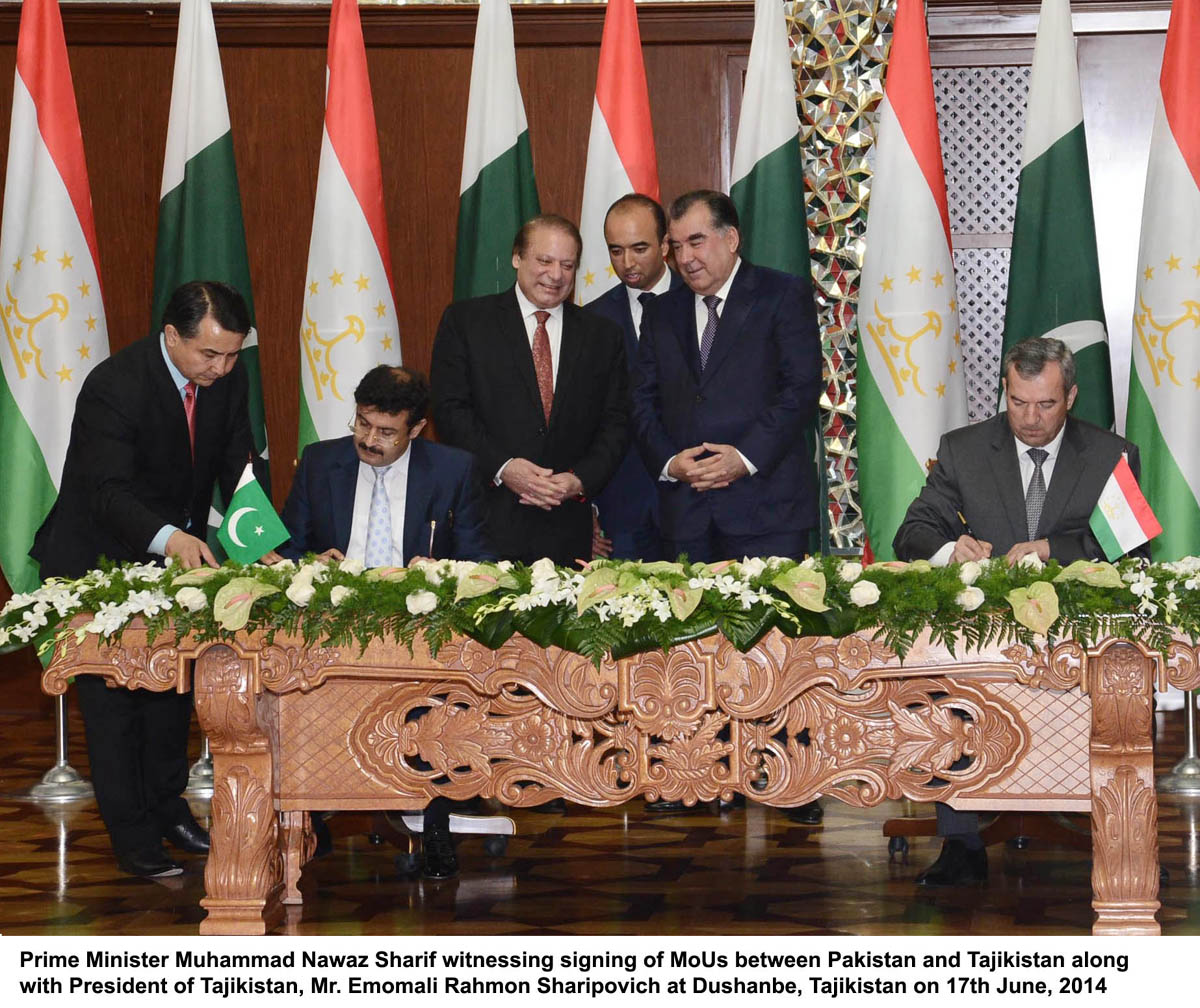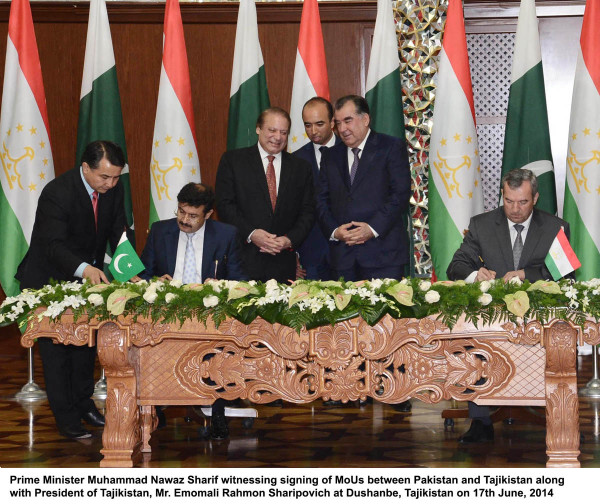 DUSHANBE (PR)- Pakistan and Tajikistan on Tuesday signed an agreement and four memoranda of understanding under which the two countries will cooperate with each other for the eradication of terrorism, promotion of technical cooperation for the uplift of textile industry, professional and technical training and cooperation for the promotion of culture.
Prime Minister Nawaz Sharif said that Pakistan and Tajikistan agreed to strengthen economic cooperation by optimally utilising the present and new institutional mechanisms and intensifying private sector interface.
Speaking at the joint press talk along with President of Tajikistan Emomali Rahmon, he said as both Pakistan and Tajikistan moved forward, they would expand mutual cooperation in diverse fields including energy, security, education, culture, and people-to-people exchanges.
The prime minister said both sides held wide-ranging consultations – covering a whole spectrum of bilateral, regional and international issues.
He said both sides agreed that there was a vast potential to be harnessed for mutually-beneficial collaboration in many fields.  Bilateral trade between the two countries has grown significantly in recent years, he said, adding through mutual efforts, it can be sustained and further increased.  The PM said both the countries signed a number of agreements and Memorandum of Understandings (MoUs) for enhancing bilateral cooperation in different areas. "It is important for our socio-economic development to eliminate the scourge of extremism and terrorism. Today, we reaffirmed our commitment to maintain and further increase our high-level of cooperation to counter these threats," the Prime Minister said.
In the regional context, the PM said the leadership of both the countries conferred on the situation in Afghanistan – our brotherly country at a crucial juncture in its history, particularly post-2014. 
He said that Pakistan wishes well for their Afghan brothers, as they go through the security, political and economic transitions, adding, that a peaceful, stable and unified Afghanistan remains vital for peace and stability for the region.
Sharif said both the countries agreed to intensify their mutual consultations on Afghanistan, while both would continue to support an inclusive Afghan-led and Afghan-owned peace process.
He said the two countries cooperate closely in the UN, OIC, ECO and SCO and reiterated their mutual desire to deepen this cooperation.  He said that Parliaments of the two countries were interacting closely and reinforcing the efforts of the two governments for closer ties.  He said that both the countries attached great importance to early completion of CASA-1000 project, which would enable Pakistan to import 1,000 mw of electricity from Tajikistan to meet its growing energy needs.
The PM said that Tajikistan was our closest neighbour in Central Asia. It is located at the confluence of South and Central Asia and is a gateway to the CIS region, he said, adding, similarly, Pakistan offers the shortest possible route to Tajikistan and other countries in the region to our sea-ports.