27.59 bn budget for Gilgit-Baltistan presented, 10pc raise in salary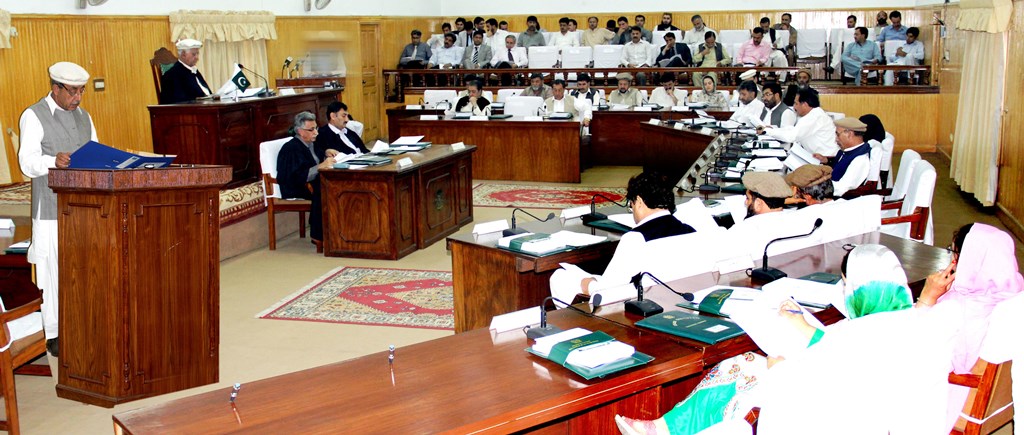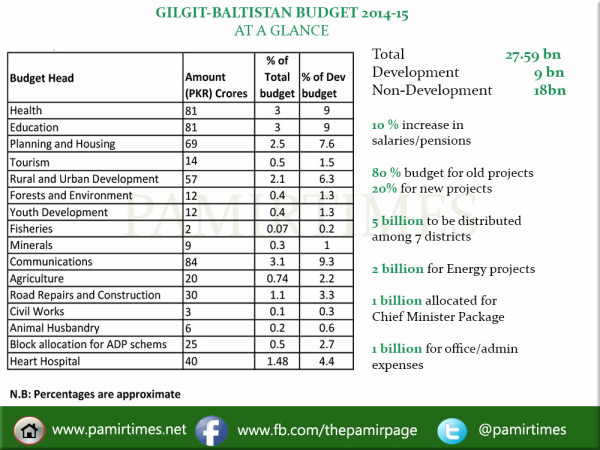 PT Report
Gilgit, June 23: Finance Minister Muhammad Ali Akhtar presented his fifth and last budget in the Gilgit-Baltistan Legislative Assembly today. With a total outlay of slightly more than 27.59 billion rupees, a large chunk of the budget (18 billion, 63%) has been allocated for non-development expenses; while a mere 27 percent (9.59 billion) has been allocated for developmental activities.
Around 47 percent of the non-development budget will be used for payment of salaries of government employees and departmental administration expenditures.
A major emphasis has been laid on energy projects by allocating slightly more than 2 billion rupees for the continuing and new projects.
40 Crore rupees have been allocated for construction of a Hospital of Health Diseases in the region.
The government has also proposed 10 percent increase in salaries and pensions of its employees; pension is to be fixed at 6,000 rupees minimum.
Fisheries department has received the lowest attention, while the fields of Disaster Risk Reduction, Women Development and Culture have been ignored by and large.
Nationalist leader Nawaz Khan Naji stormed out of the house after not being allowed to speak on point of order. He said that the budget presentation ceremony is useless and a mere formality.
The Gilgit-Baltistan government depend on Islamabad completely for its budget. The government has failed to develop revenue streams during the last five years. Receipts from the sale of electricity and some insignificant taxes imposed on vehicles are the only sources of revenue for the Gilgit-Baltistan region. Despite of being rich in resources, like forests, water reservoirs, minerals and unmatched tourism spots, the Gilgit-Baltistan government and the federal government have completely failed to exploit the region's resources in a manner to benefit the regional setup.
The over-reliance of Gilgit-Baltistan government on revenues from Islamabad also enables the federal and regional establishment to exploit issues related to policy.