Gilgit-Baltistan Bar Council supports Military Courts, questions implementation mechanism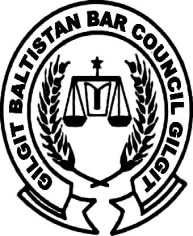 Our Correspondent
Gilgit: The Gilgit-Baltistan Bar Council has said that in view of the prevailing law and order situation in the region, the creation of military courts is an appropriate and timely action. Advocate Shahbaz Khan, President of the Council has, however, said that the method adopted for implementation of the Army Act in the region is illegal and unconstitutional.
A note released to the press states that the Gilgit-Baltistan Council is an unconstitutional and un-elected body which has come into being as a result of an executive order, instead of being the voice of the aspirations of the people. He has said that the Ministry of Kashmir Affairs and Gilgit-Baltistan, under clause 20 of the1973 Rules of Business, to legislate for the Gilgit-Baltistan region.
The press note also highlights the differences in the legal and constitutional status of AJK Council and the Gilgit-Baltistan Council; the former has been created under the provisional constitution made by the elected representatives of AJK, as opposed to the former.
He has suggested to the government to hold elections for a constituent assembly in Gilgit-Baltistan, so that a separate constitution can be drafted, just like AJK. He has also said that the current governance order should be released under Article 258 of the constitution of Pakistan, as a presidential order.