Glacial melt risk and its socio-economic impact in Bindo Gol valley of Chitral district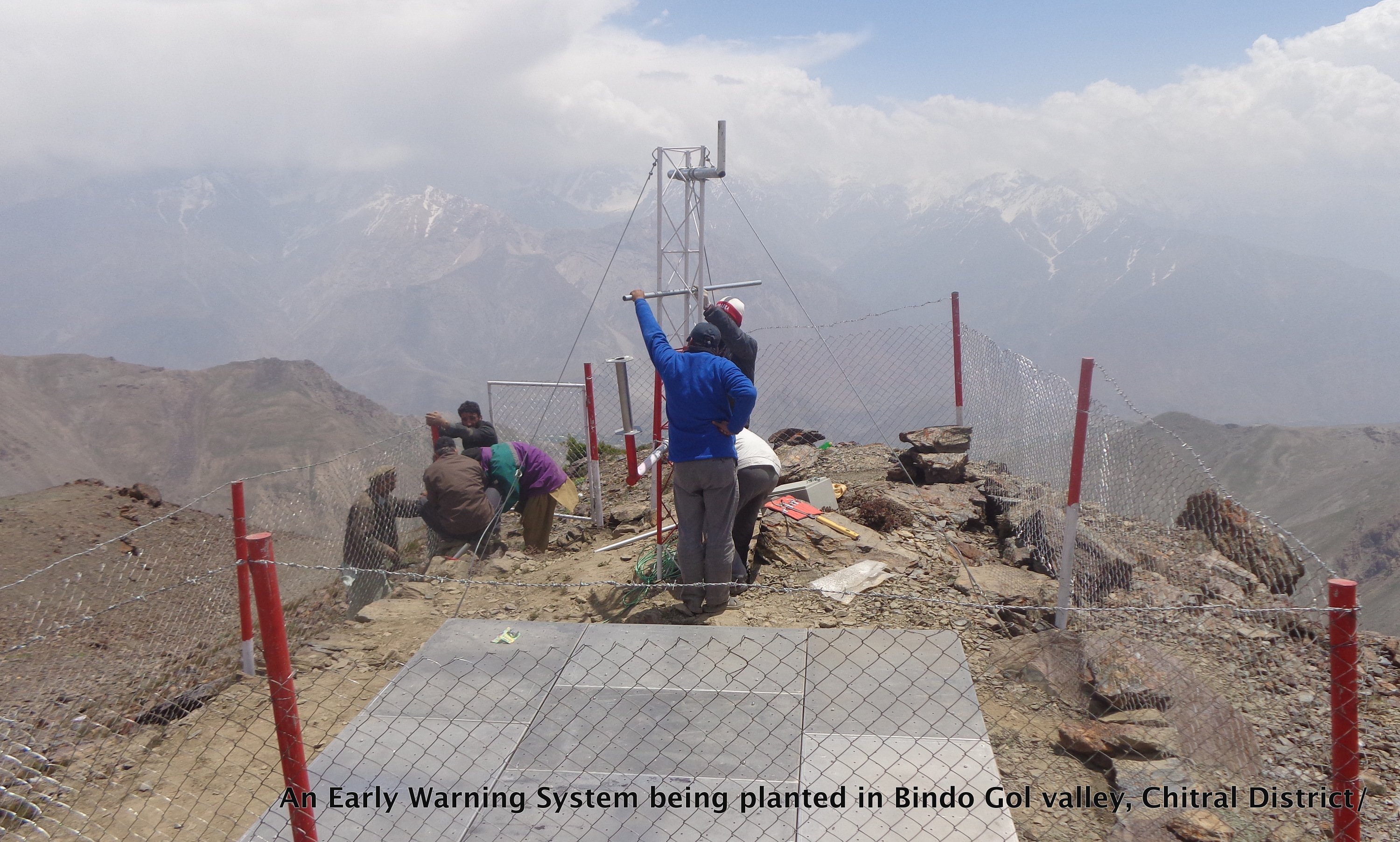 Like in other parts of Northern Pakistan, several breathtaking mountain valleys in Chitral district have become vulnerable to the growing risk of glacier lake outburst floods due to rise in temperature.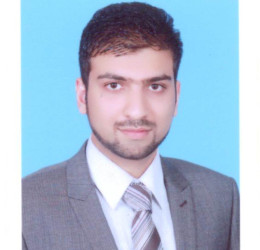 Besides, lives, livelihoods and community infrastructures – particularly drinking and irrigation water infrastructures – are at peril and can suffer any loss and damage in the event of outbreak of potentially hazardous glacial lake.
However, the community members in GLOF-prone areas in the Chitral district need awareness and capacity building on how to protect their lives and livelihoods stave off possible damages to the community infrastructure that may occur in the event of GLOF incident.
According to different studies, there are 542 glaciers in Chitral, out of which 137 are mapped as being at the risk of bursting any time. This certainly is alarming and it will not be wrong to presume that such outbursts might bring horrifying consequences for different mountain valleys of Chitral, particularly when the time of their outburst cannot be predicted and alarm bell for the danger already rung.
This project component addresses the need for more accurate, reliable and comprehensive knowledge of glacier lakes and their associated flooding risks.
GLOF is sudden discharge of an enormous quantity of water from a glacial lake. It triggers [flash] flood up to hundreds of kilometers of downstream and undermines the already meager sources of people living in hilly areas.
In this regard, a four-year Pakistan GLOF Project was launched in 2011 in scenic Bindo Gol valley of Chitral having around 1,015 households and 10,000 population, the valley perches in the vicinity of Gohkir and Bindo Gol glaciers.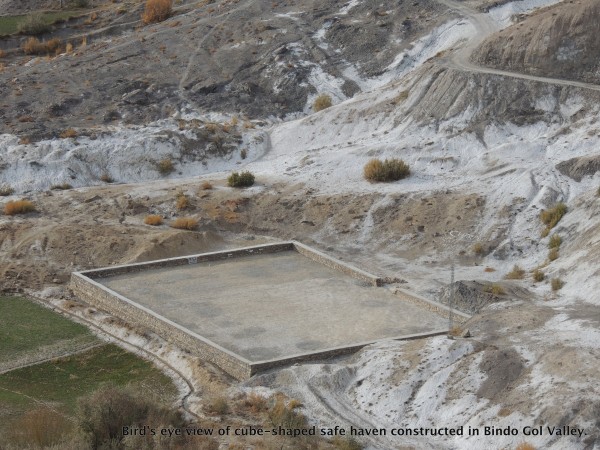 Under a joint effort of the Ministry of Climate Change (Government of Pakistan), United Nations Development Program (UNDP) and Adaptation Fund, the $7.6 million project titled 'Reducing Risks and Vulnerabilities from Glacial Lake outburst Floods in Northern Pakistan', which is in its fourth year and near conclusion aimed to help local communities in reducing the risk of flood and support people in the project area to avoid loss of the lives and reduce damages to their properties and livelihoods in case of outbreak of flash floods/floods.
The project has been implemented to alleviate glacial lakes in Gilgit-Baltistan and Chitral by applying community-based GLOF risk mitigation measures; including controlled breaching of the moraine dams, pumping or siphoning the lakes' water, constructing outlet control structure, or tunneling through the moraine barrier or under an ice dam.
Under the project efforts have been taken to provide disaster management planners and policy makers, better access to knowledge, information and research on GLOF risks by engaging global and regional research networks and centers working on GLOF.
Risk and hazard maps for mountainous areas vulnerable to GLOF risk have already been put in place, under which the disaster prone areas in Drongagh valley of Chitral district, where melting glaciers have developed hazardous lakes and; thus, threatening local communities. Such knowledge is essential for better risk mapping, early warning and disaster mitigation.
Based on a targeted mapping exercise of flooding hazards downstream of potentially hazardous glacier lakes, a locally anchored knowledge base and analytical framework for long-term tracking and management of the GLOF risks has been developed.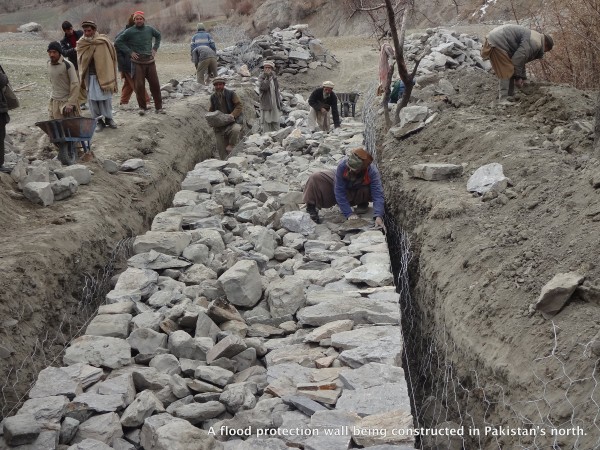 This situation needs to be dealt with on emergency basis as to what practical steps can be taken in vicinity of the glaciers to prevent or face the hazard with reduced loss of lives and damages to livelihoods and community infrastructures.
The "Pakistan GLOF Project" has selected the Bindo Gol valley given its high level of vulnerability to the risk of GLOF. The valley is located
65 kilometers northwest of Chitral district in Pakistan's north.
For the first time, with the help of the local community Disaster Relief & Management Committee (DRMC) has been formed. All disaster risk reduction/management activities are planned and executed by the body, with equal representation of local young volunteers.
DRMC has its formal office in Bindo Gol with all the required facilities. Hazard Watch Groups (HWG) comprising community volunteers have been training in mapping the perceptible changes in glaciers and report to DRMC for action.
DRMC's office and community hall will be operational soon.
Under the project, a Disaster Management Committees at district as well as sub-district (tehsil) level have also been constituted, which have been provided with required tools and facilities for disaster risk reduction/management. These committees are working under the direct supervision of the district administration.
Some nine safe heavens have been constructed in Drongagh and Gahkeer areas, where people can relocate temporarily in the event of any disaster. The safe havens are laced with tents and mobile toilets.
Early warning station has also been planted in the Bindo Gol valley for detection of any disaster related threat for early/timely response at the community level to avoid loss of lives and damages. Furthermore, up in the vicinity of glacier, an automatic weather station has also been established, which is a key milestone.
A number of flood diversion walls alongside Bindo Gol flood drain have also been constructed to siphon floodwater off settlements and farmlands. This developmental work will have far reaching impact on the community, their lives and their livelihoods. These infrastructure development initiatives have been completed with active involvement of community members so that they will own it. For, their ownership is key to sustainability of these community-based disaster risk mitigation interventions.
At different points, there is need for overhead bridges to be built up over Bindo Gol Nala/flood drain. For, it becomes very difficult, as locals say, to cross through when water level in the Nala rises several feet, particularly during summer monsoon season.
Also there is a dire need to convent dirt passages into metallic roads, because it is inevitable for easy access to emergency-support in case of disaster and overall community development.
The writer is a communication consultant at the Pakistan GLOF Project in Islamabad.