12-member caretaker cabinet for Gilgit-Baltistan sworn in amid protest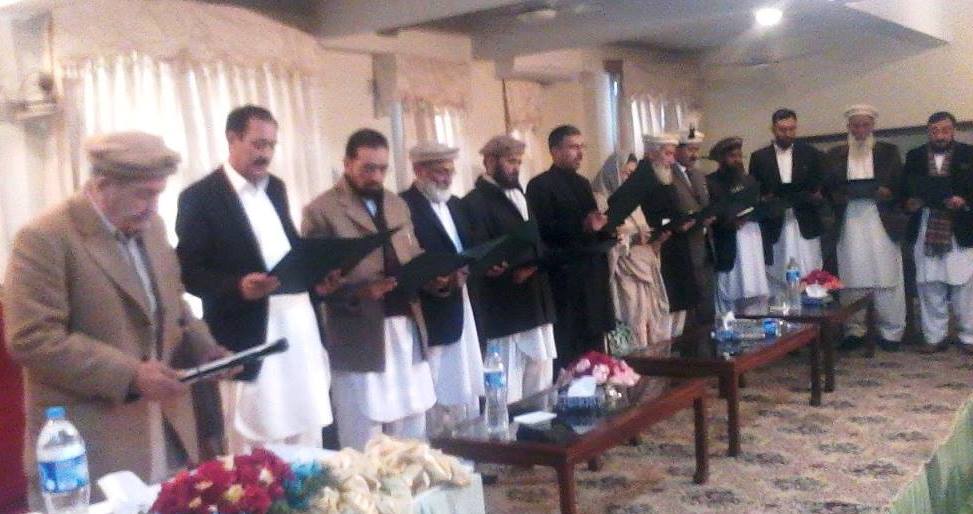 Islamabad: A dozen-member strong caretaker cabinet for Gilgit-Baltistan took oath in the GB House on Saturday here in the federal capital, while a group of people from Hunza valley carrying placards protested outside.
Governor, Syed Pir Karam Ali Shah, administered oath to the members. Caretaker Chief Minister Sher Jahan Mir and Speaker Wazir Baig, who holds the office till election of the new assembly, along with other dignitaries were also present.
The oath taking cabinet has only a single female member, Fozia Saleem, hailing from Skardu. Others include Inayatullah Shumali, Mushtaq Ahmad, Atta Ullah, Sana Ullah, Qalb Ali, Ali Murad, Abdul Jahan, Fida Hussain Zaidi, Basharatullah, Niamatullah and Nasir Hussain Zamani.
The caretaker cabinet of Gilgit-Baltistan has become controversial since the day one. Questions were asked about over-representation of certain communities and districts, prompting the federal government to increase the number of cabinet members from 3 to 5 and then 12, accommodating different political, religious and geographic entities.
Several political parties, including PPP's Khursheed Shah, who is leader of the opposition in the National Assembly, have questioned the rationality of selecting a dozen-member strong caretaker cabinet, which is likely to overburden the already thin financial resources of the Gilgit-Baltistan region.
MQM and PPP, both, have called the cabinet an effort to rig the elections, even before candidates have started their election campaigns. PTI had announced to challenge the appointment of the Chief Election Commissioner, calling him pro-PMLN. However, so far they have not challenged in the appointment in any court.