PTI's Open Letter to British High Commissioner in Pakistan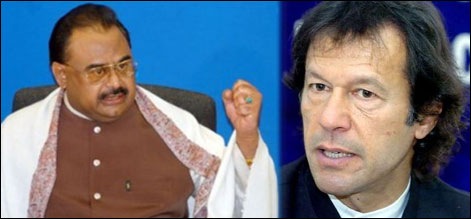 Excellency Philip Barton 
I wish to bring to your notice the incitement to violence, use of abuse and antics spreading hate, of Altaf Hussain leader of the MQM. He is not only a British citizen but is using British territory to incite people to violence in Pakistan. His party is known to have an armed mafia wing which indulges in extortion, blackmail and murder. The MQM has terrorized the citizens of Karachi for decades as well as indulging in murders of journalists and political rivals. Our woman leader Zahra Shahid was murdered by MQM in her driveway in Karachi in 2013. Journalist Wali Babar also fell prey to MQM in Karachi when he was exposing them.
Recently, a Joint Investigation Team found MQM to be involved in a factory fire in Karachi that led to over 258 deaths including of women and children – which was set off because the owners did not pay the extortion money to MQM's mafia wing.
When PTI demanded action against the mafia of the MQM, Altaf Hussain went into a mad rage abusing PTI women activists in gutter language from his home in London. He has consistently hurled threats and abuse at our Party Chairman Imran Khan ever since Chairman Khan had approached Scotland Yard after the MQM killed unarmed protestors on May 12 2007, during the Judicial Movement.
Khan had presented a Report on the incident along with other documents to Scotland Yard, but for some inexplicable reason the British Government did not move against Altaf Hussain. Presently, the man has multiple murder cases pending against him in Pakistan but he remains in the safe protection of the British government. From his London base he exhorts his Party to unleash violence and extortion in the urban centres of Sindh, especially Karachi. Unfortunately, the British government refuses to enforce its own laws which do not allow a British citizen to incite people to violence or indulge in extortion – either within the UK or overseas. We do not think it is morally, politically or legally justifiable for the British government to be seen as an abettor to violence and extortion in Pakistan by providing protection to their citizen who is publicly inciting violence against political rivals, journalists, the business community and also state institutions in Pakistan. We request you to realize the urgency of your government moving against Altaf Hussain by removing the protection of citizenship under which he is hiding and evading multiple criminal charges in Pakistan including of murder.
Dr Shireen M Mazari,
Central Information Secretary PTI