Injured Markhor dies in custody of Chitral Wildlife Department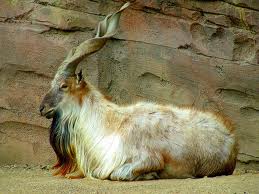 By Gul Hamaad Farooqi
Chitral, February 28: A precious Markhor (wild goat) which is also our national animal has died in the custody of the wild life department. According to Divisional Forest Officer Wildlife Imtiaz Hussain Lal an injured Markhor was recovered on Booni road 3 days back who was taken to Wild life department store. The DFO said that Markhor was kept in a store of the department and was being treated by an veterinary doctor of Chitral. He said that the Markhor was found dead last night in the store  and that they could not slaughter him. This is the third Markhor found dead within a couple of weeks in Chitral.
It is worth to mention here that hunting trophy of Markhor budding @ 100000 $ and 80% shares to to local community in 10 million rupees while 20% deposit in government exchequer and due to the death of of these Markhors Chitral is facing great financial loss. DFO said that Markhor was sick and due to some illness he died. But an eye-witness told this scribe that the Markhor was injured and was having some injuries on his eyes.
He said that his carcass and skin was  saved which will be carried to Peshawar with its trophy where it will be displayed at Museum.